Michael Klein, Philly.com
For years, a prime ground-floor space in the Ayer building on Washington Square was empty.
Three years ago, when Aimee Olexy and Stephen Starr opened Talula's Garden across the lobby, Olexy thought she might have an idea for it.
In mid-July, it is to open as Talula's Daily - a forward-thinking melding of her Talula's Table in Kennett Square (e.g. market) with elements of Chez Panisse (as in, organic, seasonal, farm-sourced cooking).
Michael Klein, Philly.com
With 18 food trucks dishing out some of the gooiest foods known to man, it's a given there will be some stained shirts at the third annual Vendy Awards, coming June 8 to Penn Treaty Park.
Enter Tide. The Procter & Gamble brand has signed on as a sponsor. Not only will Tide dole out Stain Erasers, it will poll attendees on the dishes deemed to be the messiest.
How about the Tot Cart's tater tots with drunken cheese sauce? Kami's bulgogi kimchi cheesesteak? Or Chewy's ranger burger with BBQ sauce and coleslaw?
Michael Klein, Philly.com
Kenny Poon, whose holdings include Tea-Do in Chinatown and Ken Shin Asian Diner in Northern Liberties, is in the soft-opening phase at 1021 Arch St. with Tango, a nighttime bi-level combining noodle bar and karaoke.
Bars are on both floors.
Menu leans Japanese - ramen, bento boxes, teriyaki, onigiri, tempura - and it's here.
Michael Klein, Philly.com
Coffee roasters need to market themselves, and what better way than to set up a coffeeshop.
Counter Culture has a training center in Southwest Center City. In Fishtown, you have ReAnimator working on its shop at 1523 E. Susquehanna Ave. and you also have La Colombe working on not only a new cafe and cupping room but its offices and a rum distillery (!) on Frankford Avenue.
Let's welcome GreenStreet Coffee Roasters to the fray.
Michael Klein, Philly.com
"Food halls are the new food trucks," proclaims June's issue of Bon Appetit, which includes Reading Terminal Market among five standouts from around the country.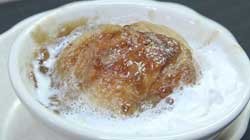 The editor praised not the usual suspects but the Dutch Eating Place for its apple dumplings.
Also on the list are West Side Market in Cleveland, Melrose Market in Seattle, Union Market in D.C., and Chicago French Market in Chicago.
Michael Klein, Philly.com
Oh, those wacky barkeeps.
Mike Naessens, owner of Bierstube Tsingtau in Old City, had a lifesize cardboard poster of a Baywatch-era actor-cum-singer David Hasselhoff lying around.
Now what to do with it?
Michael Klein, Philly.com
When they moved to Northern Liberties, the Proud family fell in love with Jerry's Bar, an old-time shot-and-beer at New Market and Laurel Streets.
Owner Jerry Lebid kept asking patriarch Bill Proud to buy the place. Finally, Proud accepted the offer two years ago. But no slap-dash, on-the-cheap work followed.
See, Proud runs one of the city's busiest mason-restoration companies, and he, his daughter Christie Proud Bernstein and son in law Ryan Bernstein set out to go first class with the new Jerry's Bar (129 W. Laurel St., 267-273-1632).
Michael Klein, Philly.com
Naming a restaurant is never easy. It's the most visible evidence of a brand, an attempt to set the mood and tone of the enterprise.
But no one could ever accuse restaurateurs of originality. Not long ago in the Philly area, there were at least three Michael's restaurants - the casual diner chain in the burbs, a bistro on Chestnut Street, and an Italian restaurant in Bella Vista. (Only the diner chain remains.)
The now-gone Bookbinder's Seafood House, spawned from Old Original Bookbinders after a family feud, managed to coexist, albeit uneasily, across town from each other.
Michael Klein, Philly.com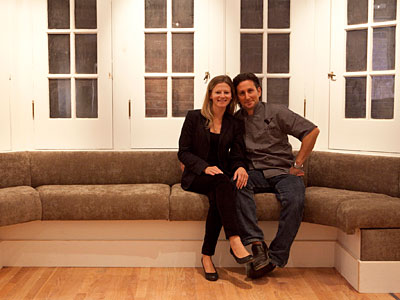 The Food Network cooking-contest series Chopped sends four chefs to the stoves to create dishes using a basket of mystery ingredients.
Judges then weigh in, and the successful chefs move on to compete on the next course.
One ingredient must have given a chuckle to Rich Landau of the Locust Street destination Vedge, arguably the city's best-known vegan chef.
Old City - a neighborhood with many residents but few grocery options - could be getting a gourmet market and housewares store with a rooftop deck.
Developer Jarred Yaron wants to convert his building on the northeast corner of Third and Arch Streets into the Trust Market.
The plans were approved last week by the Historical Commission, which heard testimony from David Schultz of DAS Architects.