Michael Klein, Philly.com
"Food halls are the new food trucks," proclaims June's issue of Bon Appetit, which includes Reading Terminal Market among five standouts from around the country.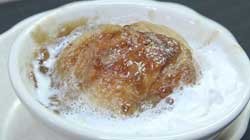 The editor praised not the usual suspects but the Dutch Eating Place for its apple dumplings.
Also on the list are West Side Market in Cleveland, Melrose Market in Seattle, Union Market in D.C., and Chicago French Market in Chicago.
Michael Klein, Philly.com
Oh, those wacky barkeeps.
Mike Naessens, owner of Bierstube Tsingtau in Old City, had a lifesize cardboard poster of a Baywatch-era actor-cum-singer David Hasselhoff lying around.
Now what to do with it?
Michael Klein, Philly.com
When they moved to Northern Liberties, the Proud family fell in love with Jerry's Bar, an old-time shot-and-beer at New Market and Laurel Streets.
Owner Jerry Lebid kept asking patriarch Bill Proud to buy the place. Finally, Proud accepted the offer two years ago. But no slap-dash, on-the-cheap work followed.
See, Proud runs one of the city's busiest mason-restoration companies, and he, his daughter Christie Proud Bernstein and son in law Ryan Bernstein set out to go first class with the new Jerry's Bar (129 W. Laurel St., 267-273-1632).
Michael Klein, Philly.com
Naming a restaurant is never easy. It's the most visible evidence of a brand, an attempt to set the mood and tone of the enterprise.
But no one could ever accuse restaurateurs of originality. Not long ago in the Philly area, there were at least three Michael's restaurants - the casual diner chain in the burbs, a bistro on Chestnut Street, and an Italian restaurant in Bella Vista. (Only the diner chain remains.)
The now-gone Bookbinder's Seafood House, spawned from Old Original Bookbinders after a family feud, managed to coexist, albeit uneasily, across town from each other.
Michael Klein, Philly.com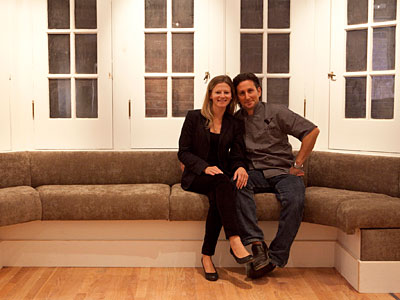 The Food Network cooking-contest series Chopped sends four chefs to the stoves to create dishes using a basket of mystery ingredients.
Judges then weigh in, and the successful chefs move on to compete on the next course.
One ingredient must have given a chuckle to Rich Landau of the Locust Street destination Vedge, arguably the city's best-known vegan chef.
Old City - a neighborhood with many residents but few grocery options - could be getting a gourmet market and housewares store with a rooftop deck.
Developer Jarred Yaron wants to convert his building on the northeast corner of Third and Arch Streets into the Trust Market.
The plans were approved last week by the Historical Commission, which heard testimony from David Schultz of DAS Architects.
Michael Klein, Philly.com
A mostly rain-free weekend will only help boost the turnout at two events Saturday:
Rittenhouse Row Spring Festival will take over Walnut Street from Broad to Rittenhouse Square from noon to 5 p.m. (Details here.) Be sure to bring your biceps for Philabundance's sale of Stephen Starr's cache of dishes. (Details here.) And pop indoors to watch a pastamaking demo by chef/cookbook author Aliza Green at Williams-Sonoma. She'll whip up laminated parsley pasta reginette and hand-cut porcini pappardelle from 1 to 5 p.m. Saturday.

Phair - a weekly open-air market launching Saturday in the park at 23d and Arch Streets - will feature roster of food trucks along with art, crafts, produce and vintage vendors. It runs from 10 a.m. to 5 p.m. The inaugural food truck lineup consists of Made in the Shade, Rival Bros. Coffee Roasters, Sweet Box Cupcake, Zea May's Kitchen, GIGI & Big R, and Poi Dog Philly.
Michael Klein, Philly.com
The news spread quickly yesterday about the impending demise of Le Bec Fin, which will close in a month after four decades.
And the reaction...
"Nothing lasts forever," said founder Georges Perrier, who stepped out of the Walnut Street landmark more than a year ago, ushering in an attempt by different management to renovate and rehabilitate it. "Everything has changed in this industry. You have to give the people what they want. I'm sure that 20, 30 years from now, people will want it as it once was. The wheels turn. It was a very smart move, in my opinion," he said of the decision to close and rebrand it as an American restaurant under chef Justin Bogle.
Michael Klein, Philly.com
Timing is everything, and the impending closing of Le Bec Fin is going to work out beautifully for Steven Eckerd, the Walnut Street restaurant's current chef de cuisine.

Eckerd will join the team reviving the Mainland Inn, off the Pennsylvania Turnpike's Lansdale exit in Harleysville, and he would have been leaving LBF anyway. He was sous chef under Walter Abrams when Abrams and Nicolas Fanucci reopened LBF last summer and was promoted after Abrams bowed out.
Michael Klein, Philly.com
Le Bec Fin - a name synonymous with fine dining in Philadelphia for four decades - will "retire" in mid-June.
Finis.
In its place will be a new restaurant - still unnamed - serving progressive American cuisine. Its chef will be Roxborough native Justin Bogle, who at age 28 was one of the youngest chefs to receive two Michelin stars for his work at Gilt in Manhattan, which closed in December.