Michael Klein, Philly.com
Every time we lose one of the old-time restaurants - e.g. Le Bec Fin, now in its final weeks - I think about the other white-tablecloth spots still carrying on after several decades under the same owners.
That invariably sends me back to what I consider to be my first dress-up meal, as a teenager, with my world-traveling aunt and uncle, at what was then the hot, new Italian newcomer, La Famigilia in Old City.
Too young to appreciate the grappa selection on the fireplace mantel, I nonetheless enjoyed both the sofficini I ate and the impromptu tour of the wine cellars that Papa Sena gave me. He led me downstairs to a brick-lined pit covered with a steel grate and told me to look down. It was a colonial well that workers uncovered as they were constructing La Famiglia. In the 1700s, when the Delaware River stopped near Front Street, this was a house built for Benjamin Franklin's daughter. We were standing atop history.
Michael Klein, Philly.com

Yong Chi, owner of the Center City Korean cafes Giwa and Rice & Mix, is bottling the hot sauce used at Giwa.
Under the name Yong's Kitchen, he is taking to market his version of go chu jang, the traditional paste made mainly with fermented soybean and red chili pepper.
Chi's sauce is at once spicy and sweet. He has it made by a food company in Lancaster County and says it's the same recipe used in the restaurant, except that the bottled version includes apple cider vinegar as a natural preservative.
Michael Klein, Philly.com
Two bars will take their scene outside for Memorial Day weekend.
The Trestle Inn launches its Friday Nite Backyard BBQ series at 11th and Callowhill Streets with free whiskey sour from 5 to 7 p.m. Food trucks will join the fun; tonight's guest is Yumtown and Good Phellas is up for next Friday.
Bainbridge Street Barrel House will have the 500 block of Bainbridge Street closed from 11 a.m. to 8 p.m. Sunday, May 26 for a block party boasting two dozen beers and Southern-style food ($5 a ticket). Dunk tank and Thunck Music, too.
Michael Klein, Philly.com
This sign greeted customers last night at Joe Brown's Melange @ Haddonfield on Tanner Street.
It's a notice of property seizure for unpaid taxes.
Brown, who did not return a message seeking comment, opened the Louisiana-theme restaurant in 2008. At one time, he also had a restaurant in Cherry Hill but he closed it shortly after the Haddonfleld location opened.
Michael Klein, Philly.com
Goes to show you that nothing is permanent.
If this sign in the window is any indication, Beauty Shop Cafe is closed.
The coffeeshop opened six years ago in a former hair salon at 20th and Fitzwater Streets as one of the pioneers of the Graduate Hospital/Southwest Center City neighborhood.
Michael Klein, Philly.com
Entrepreneurial twins Kriti and Kunal Sehgal are using their organic Rittenhouse cafe Pure Fare as a springboard for a healthful quick-serve cafe around the corner serving what they bill as "a new kind of Mediterranean."
Agno Grill is due to open in the next two weeks at 2104 Chestnut St., which last was a branch of El Fuego. The Greek word Agno (or αγνο) means pure.
You order at the counter. Start with one of three bases - spinach salad, black rice, or a gluten-free lavash-like wrap. Then add one of five proteins - grilled chicken, steak, veggies, baked tuna, or falafel.
Michael Klein, Philly.com
Gigi Andrew of the Ms Goody Cupcake shop (1838 E. Passyunk Ave.) is prepping her new truck with a few giveaways.
Today (5/23) from 6 to 9 p.m., she'll be outside Noir restaurant (1909 EPA) with new beer-infused cupcake flavors. Noir restaurant also will give away samples of its BAIcycles cocktail, made from whipped cream vodka and Clementine Bai, and a watermelon salad.
By beer-infused flavors, I mean a "Drunkin' Elvis," featuring a banana chocolate chip cake, infused with Wells Banana Bread Beer, topped with peanut butter buttercream, and accented with chocolate covered bacon, and a "Bx3 (Blueberry Beer Belch)," featuring a white cake with blueberries soaked in Fegley's Brew Works Blueberry Belch, topped with a tart lemon buttercream, and accented with lemon rind shavings.
Michael Klein, Philly.com
It appears that the taco shop coming to downtown Ambler will not include "Feliz" in its name.
Brian Sirhal and chef Tim Spinner - who own Cantina Feliz in nearby Fort Washington as well as La Calaca Feliz in Fairmount and the forthcoming Taqueria Feliz in Manayunk - had filed a lawsuit in U.S. District Court seeking to block restaurateur Rene Hernandez from naming his forthcoming shop "Taco Feliz."
Such a name would be confusing to the public, the lawsuit alleged.
Michael Klein, Philly.com
Comes a time after two decades, you want to move on.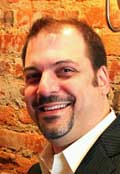 Such as it is with Anthony Masapollo, who worked for Carlo Sena first at Old City's La Famiglia and then at its fancy Rittenhouse counterpart, Le Castagne, from its debut in 2001.
Masapollo became a managing partner at Le Castagne and then at the casual sibling Spiga in Washington Square West.
Michael Klein, Philly.com
With 18 food trucks dishing out some of the gooiest foods known to man, it's a given there will be some stained shirts at the third annual Vendy Awards, coming June 8 to Penn Treaty Park.
Enter Tide. The Procter & Gamble brand has signed on as a sponsor. Not only will Tide dole out Stain Erasers, it will poll attendees on the dishes deemed to be the messiest.
How about the Tot Cart's tater tots with drunken cheese sauce? Kami's bulgogi kimchi cheesesteak? Or Chewy's ranger burger with BBQ sauce and coleslaw?