Archive: July, 2012
Peter Dobrin

, Inquirer Classical Music Critic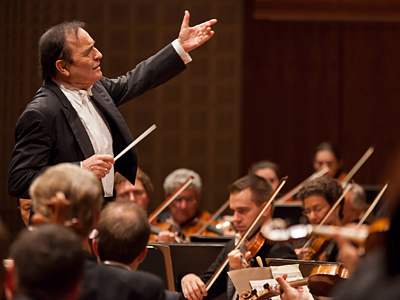 The Philadelphia Orchestra Association is out of bankruptcy.
U.S. Bankruptcy Judge Eric L. Frank approved the association's reorganization plan June 28, but with the writing of checks and completion of other administrative matters Monday and Tuesday, the curtain officially has come down on perhaps the most perilous episode in the history of the organization that supports and presents the storied ensemble.
"I feel like I'm getting out of jail," said orchestra chairman Richard B. Worley. "There were times when it seemed overwhelming and fraught with danger. But the constituents within the institution, the musicians and staff, made adjustments, contributions. The Kimmel Center was enormously supportive and helpful. And many Philadelphians came to our aid. I am both proud and grateful to all those who helped save this wonderful living, breathing treasure. There is still a lot of work to do. But we accomplished what we could, and that was a lot."
Asked whether he still thought bankruptcy was the right route, he said, "I do. Emphatically. I understand there are others who would disagree with that assessment. It's over and done. And I hope the community will rally around the orchestra. I think it's a time of great opportunity."
When it filed its April, 2011, Chapter 11 petition, the Philadelphia Orchestra became the first major U.S. orchestra to declare bankruptcy. The case took longer (15½ months), and was more expensive (almost $10 million in professional fees and expenses) than expected.
The association succeeded in most of what it set out to do, though the action was not without substantial risk and high costs. A new, deeply concessionary labor deal with musicians was reached despite the threat of a strike. Several musicians have left or are planning to leave for other jobs.
The association was able to withdraw from a national musicians' pension fund and shift its burden to the federal agency that insures pensions by negotiating a $1.75 million settlement with the pension fund, thus avoiding potentially lengthy litigation.
A merger-in-process with the Philly Pops was ended after a $1.25 million settlement payment from the association to the Pops was agreed upon.
Talks with the Kimmel Center produced rent concessions for the orchestra's use of Verizon Hall.
Bankruptcy triggered a revamped contract with the Annenberg Foundation giving the philanthropy greater oversight and control over how investment income from its $50 million gift is spent. The money is being moved from the orchestra endowment into an account at Northern Trust.
Although the bankruptcy — official as of Monday — is now behind the association, a few issues linger.
The mechanics of separating the Annenberg money from the orchestra's and transferring it is taking longer than expected, so the association Monday filed a motion to extend to Aug. 31, the time for implementing the new agreement.
"These are invested funds, and some are complicated and some overlap with other parts of the orchestra's endowment," said orchestra lawyer Lawrence G. McMichael. "Some are nontransferable by their nature. This is quite a list of complications we're dealing with."
Litigation continues against a South Korean presenter that failed to make good on payments for two concerts in April 2010, at Sungsan Art Hall in Changwon and Gumi Culture & Art Center in Gumi. Of $200,000, only $20,000 has been paid.
In addition, a Sept. 24 hearing will consider some of the 85 claims by creditors being contested by the association. "Many of these claims have in fact been paid [as in the case of some guest artists] or are duplicates," said McMichael, who expects many to be resolved before the hearing date. Several were made by subscribers for tickets to concerts that in fact happened, so they are not entitled to a payment, McMichael said; some are for claim amounts that differ from those in the association's records.
At the June hearing approving its reorganization plan, Frank said: "The orchestra is an important cultural and civic institution, and any Chapter 11 case comes with the risk of failure. Had that occurred, it would have been a great loss for Philadelphia, the region, and the music world."
He expressed his hope that the reorganization would allow put the orchestra to "continue to perform for audiences for many years to come."
Peter Dobrin

, Inquirer Classical Music Critic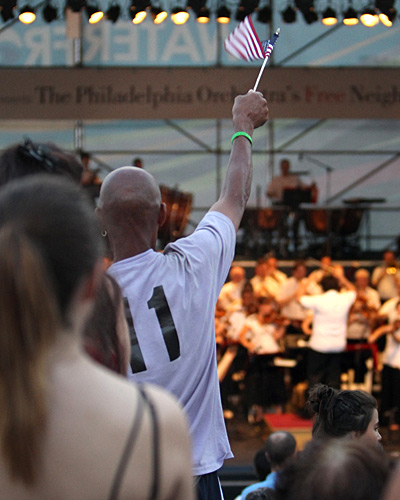 How can orchestras today defy the odds and attract large, newly engaged audiences - young ones, willing to put down iPad and Hulu and instant gratification for the night? Diverse ones, who somehow missed the ruse that classical music isn't for them?
It turns out the best strategy might be to simply play. Where you play has a lot to do with it, and Friday night, it was Penn's Landing, where the Philadelphia Orchestra's second (and, sadly, last) free neighborhood concert of the summer attracted a crowd that would have raised marketing envy in anyone feeling weight-upon-shoulders for the future of the art form.
Timing was everything. With storms threatening Thursday evening, only about 1,500 came out for the orchestra's first concert at the Curtis Arboretum in Wyncote, and everyone wisely scattered after the Star Spangled Banner and first piece when the rain and lightning rolled in.
Peter Dobrin

, Inquirer Classical Music Critic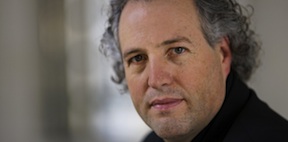 With the Kimmel Center stepping back from presenting visiting orchestras, it's now up to the Mann, which has a long history of importing great ensembles. The latest to visit the Mann is the Pittsburgh Symphony Orchestra with conductor Manfred Honeck, reviewed here.
As for Philadelphia's own: You can hear the Philadelphia Orchestra Thursday evening in a free neighborhood concert at the Curtis Arboretum in Wyncote; or Friday night, also free, at Penn's Landing. Details are here.
Peter Dobrin

, Inquirer Classical Music Critic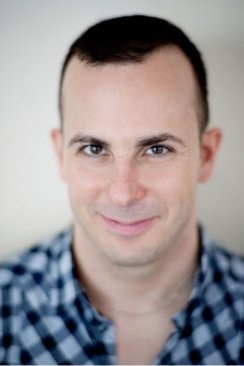 As mentioned by The Inquirer in January, Yannick Nézet-Séguin will be recording with Deutsche Grammophon. The label announced the "long-term collaboration" officially Thursday.
Nézet-Séguin is slated to make three DG recordings with the Rotterdam Philharmonic Orchestra, of which he is music director, starting with Tchaikovsky's Sixth Symphony, the "Pathétique." Seven Mozart operas are also scheduled, beginning with a September release of the conductor and Mahler Chamber Orchestra in Don Giovanni.
"One constant factor throughout the [Mozart] series will be the presence of Rolando Villazón in all the lead tenor roles," says the announcement. "Villazón conceived the idea of the cycle after performing in last year's Don Giovanni and he and Yannick will be acting as joint artistic consultants for the entire project."
Peter Dobrin

, Inquirer Classical Music Critic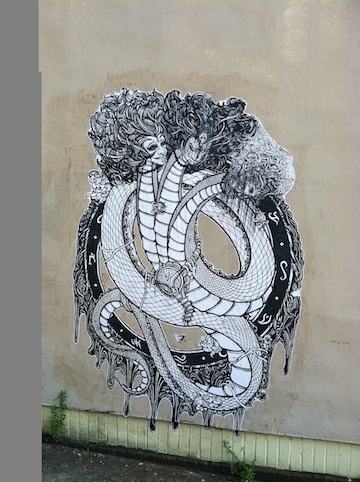 Spruce and 46th Sts., 4 p.m., July 5.
Peter Dobrin

, Inquirer Classical Music Critic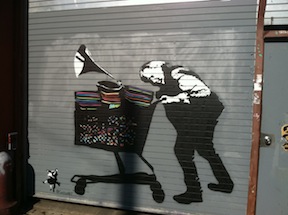 Frankford Ave., 1100 block, 5:53 p.m., July 2.