Archive: June, 2012
Peter Dobrin

, Inquirer Classical Music Critic

Toting Mickey Mouse dolls and donning Lilly Pulitzer shifts, the city's youngest classical music fans made for a gorgeous spectacle Saturday morning filing into the Academy of Music. Yes, the Philadelphia Orchestra's family concert was returning just this once to the Academy, which the ensemble largely left behind in 2001 for more acoustically advanced environs down the block.

The Academy is "still a little bit our home," the orchestra's next music director, Yannick Nézet-Séguin, told the audience.

Funny that when this orchestra needs to put across a sense of occasion, the Academy is the only place that can truly answer the call. Better acoustics? No thanks. Children today have no doubt achieved honors as the most technologically jaded yet. And yet, the charms of a 155-year-old concert hall were not beyond them. When the Academy's lowered chandelier – bathed in purple tones – rose to signal the start of the concert, the audience oohed and applauded.
Peter Dobrin

, Inquirer Classical Music Critic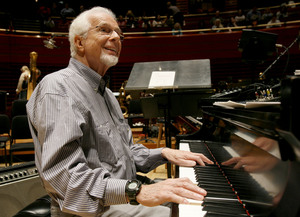 Nero and his Philly Pops will perform a free concert July 3. Details here.
Peter Dobrin

, Inquirer Classical Music Critic

The century-old Delaware Symphony Orchestra says it has scratched plans for the 2012-13 season, Delaware Online reports. The orchestra is in contract negotiations with its musicians. Along with finding new sources of funding, orchestra leaders are sounding the usual warnings about the need for a new business plan.

"The time has come to change the model," said orchestra funder Tatiana Copeland. "The model is no longer economically sustainable."

"It's not just about getting the money," executive director Lee Williamson told Delaware Online. "It's about being able to get the money and use it in the most fiscally responsible manner. We're doing our best to put together a plan so we can move forward."
Peter Dobrin

, Inquirer Classical Music Critic

The Philly Pops organization is threatening to sever its relationship with its celebrated pianist/music director, Peter Nero.

The Pops two months ago reopened negotiations on Nero's contract, which runs for two more years, and after talks failed to produce an agreement, the Pops' board Tuesday voted to file for rejection of Nero's contract in U.S. Bankruptcy Court.

"We've been trying to negotiate his contract since April, to no avail, to renegotiate a lower number," said Pops president and CEO Frank Giordano. "I can't pay the Pops conductor that kind of money."
Peter Dobrin

, Inquirer Classical Music Critic

The Philadelphia Orchestra, in China this week, lands in San Francisco for two concerts this weekend. I've written a state-of-the-orchestra piece for San Francisco Classical Voice that serves as a primer for anyone who hasn't been following the orchestra's bankruptcy case, or who, dazed by details, has lost track of the big picture. Read it here.