Archive: January, 2013
Peter Dobrin

, Inquirer Classical Music Critic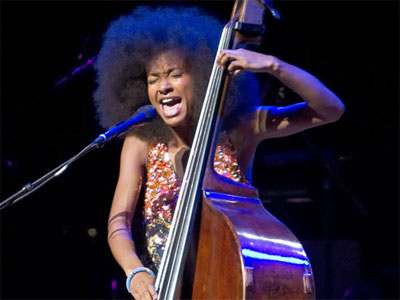 The Philadelphia Orchestra will boost its profile - and multiply its cool by a large factor - with an Oct. 2 concert opening Carnegie Hall's 2013-14 season.
Yannick Nézet-Séguin conducts, as he will for the orchestra's other three 2013-14 appearances at the New York venue. Hot on the heels of its Hugh Jackman encounter, the orchestra once again borrows some pop cred by teaming with jazz double bass player/vocalist Esperanza Spalding. Spalding is set to perform three Carnegie Hall-commissioned arrangements by jazz pianist Gil Goldstein: one of her own songs, the others by Leonardo Genovese and Dimitri Tiomkin/Ned Washington.
Classical fiddler Joshua Bell is also guest for the concert, to be broadcast nationally on radio's Carnegie Hall Live. He plays works of Tchaikovsky and Saint-Saëns. Tchaikovsky's Marche slave will open, Ravel's Bolero will close.
Peter Dobrin

, Inquirer Classical Music Critic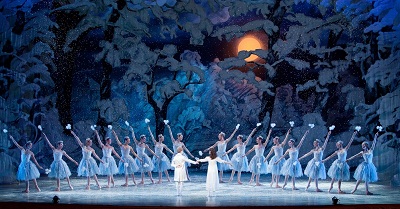 The Nutcracker earned slightly more revenue for Pennsylvania Ballet this season than last. The show, which accounts for half of the ballet's ticket income each year, brought in $2,310,000 as opposed to last season's $2,176,000, said executive director Michael G. Scolamiero. Receipts exceeded the goal of $2,275,000.
Costs were higher, but only very slightly, he said. The ballet performed The Nutcracker 23 times at the Academy of Music, one more show than last year, but eliminated some penalties it incurred in previous seasons for having dancers and musicians working up to three shows a day.
"We noticed everyone held up better in terms of fatigue," he said, "because to do that, an 11 o'clock show, 3 and 7 p.m., that's a lot of dancing. There are some members of the corps that were doing all three."
Peter Dobrin

, Inquirer Classical Music Critic

Saturday night, no one was safe from the charms of Hugh Jackman. As guest for the Academy of Music's 156th Anniversary Concert and Ball, the Australian actor sang a few songs and waved his wit around stage. He bumped fists with the concertmaster and dedicated a tune, "Soliloquy" from Rodgers and Hammerstein's Carousel, to his father.

For "Mack the Knife," he paid a visit to Box One of the Academy of Music, the booth just to the left of the stage, and danced briefly with the governor's wife. When he kissed Susan Corbett, you could sense that most of the women in the house - and a decent percentage of the men – were living that moment along with her. Yes, Gov. Corbett, this sort of thing goes on in Philadelphia concert halls and theaters every night of the week.

Classical die-hards could find something to love in Jackman, even if it was the fact that he praised the orchestra on stage a dozen times in his 40-minute set. This wasn't exactly a night of artistic growth for the Philadelphia Orchestra or music director Yannick Nézet-Séguin. But what a neat trick: the actor set out, and apparently succeeded, in thanking every member of the ensemble, rattling off in alphabetic order, with dramatic moments of struggle along the way, their first names.
Peter Dobrin

, Inquirer Classical Music Critic

Scenes from a strike:

A nighttime projectionist set up in the middle of Broad Street, beaming anti-management messages onto a building. Protesters with strike placards facing the plate-glass windows of a theater lobby while staring down customers inside. A labor dispute in which both sides appropriate the messages of Martin Luther King, Jr.

Philadelphia may be used to strikes at construction sites and outside corporate corridors, but this one is different. For one thing, the workers in question have already resigned themselves to an almost comical raise: an additional 25 cents per hour.
Peter Dobrin

, Inquirer Classical Music Critic
David Ludwig's The New Colossus will be performed by Ben Hutto and St. John's Choir during the worship service preceding Monday's Presidential Inauguration.
The piece was commissioned from Ludwig - a Curtis Institute of Music composer and artistic chair of the performance studies dept. - in 2002. But its text, from the Emma Lazarus's poem on the Statute of Liberty, is topical today. Ludwig writes: "I was very moved by the sentiment of welcome that Lazarus—herself an immigrant—conveys in the message: 'give me your tired, your poor, your huddled masses…' And it is not just some people that the Statue welcomes, but everyone—even the 'wretched refuse.' This to me was the true spirit of the United States embodied in poetry: our strength in diversity and tolerance."
The pre-Inauguration service is a private event for the president, vice president and members of the cabinet, at St. John's Episcopal Church near the White House.
Peter Dobrin

, Inquirer Classical Music Critic

Talks between the Philadelphia Theatre Co. and union officials ended Sunday after "seven fruitless hours," according to the union, without reaching a new labor agreement covering 27 stagehands. The strike, which began Friday, goes on.

"Management continues its demand to have unrestricted rights to use an alternative, nonunion, lower- paid workforce to perform the scope of work won by the stagehands at the September NLRB election," said a union official in a statement.

A picket line in front of PTC's Suzanne Roberts Theatre at Broad and Lombard Sts. met patrons Sunday afternoon as they arrived for a production of The Mountaintop.
Peter Dobrin

, Inquirer Classical Music Critic

Talks between Philadelphia Theatre Co. management and the union representing stagehands broke off at 2 a.m. Saturday without yielding a new trade agreement.

The stagehand strike continues, the union says:

"The employer will not agree to back off its demand to have the unrestricted right to hire as many non-union workers as they decide to perform the work covered in the union's jurisdiction and previously performed by the workers of the PTC who chose to be represented by the union."
Peter Dobrin

, Inquirer Classical Music Critic
From the New York Times' review of the Philadelphia Orchestra's Carnegie Hall concert this week:
"The ovation was enormous. The orchestra has come through rough times, including a financial crisis and a leadership vacuum. But the Philadelphia Orchestra seems to have found its ideal music director, though Mr. Nézet-Séguin will have to balance his commitment to Philadelphia with his international ambitions."
Read the rest here.