Archive: October, 2009
Peter Dobrin

, Inquirer Classical Music Critic
One more chance to hear the Philadelphia Orchestra in incredible form - tonight. Here's a review.
Peter Dobrin

, Inquirer Classical Music Critic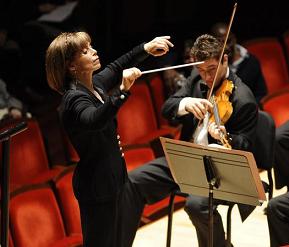 This review is scheduled to run in the physical version of The Inquirer Friday.
Nights like the one the Curtis Institute of Music had Tuesday — in which everything is going right and everyone in the room seems to feel it — are dear in the life of arts institutions, especially in tough times. The Curtis orchestra, in its first concert of the season, played with a magnificent assuredness. Much of the city's arts and civic leadership was in Verizon Hall, buzzing about the school's new dorm and orchestra rehearsal hall quickly taking shape a few blocks away.
And you couldn't help noticing that while all this spoke gamely of the future, in the audience were teachers such as Eleanor Sokoloff, charismatic Curtis piano pedagogue for nearly 75 years and living evidence that its new leadership still values the conservatory's lineage.
Of course, none of this would have mattered had the level of playing not been so high. JoAnn Falletta, music director of the Buffalo Philharmonic Orchestra, brought clarity to the Violin Concerto of Behzad Ranjbaran, order to Strauss' Don Juan, and, to Rimsky-Korsakov's Sheherazade, a surprising and lucid reanimation.
I never tire of hearing Sheherazade, in part since I don't hear it much anymore. Once a staple, it now shows up less often in concert halls. The work's youthful narrative is ideally suited to this orchestra; it asks for virtuosity, and the ensemble repays it in the form of ecstasy.
Falletta's interpretation was self-effacing. She provided a stable framework of tempos, occasionally veering away for expressive purposes, but mostly leaving individuality to unfold in the dozens of instrumental solos. William Short was not merely technically all there in the work's famous dancerly bassoon solo, but also highly individual in a way that would be notable even in a professional setting. Clarinetist Ruokai Chen placed a subtle elongation in tempo at the top of a run, transforming an excerpt lick into an artistic statement. All throughout the piece, concertmaster Joel Link, a fourth-year student, projected warmth and stability in notoriously treacherous solos.
Don Juan had great structure, though in the details was perhaps slightly prim and proper for the subject at hand. But Falletta was just right in Ranjbaran's Violin Concerto. The Tehran-born Juilliard composer might be thought of as music's magical realist. In this work — as well as in his "Persian Trilogy" — a passage can be going along at midlevel dissonance when, as if a light suddenly refracted, the orchestration turns lustrous and the harmonies seductive. You might hear film scoring in his sound. The composer himself identifies Persian modes and rhythms as inspiration, as well as the kamancheh, a traditional Persian bowed instrument.
But for the soloist, the more relevant cousins in the repertoire to this 2003 work are Barber and Korngold, whose spirit Elissa Lee Koljonen evoked in the formidable passage work. Koljonen, a 1994 Curtis graduate who studied with Aaron Rosand, is also Mrs. Roberto Diaz, wife of the director of Curtis, but her appearance on this program was no concession to family ties. She is apart from all her connections a violinist of immense presence. Technique is a given, but with a purpose. Case in point: the many fleeting moments of bending pitch and changing tone for expressive purposes. This was a knowing audience, so it might have detected her exquisite timing and precision. Or perhaps all it sensed was a violinist of considerable soul.
- Peter Dobrin

Peter Dobrin

, Inquirer Classical Music Critic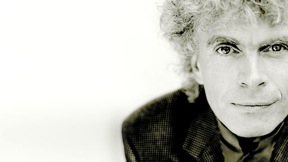 It's apparently finally done. Simon Rattle and the Berlin Philharmonic have penned a deal keeping him there through 2018. For how many weeks per year, we do not know.
What was the hold up? The AP story doesn't say.
Rattle's signing had been predicted by the Philharmonic before - and repeatedly over a period of many months - after a mysterious and confusing moment in which the orchestra wasn't sure whether it wanted to keep him.
Peter Dobrin

, Inquirer Classical Music Critic

Conductors, these days especially, have to be more than musicians. They are advocates, teachers and, in a substantive way, cheerleaders for the art form. Vladimir Jurowski, who guest conducts the Philadelphia Orchestra this week, has a couple of charismatic gifts unseen by the public during his previous visits here.

In this clip (from 2003) of him speaking about Die Fledermaus, he not only proves an elegant pianist, but also an insightful thinker. It's clear Jurowski is a conductor who makes interpretive choices based on clues in the score and deep consideration. Listen to five minutes of what he has to say about Fledermaus and you'll never hear the piece the same way again.

Jurowski leads the orchestra Thursday, Friday and Saturday in Stravinsky's Scherzo Fantastique, the Tchaikovsky Violin Concerto with the astonishing young violinist Sergey Khachatryan and one of the lesser-heard symphonies of Prokofiev, the No. 4.
Peter Dobrin

, Inquirer Classical Music Critic
The Philadelphia Museum of Art's Japanese ceremonial teahouse and garden are closed while the ceiling is replaced and lighting improved. The $350,000 project - funded by the Women's Committee and a private donor - will install a translucent ceiling, which aims to provide a more convincing outdoor look for the garden. The previous ceiling was installed in 1958.
And so, galleries 241, 242 and 243 in Japanese Art will remain closed as work is performed, re-opening to the public with the exhibition Pleasures and Pastimes in Japanese Art sometime around the new year.
Here's some history on the teahouse and garden via Felice Fischer, the museum's Luther W. Brady curator of Japanese art and curator of East Asian art:
Peter Dobrin

, Inquirer Classical Music Critic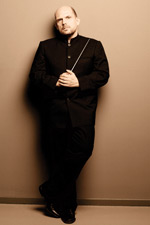 Dallas Symphony Orchestra music director Jaap van Zweden will extend his current four-year contract, stretching his commitment to the orchestra through the 2015-2016 season. This after just one season on the podium. The pact, the orchestra notes, will "mark eight years at its conclusion." By today's standards, the Dutch conductor is giving the orchestra a good number of weeks: he will lead 15 weeks each season through May, 2012 and 16 weeks per season after that.
Why do orchestras peer so far into the future? Conductors have commitments with multiple orchestras, so their schedules have to be nailed down as early as possible. It makes it easier to plan repertoire and hire soloists. It's smart on the public-message front, especiallly when it comes to fund-raising; donors want to know they are giving to stability. And determining an end-date for a maestro's tenure allows an orchestra to begin looking for the next music director on the orchestra's timetable, which is what you want in a process that often takes several years.
Here's one critic's view of the relationship in Dallas: a review by Scott Cantrell of a recent Beethoven 9th.
Peter Dobrin

, Inquirer Classical Music Critic

Music as torture. Culture as weapon.

The Obama administration says the practice stopped early in the new president's term, but, as the Washington Post reports today, music was used as a tool for torture in Guantanamo and other detention camps as punishment or to coerce cooperation. And a coalition of musicians is pressing the U.S. government to release the names of songs used.

"Dozens of musicians endorsed a Freedom of Information Act request filed by the National Security Archive, a Washington-based independent research institute, seeking the declassification of all records related to the use of music in interrogation practices," the Post reports.
Peter Dobrin

, Inquirer Classical Music Critic

Ryan Trecartin, a young Philadelphia painter and sculptor whose psychedelic, desultory, kitschy video work has found love among critics and collectors, has been given the first $150,000 Wolgin Prize - one of the richest art prizes in the world.
The winner of the award, endowed by 92-year-old philanthropist Jack Wolgin and given by Temple University's Tyler School of Art, was chosen months ago along with two other finalists, but was not announced until tonight.
Born in Webster, Texas, raised in Ohio and now a resident of South Philadelphia, Trecartin, 28, works in painting and sculpture, but is mostly known for his highly embellished vérité video pieces.
His name was winnowed from a pool of about 20 candidates. The competition did not accept unsolicited applicants, but was structured so that an advisory board from Tyler and across the globe solicited about a dozen nominators whose expertise they felt represented the international art scene. Each nominator put forth an average of two names.
Those names were considered by the jury, which consisted of Ingrid Schaffner, senior curator at the Institute for Contemporary Art, University of Pennsylvania; Melissa Chiu, director of the Asia Society in New York; and Paolo Colombo, art advisor to the Istanbul Museum of Modern Art and managing director of Dorje Film, Rome.
The trio met and simultaneously decided on the three finalists and the winner. Why name two other finalists if the winner was already chosen?
"That was part of the agreement the school had with Jack Wolgin. It was not only to have a feeling of suspense, but also so we could have an exhibition with more than one person," said Philip Glahn, a Tyler assistant professor of critical studies and aesthetics who was a member of the Wolgin Prize advisory board.
The parameters for this inaugural year of the Jack Wolgin International Competition in the Fine Arts ended up reflecting, about half and half, the wishes and ideas of the donor and the advisory board, Glahn said. The criteria for choosing the winner were that he or she be "an emerging talent. Known but not too well known. It was not to be a lifetime achievement award," he said.
The other finalists for the award were Sanford Biggers of New York and Michael Rakowitz of Chicago and New York. Their work, like Trecartin's, has been on display at Tyler this month.
Of the fact that planners designed an international artist search that ended up awarding talent a few miles south of Temple, Glahn said:
"That to us was more or less a coincidence."
Career buzz on Trecartin stems largely from works such as A Family Finds Entertainment (2004, see clip below). Chaotic, sometimes violent and infused with youthful rage and disgust, the video is a montage of cross-dressing characters giggling maniacally, looking into the camera and reciting obscenity-laced invective and arguing amongst themselves. Voice sounds are manipulated and layered in shouting, while images are distorted in a soup of colorful animation.
Amid the action, certain vocal lines are isolated for emphasis, some self-consciously trite, others pointedly arch or laden with tones of mock wisdom: "[unintelligible] I'll cry for you - not because I care but because I'm emotional...What you want isn't what you need, what you need is right in front of you."
His works have attracted wide attention, appearing at the 2006 Whitney Biennial, the J. Paul Getty Museum in Los Angeles, Saatchi Gallery in London and the Solomon R. Guggenheim Museum. He was recently awarded a Pew Fellowship in the Arts, which carries a $60,000 cash award.
The new Temple prize was endowed with a $3.7 million gift to Tyler from Jack Wolgin, who made his fortune in Philadelphia as a real estate investor.
Glahn said the competition would likely undergo refinement for its next round. It might be hard to say that any of the three finalists was an emerging artist, since all three have exhibited widely.
"What might change is our definition of what emerging is," he said.