Peter Dobrin

, Inquirer Classical Music Critic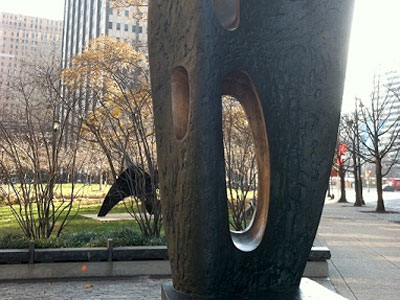 The arrival of a new piece of art in the city, the joining of an artistic citizen and its setting, deserves a certain kind of ongoing reception. And sure enough, more than a few passersby could be seen obliging - stopping, inspecting, or at least turning their heads, Wednesday morning as Dame Barbara Hepworth's Rock Form (Porthcurno) settled in at 17th and the Parkway.
The piece - perhaps the only local example of the artist's work on public view - was sited thoughtfully. From one side, the bronze appears slender as a flame. Looking west, you can spy the cross atop the Cathedral Basilica of Saints Peter and Paul through one if its Swiss-cheese holes. It juts out on a piece of Fairmount Park-owned land, a star thrust out onto the front of a stage. Something about it is very 1960s. It is perhaps a more detailed and elegant version of Single Form, made in memory of Dag Hammarskjöld at the United Nations building in New York.
If the neighborhood is new, one neighbor is familiar. Just to the east sits Henry Moore's Three Way Piece Number 1. Both works are bronze, both made in 1964, both of a similar aesthetic.
Peter Dobrin

, Inquirer Classical Music Critic
If the New York City Ballet dropped the live orchestra for a taped soundtrack in its current production of The Nutcracker, you can be sure critics would howl. And yet you might have gone away from the New York Times' Nov. 25 review of the production wondering whether there had in fact been a live orchestra and conductor (not to mention a boychoir) involved in the production.
Dance critic Alastair Macaulay wrote lovingly of the dancers, but made no mention of the musical forces. It might have been nice if somewhere in the 857-word review he would have found space for one more: Tchaikovsky. George Balanchine is mentioned four times, but it is apparently not all that significant that well before Mr. B. came along, the piece was brought into the world by a composer.
Regular readers of ArtsWatch will recognize this subject as a leitmotif. Why do dance writers, and sometimes even dance companies, forget that without the music, dance would be, well, absurd? It's an especially salient point now that a few troupes have decided to let their orchestras go and use taped music instead.
Peter Dobrin

, Inquirer Classical Music Critic

Chinese dissident artist Ai Weiwei's parody of PSY's K-Pop hit "Gangnam Style" has been blocked from Chinese websites, and in response, London artist Anish Kapoor produced his own video, and has asked others to respond with a similar show of support.

Here, about 40 members of the Philadelphia Museum of Art's staff weigh in with their own "Gangnam Style." The dance was led by Tracy Carter (blond in the front center) of the development department, with American art curator Kathleen A. Foster, members of human resources, marketing/communications, visitor services and education.

Elton John dedicated a recent Beijing concert to Ai.
Peter Dobrin

, Inquirer Classical Music Critic

It's Cyber Monday, which means, musically speaking, a deal on Philadelphia Orchestra tickets. Select remaining tickets for the 2012-13 season are being sold Monday, until 8 p.m., for $48 and $59.

(The offer comes with a substantial amount of fine print: excluded are Family, Sound All Around, chamber music and Beyond the Score concerts, as well as performances on 12/6, 12/7, 12/8, 1/10, 1/12, 1/16, 1/18, 1/26, 2/1, 2/2, 2/14, 2/15, 2/21, 2/24, 5/3, 5/5, 5/9, 5/10, 5/11, 5/23 and 5/25.)

Details here.
Peter Dobrin

, Inquirer Classical Music Critic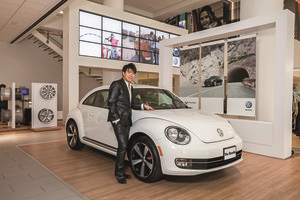 In a further consolidation of pianism and materialism, Lang Lang has become ambassador to Volkswagen.
An annoucement of the partnership from the German car-maker was light on detail, but it did reveal that Lang Lang will "arrive at his concerts all over the world in vehicles from Volkswagen."
The one-time Philadelphian has also developed relationships of various sorts with Adidas, Sony PlayStation, Sony's 3D,Telefónica, Armani, Dom Pérignon, Montblanc, and, lately, Chopin.
Peter Dobrin

, Inquirer Classical Music Critic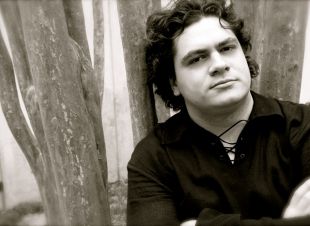 The Philadelphia Orchestra has renewed its contract with Cristian Măcelaru, and "elevated" his title to associate conductor from assistant conductor "in recognition of the tremendous artistic contributions he has made to the orchestra," an orchestra announcement stated Wednesday. He will continue to conduct special non-subscription concerts, such as the neighborhood concerts, and will lead his own subscription week at some point in the future. His new contract runs through the 2013-14 season.
Peter Dobrin

, Inquirer Classical Music Critic
Above all else, she makes a beautiful sound. Some singers are willing to forgo sound quality to put emotion behind a text. But in her Friday night recital for the Philadelphia Chamber Music Society at the Perelman Theater, mezzo-soprano Bernarda Fink swathed story after story in an unfailingly civilized tone.
Argentinean with Slovenian roots, Fink has the twin virtues of richness and clarity. Often it was impossible to separate her polish from that of her pianist, Anthony Spiri. In the fourth in a set of Schumann songs on texts by Nikolaus Lenau, "The Herdsgirl," Fink's sound was nearly indistinguishable from Spriri's right hand, so neatly matched were they in pitch and color. That phenomenon repeated itself throughout the evening.
On a program weighted with Mahler (along with a charming subset of five from Dvořák's Biblical Songs), the Schumann might have seemed, at first, less multidimensional. But hear what was going on in the piano part to "Loneliness" – a keyboard evoking the spindly tendrils of a dark forest grabbing at a visitor who has come seeking answers. When a troubled couple walks through a garden in "The Oppressive Evening," piano and voice are pursuing paths so different they could be performing separate pieces, reaching concordance only upon a death wish.