Peter Dobrin

, Inquirer Classical Music Critic

"There seemed to be people as far as the eye could see. The crowd stretched in a great semicircle from the Lincoln Memorial around the reflecting pool on to the shaft of the Washington Monument. I had a feeling that a great wave of good will poured out from these people, almost engulfing me. And when I stood up to sing our National Anthem I felt for a moment as though I were choking. For a desperate second I thought that the words, as well as I know them, would not come. I sang, I don't know how."

- Marian Anderson, from My Lord, What a Morning (1956), recalling her performance at the Lincoln Memorial 75 years ago today after the Daughters of the American Revolution decreed that Anderson, because of her race, could not perform in Constitution Hall.
Peter Dobrin

, Inquirer Classical Music Critic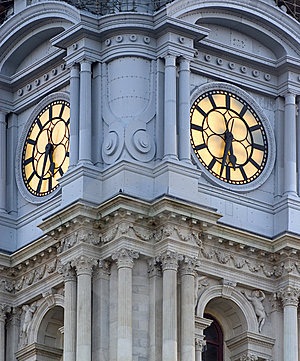 Bill de Blasio became New York's 109th mayor Jan. 1, and this week, a little more than three months into his term, he named a culture chief for the city. Tom Finkelpearl, president of the Queens Museum, will have $156 million at his disposal to spread around what the New York Times declares in an outburst of unchecked provincial pride the "cultural capital of the world" (sorry, London, Berlin, Paris and Vienna).
Here in Philadelphia, things take a little longer. Gary P. Steuer, the city's last culture czar, gave notice to Mayor Nutter about ten months ago, and Nutter still has not named a replacement. City spokesman Mark McDonald Monday said the city still plans to fill the spot. "We are actively looking for a new chief cultural officer and hope to announce in the near future," he said.
In the meantime, a signature campaign is gathering steam to restore the small amount of money the city gives out each year through the Philadelphia Cultural Fund. "As City Council works to finalize and approve the budget for FY2015, we ask that you urge them to be champions for arts & culture and restore funding for the Philadelphia Cultural Fund back to its 2010 level of $3.2 million," states the petition. The entire proposed city budget is $4.5 billion. Organizers are also asking that all culture lovers show up in person April 22 in City Council chamber to visibly demonstrate support.
Peter Dobrin

, Inquirer Classical Music Critic

On his way through Philadelphia after a 14-city U.S. tour that ended Friday, Israel Philharmonic Orchestra first-chair flutist Eyal Ein-Habar looked in his overhead baggage compartment to get his flute, and found it gone.
"My flute was inside a carry on along with my computer, music scores and some more," he said. "Upon arrival it was not in the overhead compartment. I waited for everyone to leave the plane, so I could look around. But then realized there was only one bag left, not mine, and not even similar."
It is not only his main instrument - it is his only instrument. While not worth the millions old Italian string instruments fetch, it is still a potentially greater loss than a missing laptop: about $60,000, he says. Just in case you brought home the wrong bag and found something unfamiliar, it is a Powell 19.5 gold flute, with a head joint by Mancke. Ein-Habar was coming through Philadelphia from Raleigh-Durham to catch a flight to Tel Aviv.
Peter Dobrin

, Inquirer Classical Music Critic

After eight years, Chamber Orchestra of Philadelphia executive director Peter H. Gistelinck is resigning his position at the end of the 2013-14 season to take the same post with the Kalamazoo Symphony Orchestra in Michigan, both groups announced today. As a search for a successor begins, current director of orchestra operations and artistic administration Jeanette Honig Grafman will serve as interim leader.
Peter Dobrin

, Inquirer Classical Music Critic

Christoph Eschenbach, well-known to Philadelphians from his five-year stint at the orchestra, has extended his stay at the National Symphony Orchestra through 2016-17, artsjournal and others report. Washington Post music critic Anne Midgette offers a concise assessment here. Another maestro has decided to step down. Alan Harler, artistic director of the Mendelssohn Club of Philadelphia since 1988, will become laureate after the 2014-15 season, the 140-year-old chorus announced.
Peter Dobrin

, Inquirer Classical Music Critic
You can imagine the father explaining it to his son in the not-too-distant future: "...You would drop a coin in the slot, and you could make a local call. A local call? That's when..."
Shelled-out remains of a bygone technology can still be found across the city. The pay phones themselves are gone, and I suppose at some point their casings will disappear as well, no longer subjecting youth to their puzzling appearance like so many mini Stonehenge-like enigmas.
But in the meantime, a few, like this one near 9th and Christian Streets, are doubling as canvases. At least they serve a purpose. And you can stand as long as you like without anyone interrupting to ask you to please deposit another 15 cents. "Please deposit another 15 cents?" That's what the operator would say when - oh, never mind.
Peter Dobrin

, Inquirer Classical Music Critic

Leonard Bogdanoff, 83, a violist with the Philadelphia Orchestra for a half century, died suddenly at home in Elkins Park Friday. Colleagues said Mr. Bogdanoff personified all of the best qualities of the orchestra's old guard.

"When I think of Leonard I think of the kindness in dealing with all of the other members of the viola section. He was just very fair," said orchestra substitute violist Pamela Faye, a frequent stand partner. "You can have people who can make or break a section, and he was one of the ones who gave a positive influence, sound-wise, stylistically, all of it. That was really an inspiration to me."

Retired orchestra member Louis Lanza, who, as a second violinist, sat not far from Mr. Bogdanoff, called him "a very steady player, very accurate, and just a wonderful musician."
Peter Dobrin

, Inquirer Classical Music Critic
Some in last Friday's audience for Nikolaj Znaider's Beethoven Concerto with the Philadelphia Orchestra noticed a bit of a stir on stage in the second movement. Here's what happened, according to his agent:
"Nikolaj had his violin fine-tuned just prior to his performances in Philadelphia, and he discovered (at a most inopportune time, and with considerable chagrin!) that his chin rest had not been completely refastened to the instrument. During one of the tutti orchestral passages in the Larghetto, Nikolaj asked David Kim whether he had the right tool to tighten the chinrest (and thereby secure it to the violin). David did not, so Nikolaj soldiered on, seemingly unfazed. By the end of the performance, the chin rest was so loose that Nikolaj was able to take it off and slip it in his pocket during the applause. Remarkably, it did not seem to affect his playing one bit."