Is art always political? Depends on what you mean by political. For some folks, all the arts, so often situated in the public eye – drama, dance, and music through performance, poetry through publication, paintings and sculpture through exhibition – unavoidably address or challenge values and aspirations held in common by many people. In other words, they're political.
A great deal of theater goes right at topical issues (Eclipsed), social conflict (Disgraced), history (Richard III; Fences), injustice (Sizwe Banzi Is Dead), protest (The Cradle Will Rock). I'm just naming examples for the fun of it; it's actually harder to think of plays that don't operate in and on society …
"How do we change the future?" That's the question asked in this trailer for Grand Concourse, a play running at Theatre Horizon Feb.3-26. The trailer suggests an interesting first step in combating hunger: Go see a play.
By Heidi Shreck, Grand Concourse takes place in a church's soup kitchen, when someone new comes in and challenges everybody to declare themselves and what they stand for. In conjunction with Grand Concourse will be Imagine No Hunger, a social service project and art exhibit exploring issues related to food insecurity in the Theatre Horizon lobby. Grand Concourse will include post-show dialogues with people working against hunger in Montgomery County, where an estimated 88,000 people struggle with food insecurity.
This wants to be a production that prompts the questions: Since we can end hunger, why don't we? How would Montgomery County, the United States, the world be different if we did?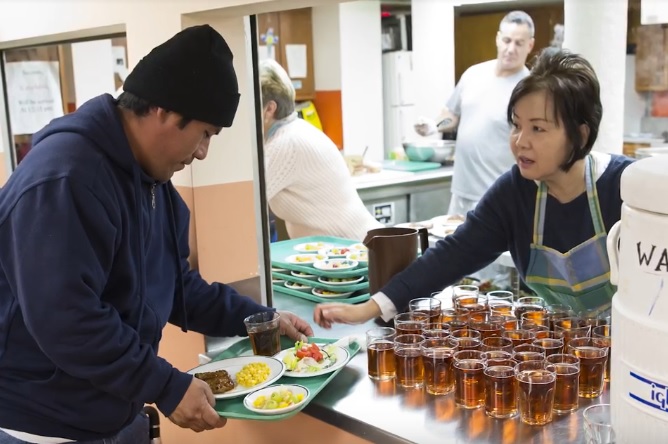 We see some video footage of rehearsals for the show – and a Jan. 23 visit paid by cast and crew to the RHD Coordinated Homeless Outreach Center of Montgomery County in Norristown:
We're asked, echoing John Lennon, to "imagine there's no hunger." If Grand Concourse can get people to do that, play on.
---
Grand Concourse. Feb. 3-26 at Theatre Horizon, 401 DeKalb St., Norristown. Tickets: $20-$35. Information: 610-283-2230 or www.theatrehorizon.org.