by Alexandra Villarreal
Forget the mundane meetings and boring paperwork that typically sum up the goings-on at government buildings. From jazzy tunes to aerial loops, Philadelphia's City Hall is bursting with energy and verve at noon on Wednesdays this summer, running through Oct. 26.
Thanks to the Office of Arts, Culture, and the Creative Economy, Philadelphians can enjoy a free noontime performance at City Hall on most Wednesdays through October with a series named Culture in the Courtyard. The first show took place on Wednesday, June 22, and featured feminist troupe Pasión y Arte Flamenco, a soulful all-female company that stresses women's empowerment through dance. While not all guests have been confirmed, Culture in the Courtyard has announced five other groups that will take the figurative stage to share their art with the community.
All performance dates can be found online; acts are still being lined up. Below is a taste of some of the acts definitely nailed down for the coming months.
Philadelphia Clef Club Youth Ensemble (June 29) will highlight jazz, America's most acclaimed musical innovation – and the Clef Club itself, a performance and teaching space housed in one of the first-ever jazz-specific venue in the world. Among its alumni it boasts the likes of Roots drummer Questlove.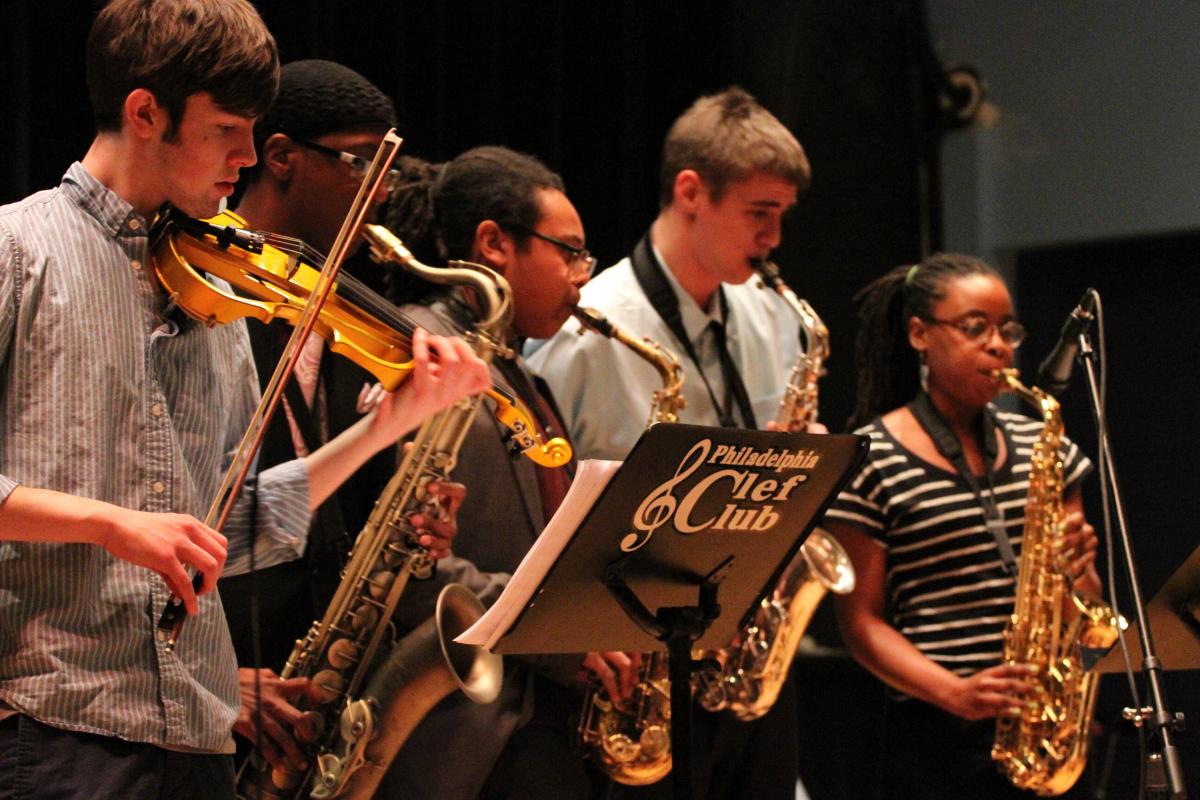 Members of the Philadelphia Clef Club Youth Jazz Ensemble, during a 2012 concert at the Mann Center for Performing Arts. The group will be at City Hall courtyard for a noon performance on June 29.
On July 13, the Philadelphia School of Circus Arts will hang from trapezes and unicycle around the courtyard for an afternoon of childlike wonder. These students are no strangers to City Hall; in fact, one of their photos online features a woman mid-air above the compass.
As July sizzles onward, the Philadelphia Argentine Tango School adds even more steam with a live performance on July 20. Then, on August 3, Saint Joseph's Preparatory School's theater group, the Cape and Sword Drama Society, will take the courtyard at noon. The all-male Catholic preparatory school boasts a renowned theater program, with graduates currently making it big on Broadway and in television. Each year, the group produces two full-length shows, so these high-schoolers are plenty familiar with the spotlight.
Hip Hop Fundamentals, who have performed more than 1200 times since 2010, will perform in the City Hall courtyard. B-boys bent on education, the crew has been the subject of both a Columbia University book, Advocating Creatively, and a TEDx presentation because of its distinctive approach to community engagement through performance. The group's website says that they use "the dynamic American art form of Breaking to effectively teach academic content, youth empowerment, and social issues." They know they have to be entertaining to keep kids interested, and so their show should be worth a viewing.
On Aug. 24, Three Aksha Dance Company (Aug. 24) will explore Bharatanatyam, "Emotion/Music/Rhythm/Dance," the Indian dance technique inspired by a 2,000-year-old text, the Natya Shastra. Three Aksha Dance Company isn't quite so ancient: It was formed in 2003, under the careful eye of artistic director and choreographer Viji Rao.
Brian Sanders' JUNK performs on August 31. The nationally acclaimed troupe mixes dance and theater for an unpredictable, unrepeatable experience that challenges both genres of the performing arts.
The shows promise fun while also informing the public about the many strands of Philadelphia culture, and they offer yet another way citizens can enter in a dialogue about what defines our city.