What a lot there is to admire and enjoy in Theresa Rebeck's new play, Bernhardt/Hamlet.
Great acting: Janet McTeer, as the legendary actress Sarah Bernhardt, gives a stunning, towering performance, backed by a fine and nimble cast.
Wildly entertaining dialogue: Rebeck's Bernhardt/Hamlet is smart, funny, and impassioned, and comes at you in cascades of language. Under Moritz von Stuelpnagel's direction, the pace stays lively and we dash from scene to scene.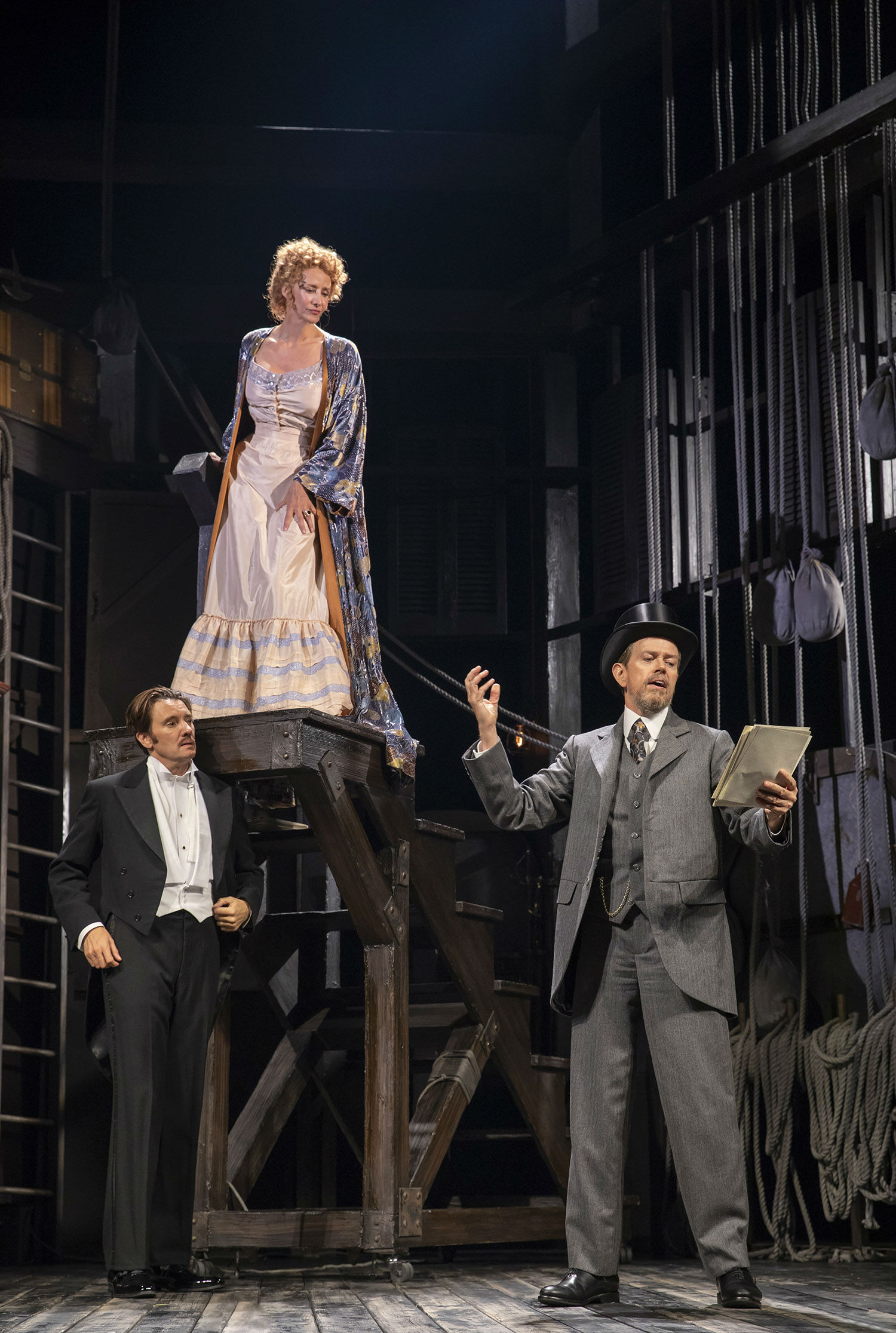 (Left to right): Jason Butler Horner, Janet McTeer, and Dylan Baker in "Bernhardt/Hamlet," through Nov. 11 at the American Airlines Theatre in New York.
The production values are through the roof: Beowulf Boritt's revolving set is gorgeous, from the vast back stage to the intimate, luxe Bernhardt dressing room. Toni-Leslie James' costumes are superb (don't miss the men's shoes!).
And the show has tantalizing springboard idea: in 1897, in Paris, Sarah Bernhardt decided to play Hamlet. Cross-dressing and gender-bending were not yet the constant facts of theater as they seem to be today, although they were certainly dominant facts of Shakespeare's comedies. But Bernhardt, knowing a summit role when she sees one, and having played Ophelia four times (and knowing she has aged out of ingenue roles), refuses to be shut out of this immense dramatic challenge, the existential thrill of meeting Shakespeare "soul to soul" by performing Hamlet.
We meet Bernhardt when she is rehearsing Hamlet. She is annoyed by the poetry, the endless iambs, the central character's inertia, the incomprehensibility of some of the lines. And so she summons her lover, Edmond Rostand, the celebrated but married-with-children playwright. He is madly in love with her, and Jason Butler Harner gets the romantic, tormented leading man role just right, making lines that might sound absurdly flamboyant sound instead like naturalistic speech. Act 1's curtain scene sums up the core idea of the play in this exchange:
SARAH: It is nothing. A small thing. But Edmond, I tell you truly, only you can do it. Your brilliance, your wit, your tender heart. I cannot do this without you, Edmond. Truly I cannot.
EDMOND: I am at your command. You have slain me quite. What is it you would have me do?
SARAH: I want you to rewrite Hamlet.
[A pause ... ]
EDMOND (irritated and angry): You want me to rewrite Hamlet?
Blackout.
These histrionics are such fun.
And so Bernhardt/Hamlet would seem to have everything going for it.
And yet.
Unlike many intellectually weak contemporary plays, this one suffers from too many ideas. Tempted into excess by Shakespeare, Rebeck writes a monologue for every character, and themes and topics shoot off in too many directions. The result is that we never find out much about the historical Bernhardt (a life crammed with incident and scandal), nor do we learn how her production of Hamlet was received. The audience applauds the moments declaring feminist power ("A woman who does nothing is nothing. A man who does nothing is Hamlet"), although our knee-jerk admiration may be misplaced: She is unkind to other women, and emotionally ruthless with men. It is impossible to identify with Sarah Bernhardt, no matter how much we may agree with her need for power and strength in a male-dominated world; she is larger-than-life, adored, egomaniacal, and self-indulgent.
There's more: Rebeck's play is a love letter to the theater. It is also an attempt to interpret Hamlet, line by line. Her grown son, Maurice (Nick Westrate), arrives from university, righteously berating his mother (where have we heard that before?). Scenes that seem to promise insight into the characters playing the Hamlet characters, like the tender scene between Hamlet and he ghost of the King (Dylan Baker), never lead us below the surface to understanding. The Rosencrantz and Guildenstern scene is remarkable only for its pause, when McTeer looks at them with a three-second "Really?" implied by the tilt of her head.
There's even more: Alphonse Mucha (Matthew Saldivar) creates the Art Nouveau posters that immortalize Bernhardt. Movies are invented. Rostand's most famous play, Cyrano de Bergerac, about a woman too silly and stupid to see past appearances, threatens to replace Hamlet as this play's central example in gender studies.
Bernhardt/Hamlet is great theater, although it may not be a great play. Definitely worth seeing.
---
Bernhardt/Hamlet. Through Nov. 11 at American Airlines Theatre, 227 W. 42nd St., New York