Archive: August, 2010
Peter Dobrin

, Inquirer Classical Music Critic

Born this day, 1923. Here he is conducting the Stokowski arrangement of Bach's Toccata and Fugue in D Minor. Sawallisch was surprisingly sympathetic to this repertoire, which, happily, was captured nicely during his decade as the Philadelphia Orchestra's sixth music director.
Peter Dobrin

, Inquirer Classical Music Critic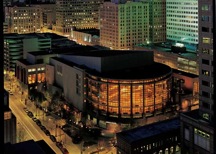 Symphony Orchestra + Frightening Economy = Conservative Programming. That's the traditional equation, anyway.
But now, as the economy trembles anew, the Seattle Symphony has announced the commissioning of 18 works, to be unveiled during the 2010-11 season. To honor music director Gerard Schwarz in his last season (his 26th), the orchestra has sprinkled the repertoire list with new pieces from Augusta Read Thomas, Joseph Schwantner, Aaron Jay Kernis, Daron Hagen, Samuel Jones, David Stock, Bernard Rands, Gunther Schuller, Bright Sheng, Daniel Brewbaker, Ellen Taafe Zwillich, Robert Beaser, Chen Yi, George Tsontakis, David Schiff, Richard Danielpour, Paul Schoenfield and Philip Glass.
So it's not the most daring list of names; composers were chosen for having a history with Schwarz. Almost all are American-born (all are active in America), which limits scope. It's a distinctly non-European grouping. There's a whole world of important musical ideas being generated in Germany, France, Italy, Finland and the Netherlands - not to mention the former Soviet Union - and it might have been nice to have had some of this represented.
Peter Dobrin

, Inquirer Classical Music Critic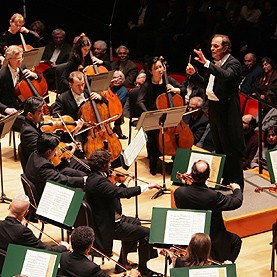 The Philadelphia Orchestra could end up in pictures.
And sound. In a deal with SpectiCast and Bryn Mawr Film Institute, nine of the orchestra's 2010-11 concerts will be offered live starting this fall to North American movie houses with high-quality projection and audio systems.
SpectiCast is already simulcasting Philadelphia Orchestra concerts to about 55 assisted living and community centers in Pennsylvania, Florida, Texas, California, Illinois and Wisconsin, and is utilizing BMFI's familiarity with theaters and film societies to expand the audience, said SpectiCast president Mark Rupp.
Peter Dobrin

, Inquirer Classical Music Critic
Any fete for Charles Dutoit would necessarily involve a certain amount of frisson, and Thursday night, in capping the conductor's 21 summers of leading the Philadelphia Orchestra's concerts here, it came in bubbly form.
At a pre-concert talk, there was champagne. For the audience at intermission, champagne. With musicians backstage after this last Dutoit concert as artistic chief of the Saratoga Performing Arts Center – real champagne.
"The greatest conductor in the world," declared Marcia White, SPAC's president, as she brought Dutoit out for what she said was his 182d concert at this horse-racing resort town where the orchestra has spent part of every summer since 1966.
White offered the maestro little wiggle room when she offered him, in front of the audience, the title of emeritus conductor, and added: "However, you don't get the title unless you come back." He acquiesced.
But there's no ignoring Thursday night as the latest step in Dutoit's gradual withdrawal from the musical life of this orchestra. Dutoit has been heavily involved with the ensemble since his debut in 1980, and while he hoped to become its titular head, he was passed over three times. The greatest commitment the orchestra was willing to make was naming him "chief conductor,' through 2011-12. He stepped down as artistic director of the Mann Center, and, after marrying longtime partner and SPAC chamber music festival director Chantal Juillet in February, the two announced their impending departure from their Saratoga posts.
Dutoit plans a Saratoga coda for two concerts next summer, as he prepares the orchestra for a European tour. It would be Dutoit's first real tour with the ensemble, normally a time for deepening relationships. But a firm case could be made that when it comes to epoch-making musical experiences, Thursday's concert was the marker. The orchestra likes to rise to an occasion, and the unusually brilliant alloy of polish and brawn Dutoit drew in Shostakovich's Festive Overture signaled that this was a night of playing for the maestro. The evening ended with a solidly effecting Respighi Pines of Rome, in Dutoit's sixth outing with the piece in this place with a few ancient pines of its own.
The piece, though, that rather mystified was an even more standard member of the orchestral repertoire, La Mer. One of the reasons the Dutoit/Philadelphia partnership has worked so well is that they can get along on a one-rehearsal, one-concert formula that produces acceptable performances. "I can't think of another conductor who the musicians are totally comfortable with," said Emilio Gravagno, a recently retired orchestra double-bassist speaking at a pre-concert talk about Dutoit. Granted.
But that doesn't explain how this La Mer turned into a highly developed interpretation – one of those fleeting, surprise statements you wish someone had captured on disk.
The orchestra played wonderfully, in that single-minded mode they sometimes achieve. The revelation, though, came via Dutoit. He held the first movement to a steady inner beat, but released sudden bursts of a quickened phrase here or there. He clarified textures by shortening the length of some notes. None of these vague, gauzy brushstrokes of Debussy sought by other conductors – that seemed like kid's stuff by comparison. The second movement was paced beautifully, with subtle tempo changes marking out the structure. Dutoit turned to the cellos and mouthed something which may or may not have been related to a particularly silken sound they produced at one point. The third movement, "Dialogue between the Wind and the Sea," opened as an act of menace - not by way of a growling orchestral timbre or degradation of tone, but through a gripping unfolding of successively more angry statements.
It was incisive and lean, yet there were moment of great subtlety, like the delicately slowing arrival point Dutoit set down just before that extremely high and sustained misty violin harmonic (an A flat) in the third movement. You need trust to pull off moments like this – something that exists, perhaps, only between friends.
That, in fact, is a big piece of collateral loss Dutoit's departure will bring – the roster of friends he's brought with him. Saratogians heard a lot of pianist Martha Argerich, a former wife, during the Dutoit years. Thursday night the current spouse, Juillet, performed the Korngold Violin Concerto. She was tentative in the first movement, enough so in spots to make you wonder whether the resume that brought her to the stage was more familial than musical. But then the sketchiness disappeared, and in the second movement Juillet grasped the most vocal, even human, aspects of the work. Was it one of those warm looks that passed between them that put her at ease?
The personal and professional are inseparable with Dutoit – a happy state of confusion on which the listening public was lucky to eavesdrop for more than two decades.
Peter Dobrin

, Inquirer Classical Music Critic
Peter Dobrin

, Inquirer Classical Music Critic
Albany, New York, Aug 11, 2010, reflecting pond at Empire State Plaza.
Peter Dobrin

, Inquirer Classical Music Critic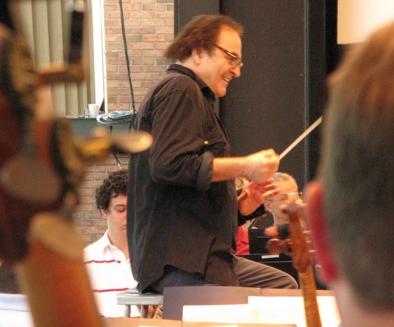 ArtsWatch will be in Saratoga Springs next week for Charles Dutoit's last concerts as artistic chief of the Philadelphia Orchestra's annual residency at Saratoga Performing Arts Center. Dutoit is stepping down after 21 seasons of putting together programs, leading violin concertos with now-wife Chantal Juillet, coaxing ex-wife Martha Argerich to show up for piano concertos and chamber music, and communing with one of the most homogeneous ensembles anywhere.
Here's a shot of Dutoit rehearsing with the orchestra last summer, plus a review of this year's opening night by my colleague, stalwart Judith White of the Saratogian.
Peter Dobrin

, Inquirer Classical Music Critic
What has nine musicians and flies?
You'd have just cause to be skeptical of Nathaniel Stookey's Junkestra, a three-movement, eleven-minute work performed on objects made from garbage found at a San Francisco waste transfer facility. But instruments don't make music, people do, and Stookey's short work for instruments created by him and his mother - from "pipes, pans, mixing bowls, bottles, serving trays, deck railings, dresser drawers, oil drums, bike wheels, saws, garbage cans, bathroom fixtures, bird-cages and shopping carts" - is a concise, rhythm-heavy work of considerable emotional scope. The second movement is especially lovely - a moody post-industrial gamelan.
Stookey obviously has a sense of humor. He, you may remember, is composer of The Composer Is Dead, a work for orchestra and narrator with text written and performed by Lemony Snicket. The Philadelphia Orchestra scheduled it three seasons ago, and I wish they'd bring it back. The Junkestra - seven percussionists, plus David Weiss on saw - is led by Benjamin Shwartz, who attended the Curtis Institute of Music, where, presumably, he did not major in sanitation arts.