Archive: August, 2009
Peter Dobrin

, Inquirer Classical Music Critic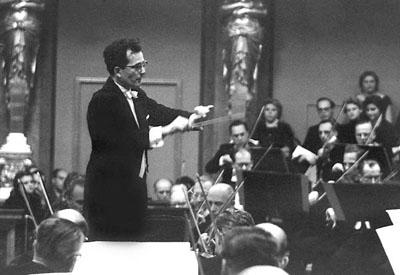 Wolfgang Sawallisch turns 86 today. He's no longer conducting, but here are some revelatory YouTube moments to help recall what an elegant musician Sawallisch was.
With Pinchas Zukerman in Mozart.
A Brahms 3 from 1961 with the Vienna Symphony.
Peter Dobrin

, Inquirer Classical Music Critic
Louis Rosenblatt, the dignified, silver-haired English hornist for the Philadelphia Orchestra from 1959-1995, died Monday afternoon. He was 81.
His obituary will appear in The Inquirer tomorrow, along with - if there is room - a short discography.
The International Double Reed Society has linked from youtube a number of video clips, including this one of Scheherazade, with Ormandy, shot in the Academy of Music.
Peter Dobrin

, Inquirer Classical Music Critic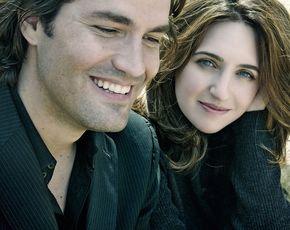 Simone Dinnerstein, young and individualistic is she, is out with a new Beethoven recording. The pianist partners with cellist Zuill Bailey in a two-disk Telarc release of the complete works for piano and cello. That means the five sonatas; 12 Variations in G Major on "See the conqu'ring hero comes" from Handel's Judas Maccabaeus; 12 Variations in F Major on "Ein Madchen oder ein Weibchen" from Mozart's The Magic Flute; and 7 Variations in E Flat Major on "Bei Mannern welche Liebe fuhlen" from Mozart's The Magic Flute.
They're a good match, these two players. Some of the phrasing is precious, a little too fanciful. But the recordings give you a lot of opportunity to re-think the meaning of this music.
Peter Dobrin

, Inquirer Classical Music Critic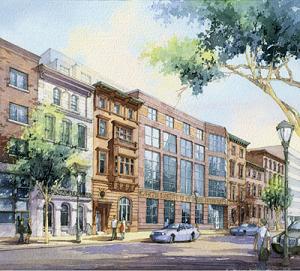 Elite has become a dirty word, but it's a valuable distinction in the case of the Curtis Institute of Music. We always knew the music conservatory on Rittenhouse Square was choosy, and in its annual ranking, U.S. News & World Report has determined that Curtis is the choosiest school in the land. It accepts just 4 percent of those who apply. Harvard and Yale, by comparison, hovered around 8 percent.
Curtis' closest music competitor is the much-larger Juilliard School, accepting nearly 8 percent of applicants. The Cleveland Institute of Music came in at 35 percent. New England Conservatory of Music, 31 percent.
I'm not sure the list means all that much, given the fact that colleges and universities with music schools were left off the list - places like the esteemed music school of Indiana University, Eastman (part of the University of Rochester) and Peabody Institute (a little subsidiary of Johns Hopkins). But it's fun to see elitism cast as a desirable quality once in a while.
Peter Dobrin

, Inquirer Classical Music Critic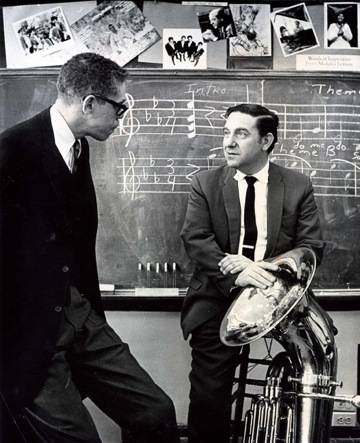 Here's a little more on Abe Torchinsky, whose obituary appears today, and a few things you might look for in the accompanying photograph. The shot was taken in the spring of 1969, at Simon Gratz High School. On the chalkboard is something you'd probably not see today - a piano reduction of the first few bars of Beethoven's Symphony No. 3 (remember those five-space chalk holders we used to drag to create a musical staff?) The teacher with whom Torchinsky is speaking is George Allen.
Above their heads are musical heroes of the day - Eugene Ormandy, Mahalia Jackson, and others.
The photo, by the way, is another from Adrian Siegel. You hate to imagine what wouldn't be known today about the history of the Philadelphia Orchestra had the cellist from the orchestra not been snapping away all those years.
Peter Dobrin

, Inquirer Classical Music Critic

Hildegard Behrens has died. The German soprano - she was one of our era's great vehicles of emotion, and not just in Wagner - fell ill while traveling in Japan, and died in a Tokyo hospital. She was 72, and was still singing recently.

Here is some of what I heard in 2003 during her recital at the Perelman for the Philadelphia Chamber Music Society:

"When you're a great diva and you want to sing about the small matter of gods going up in flames, you can't just step out on stage and start cold. You have to build to the idea, maybe warming up with a little infanticide and some free-floating insanity.

"That Hildegard Behrens was able to convey any of those ideas so fully, outside of their operatic context and without benefit of a full orchestra (click here for rest of the review).
Peter Dobrin

, Inquirer Classical Music Critic
Abe Torchinsky, the Philadelphia Orchestra's tubist from 1949-72 and a former member of the NBC Symphony Orchestra, died Tuesday night. He was 89. An obituary will follow.
(Photo: Torchinsky in 1959, captured by Adrian Siegel.)
Peter Dobrin

, Inquirer Classical Music Critic

The economy has hit the Pennsylvania Ballet, but not as hard as it has some other dance companies.
The ballet will leave a few administrative jobs open. It is investigating more modest options for a new headquarters on N. Broad Street. And it has manipulated its performance schedule to achieve some savings on venue rentals.
Thank goodness it hasn't gone the humuliated route of some troupes: taped music at performances. In fact, the ballet recently negotiated some cost savings with its orchestra of area freelancers, and the ensemble will lift itself out of the orchestra pit to play a rare concert on its own. On Sept. 14, before the full music season really gets rolling, the orchestra will perform in the Perelman under the baton of its leader, Beatrice Jona Affron (pictured). Ne details on the program yet. Tickets are $50-$200, and proceeds will benefit the ballet.