Peter Dobrin

, Inquirer Classical Music Critic

Four union units at the Kimmel Center represented by the International Alliance of Theatrical Stage Employees (IATSE) have new contracts. About 300 stagehands, 130 ushers, 15 ticket sellers and three dozen wardrobe employees will work under a new deal that takes effect Oct. 1 and runs through Sept. 2019, says Mike Barnes, the chief of IATSE local 8. In exchange for some changes in work rules and giving up premium rates and guarantees for a few workers, the union negotiated raises averaging 2.9 percent each year for five years across all the units, Barnes said.

This round of bargaining was quieter and, at least on the surface, more harmonious than last time. Three years ago when talks broke down, IATSE workers went on strike, forcing cancellation of performances at the Kimmel Center. "This was not done under duress," said Barnes Tuesday. "There was a very cooperative atmosphere."

The new contract was ratified by stagehands last week, and while Barnes was unsure of the timing of ratification votes by the other three units, the new pact is a done deal, he said. "All four have signed off on it," he said.
Peter Dobrin

, Inquirer Classical Music Critic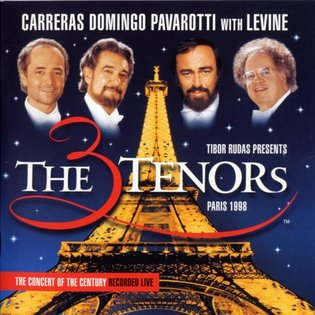 Tibor Rudas, 94, a classical promoter with a flare for the spectacle, died Sept. 8, the New York Times reports. After Rudas, sports stadiums and casinos were never again safe from the sounds of Verdi. "I am the most hated man in the world of opera, but I am loved by the masses," he once said. In this, for better or for worse, Rudas seemed very much ahead of his time.
Many will remember that Rudas had a local impact here, as the one-time producer of the defunct Pavarotti Competition.
Peter Dobrin

, Inquirer Classical Music Critic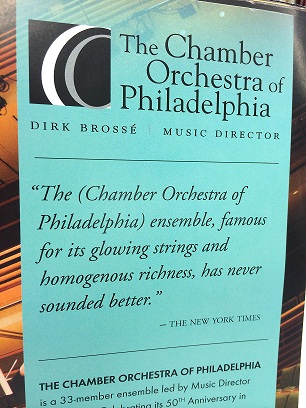 The new Kimmel Center season brochure arrived in the mail Thursday, and it was nice to see the arts center highlighting its own resident companies. There is a page or two on most of the Kimmel's residents - a reminder of the Kimmel's newish focus on indigenous rather than imported culture. You, like me, may still miss the visiting orchestras and recitalists dropped by the Kimmel, but that era is over, at least for now.
There's also a laudatory quote from the New York Times on the Chamber Orchestra of Philadelphia. It goes, verbatim: "The (Chamber Orchestra of Philadelphia) ensemble, famous for its glowing strings and homogeneous richness, has never sounded better."
Glowing strings and homogeneous richness? Chamber Orchestra of Philadelphia? Maybe. But a quick search reveals that the Times quote was actually pulled from a 2013 review of the Philadelphia Orchestra at Carnegie Hall. How does this sort of mistake happen? The job of finding a quote had been outsourced to an intern working for an outside promoter, says Chamber Orchestra executive director Janelle McCoy (who has only recently joined the organization). But it does seem strange that neither the Chamber Orchestra nor the Kimmel would catch such an error. Two Chamber Orchestra employees who vetted the material are no longer employed there, though their departure is unrelated to the error, said McCoy, who called it an "egregious mistake."
Peter Dobrin

, Inquirer Classical Music Critic
This bike rack just arrived near the Curtis Institute's Lenfest Hall. We like.

Peter Dobrin

, Inquirer Classical Music Critic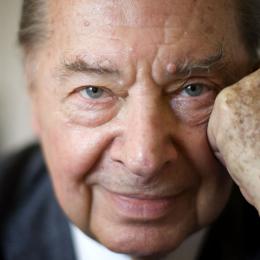 A real master of the podium is stepping down. Rafael Frühbeck de Burgos, in poor health, is retiring from conducting. A statement, via the Boston Symphony Orchestra, says:
Rafael Frühbeck de Burgos has resigned his position as Chief Conductor of the Danish National Symphony Orchestra and has signaled an immediate end to his conducting career. The 80-year-old Spaniard, who has been beset with health problems in recent months, wrote: "After meeting with my doctors I have come to the following conclusion: I have to recognize publicly that I have cancer and that in this state of health and with deep sorrow I am not able to conduct at my standards and the moment to quit professional matters has come."
Many will share his deep sorrow. In Philadelphia, few others have had his ear for drawing the best qualities from the ensemble. His concept of sound, in particular, was a special thing.
Peter Dobrin

, Inquirer Classical Music Critic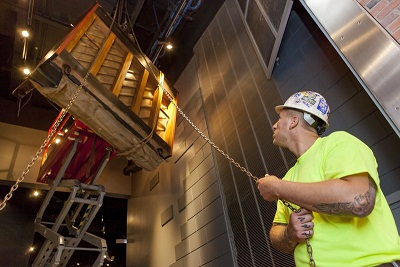 Where is this piano going? Actually, hanging in mid-air is its last stop.
It was lifted into place Monday as part of the Franklin Institute's Your Brain exhibition, opening in June in the museum's new wing. Hung by a ragged rope - seemingly - the piano, by its presence, asks visitors to make a decision: walk beneath the object, or not? It's meant to prompt people to think about how the brain weighs risk, and reacts.
The instrument, a 1930s Bond player piano by Packard, has seen the end of its playing days. It was hollowed out to make it lighter. Not that you'd ever want to find out how much lighter.
Peter Dobrin

, Inquirer Classical Music Critic
The Curtis Institute of Music this week held its traditional Wednesday tea, but this one honored someone unique: Eleanor Sokoloff, who turns 100 in June. Article here.
Curtis has put together a page of tributes to Sokoloff, and has included a recording made in 1938 of her playing the Brahms-Haydn Variations with her husband-to-be, Vladimir (Billy) Sokoloff, when she was still Eleanor Blum. Listen here.
Peter Dobrin

, Inquirer Classical Music Critic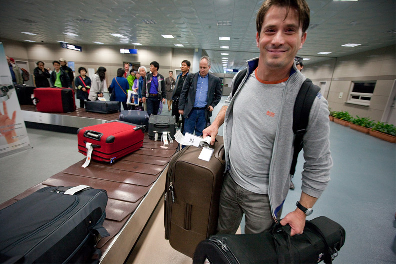 Will the new principal trombonist of the Philadelphia Orchestra be the old principal trombonist of the Philadelphia Orchestra?
It seems likely. Nitzan Haroz, 45, who left Philadelphia in 2012 to take the same position with the Los Angeles Philharmonic, won recent auditions held to fill his old position.
A Philadelphia Orchestra spokeswoman declined to comment, citing the policy of not announcing new players until after a contract has been negotiated. Said Haroz in an email: "I haven't started negotiating yet. It will happen soon I assume."