I've never attended Wing Bowl before, so as the Friday before the Super Bowl approached, I decided to trek down to the Wells Fargo Center with my sketchbook to draw some cartoons about the beer-soaked fans that flock to Philadelphia's most notorious eating competition.
Stuck in traffic behind a garbage truck, the first thing I came across were a handful of protestors picketing outside gates of the Wells Fargo Center.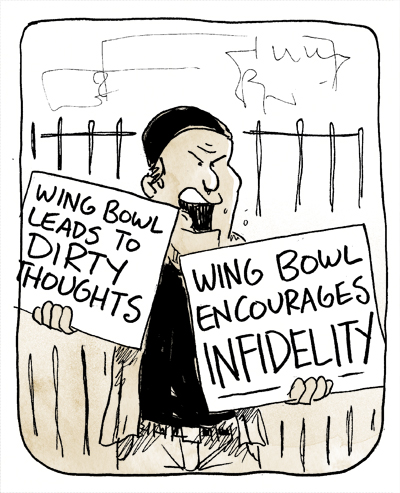 Honestly, I expected more terrible behavior towards women than I actually experienced. It was like a PG version of a strip club. The only time the raucous crowd made me uncomfortable was when they banged on the plexiglass demanding a female staff photographer lift up her shirt and show her bare chest.
Josh Inness on WIP Friday morning rhetorically asked, "What beautiful women doesn't like a compliment?" I didn't ask her, but I'm pretty sure she wasn't thrilled by their cat-calling.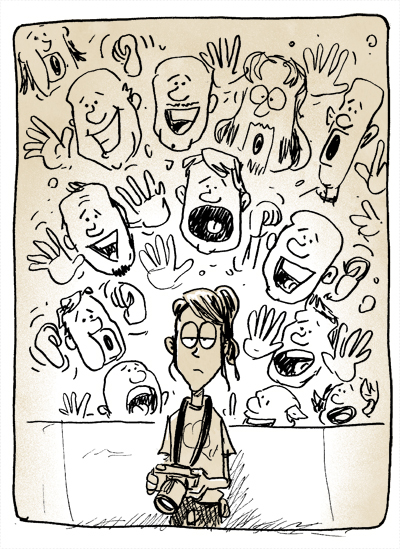 Jason Nark, my colleague over at the Daily News, tweeted about a funny exchange he had with the Wingette of the year about her day job.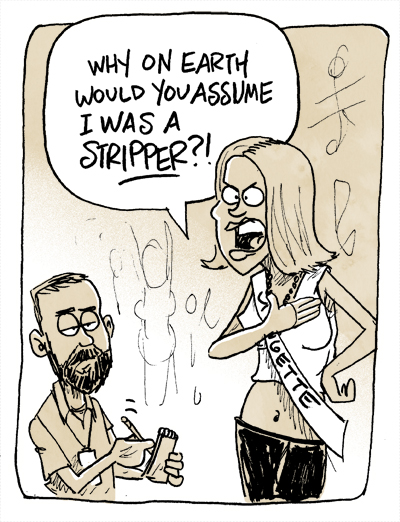 I think I offended the wingette of the year by asking her if she worked at a club. I assumed. #WingBowl23

— Jason Nark (@JasonNark) January 30, 2015
In fact, the Wells Fargo Center seemed to take great pains to limit the amount of nakedness on display. On the jumbotron, they panned to women in the audience long enough for the crowd to encourage a topless display, then cut away just as their tops were removed.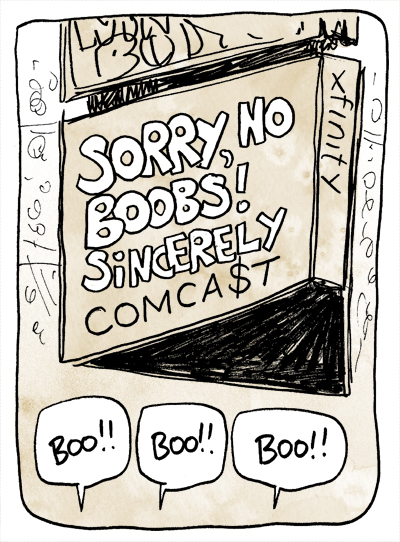 One odd moment - a patriotic contestant dressed as a hot dog sang the entire National Anthem with a level of passion that would've made Francis Scott Key cry.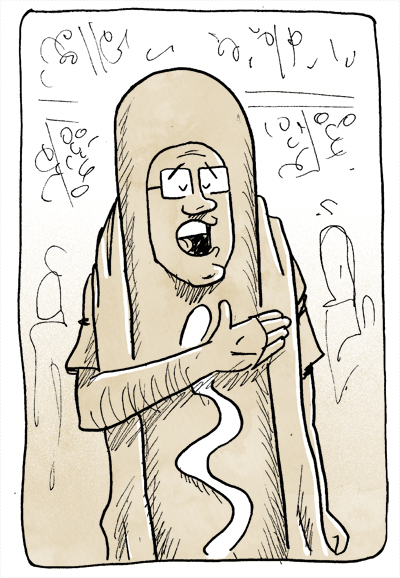 The most disgusting moment, by far, occurred when contestant Gravy Jones used his name card to clean his teeth between rounds. I'll have nightmares about that moment for years.
Patrick Bertoletti was named this year's Wing Bowl champion after downing a record 444 wings. I couldn't tell if he was elated, exhausted or about to vomit. Probably all three.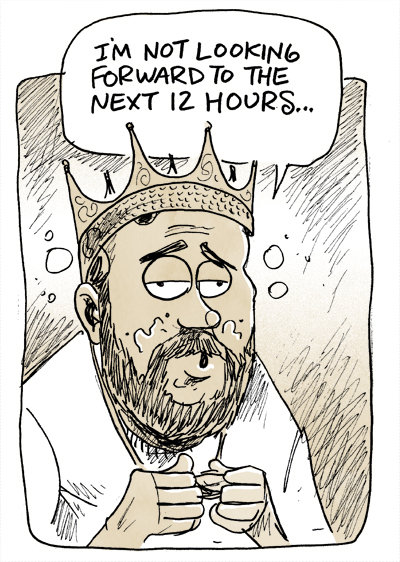 The biggest missed opportunity by far was not convincing Vice President Joe Biden, in town on Thursday, to stick around for Wing Bowl. I assume he had a good reason.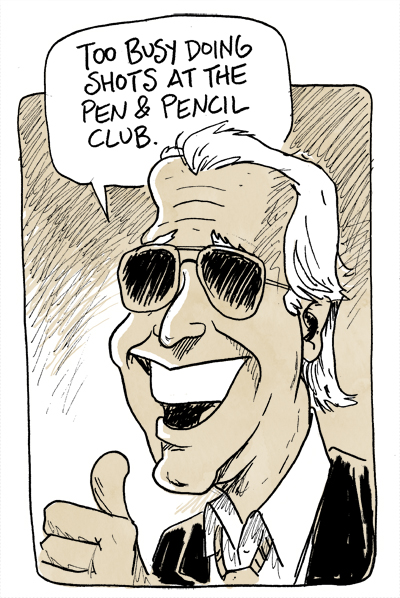 In addition to my sketchbook, I took some photos of all the Wing Bowl craziness:
# South Jersey Keith #WingBowl23 pic.twitter.com/S6K85ihTuT

— Rob Tornoe (@RobTornoe) January 30, 2015
The Animal Cannibal #WingBowl23 pic.twitter.com/njOfTlMsin

— Rob Tornoe (@RobTornoe) January 30, 2015
Drunk guy in a chicken suit throwing beads at a girl who has exposed her chest 276 times since 6 a.m. #WingBowl23 pic.twitter.com/VO6myGqpyo

— Rob Tornoe (@RobTornoe) January 30, 2015
A @GovChristie stand-in at #WingBowl23 gets egged pic.twitter.com/dHEHgbVYxI

— Rob Tornoe (@RobTornoe) January 30, 2015
chris Christie falling out of his chair on the WIP Morning Show #WingBowl23 https://t.co/ojpP3pixus

— Rob Tornoe (@RobTornoe) January 30, 2015
The Wingettes #WingBowl23 https://t.co/ZwsPVUg16J

— Rob Tornoe (@RobTornoe) January 30, 2015
Close to puking #WingBowl23 pic.twitter.com/pgjj07TLYK

— Rob Tornoe (@RobTornoe) January 30, 2015
Just a man with his dog #WingBowl23 pic.twitter.com/YcQdF37Dcz

— Rob Tornoe (@RobTornoe) January 30, 2015
Your #WingBowl23 champ, Patrick Bertoletti, who downed 444 wings pic.twitter.com/G0qpA7vNz6

— Rob Tornoe (@RobTornoe) January 30, 2015