"I like sports. I could do something in sports."
"Uh-huh. Uh-huh. In what capacity?"
"You know, like the general manager of a team or something."
It's easy to joke about Sixers general manager Bryan Colangelo after the last few weeks, but the reality is his tenure (so far, anyway) has made it harder for fans to continue to "Trust the Process" as they did under his predecessor, Sam Hinkie.
The Sixers slogan, first revealed by head coach Brett Brown in a 2014 Daily News article ("They have to trust the whole process."), was pushed into the mainstream by Joel Embiid with this 2014 tweet, which the phenom inadvertently sent out after the Sixers suffered at 32-point loss to the Raptors (he was referring to Kansas' 10th straight conference championship).
TRUST THE PROCESS!!!! #10straight

— Joel Embiid (@JoelEmbiid) November 19, 2014
Since then, Hinkie has been run out of town by an NBA angry over the franchise's deliberate tanking and replaced by family Colangelo, but the "Trust the Process" moniker remains.
But after some less-than-truthful episodes and lackluster dealing, the "trust" and "process" parts of the Sixers slogan seem a bit uncertain.
As fans know by now, Ben Simmons foot wasn't fully healed when the Sixers said it was. That revelation came on the heels of the team's less-than-transparent handling of Embiid, whose slightly torn meniscus wasn't revealed by Colangelo until news reports broke the story.
Even the team's star player was unhappy over the team's lack of transparency and its apparent willingness to mislead fans.
"I was told that I was going to kind of miss two or three weeks," Embiid told the Inquirer's Keith Pompey. "So I wasn't happy with the way it was handled. I thought keeping my name out there was going to literally have people think about me all the time instead of saying when I was going to come back."
There's also the lingering question of why Colangelo wasn't able to move one of his "bigs" during the offeason, especially considering the rumors that the Celtics were willing to part with one of their first-round picks for Jahlil Okafor (who remains on the team).
Here's the cartoon I drew at the time: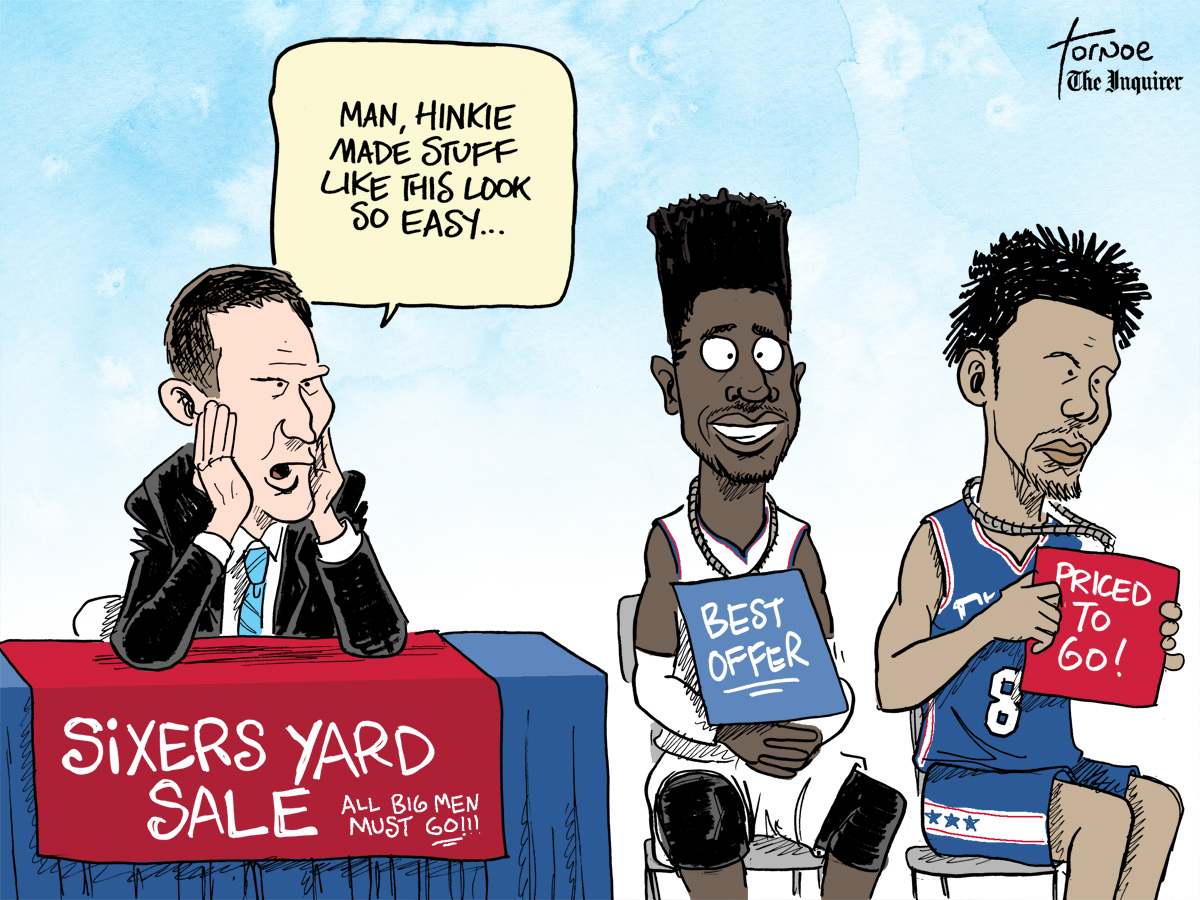 I don't want to beat up on Colangelo too much. After all, he did come forward and attempt to explain himself in a direct, at-times awkward press conference, where he thought an errant text message was an Amber Alert. And it wasn't his fault the Sixers sent out a press release bragging about receiving a "first round pick" for Noel, despite the fact even Colangelo admits that scenario is extremely unrealistic.
But Colangelo's press conference is only the first step in reestablishing the trust many fans have lost in the franchise. That's his process now. Otherwise, we might hear him spouting off a different George Costanza quote in the not-so-distant future.
"You know, If you take everything I've accomplished in my entire life and condense it down into one day, it looks decent."
-----
Rob Tornoe is the sports cartoonist for the Philadelphia Inquirer and Philly.com. Follow him on Facebook and Twitter.
Follow Philly.com Sports on Facebook and Twitter, and download the Philly Sports Now app for iPhone