This is an updated version of an essay I wrote in 2012.
Cartoonists have a love/hate relationship with obituary cartoons – the cartoons you see in your newspaper or popping up on your Facebook feed after a famous person has died.
We tire quickly of the conventions of obituary cartoons – heaven, St. Peter, the pearly gates – while readers can't seem to get enough of them.
I enjoy drawing obituary cartoons about famous people, as long as I have something to say or the person was important in my life. When Muhammad Ali died, I drew the former heavyweight champ floating up to the sky away from the shackles of his wheelchair:
When Chuck Bednarik passed away, I summed up the career of the Eagles legend by having him tear his way into heaven:
And when Joe Paterno died, I tapped into the massive amount of sympathy and heartache throughout the region and drew the nice cartoon below of Paterno sharing space in heaven with legendary Alabama head football coach Paul "Bear" Bryant.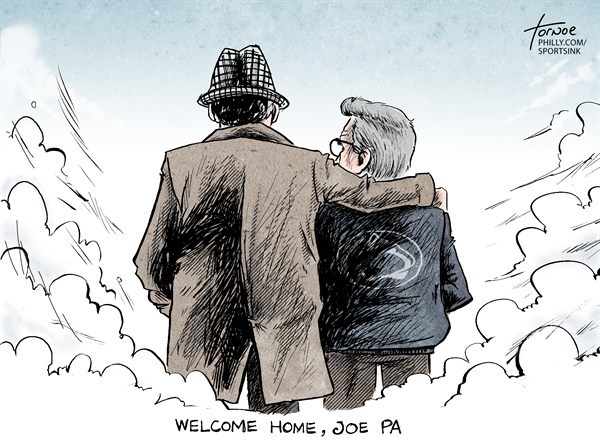 The cartoon was enormously popular, and spread across Facebook like a wildfire. My inbox was stuffed with thank you notes and warm wishes from Penn State alums across the country. Someone even printed it out and put it on display next to Paterno's statue as a tribute.
And you know something – I was wrong.
With the release of the Freeh report, it was clear to me and anyone but his kids that Paterno, along with other top Penn State officials, covered up the child sex abuse allegations against assistant football coach Jerry Sandusky out of fear of bad publicity.
Now, as the Inquirer's Jeremy Roebuck and Susan Snyder report, newly unsealed documents reveal excerpts of a deposition from accusers who claim they reported abuse to Paterno or members of his staff in the 1970s and 1980s. One man claims to have told Paterno himself after Sandusky abused him in the Penn State locker room in 1976.
Covered up child rape. For more than three decades. So it wouldn't harm the football team. I'm not a religious person, but this man doesn't belong in heaven.
I had the opportunity not too many cartoonists are afforded – to redress my mistake, to call myself out for taking part in a pity party for someone who decided that a child's well being was only valuable if they were wearing his team's football uniform.
So I decided retroactively to update my obituary cartoon back in 2012 and redraw it to expel Paterno from paradise and send him plummeting downward: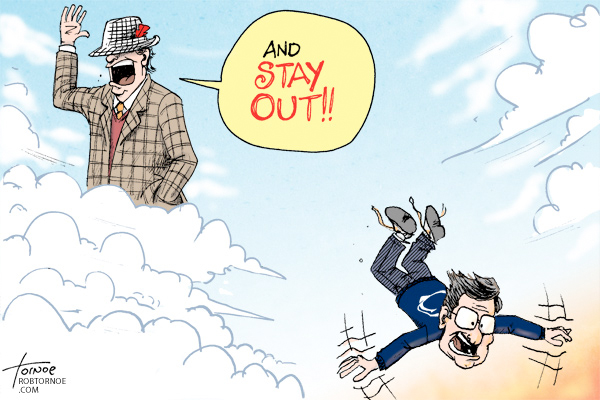 I'm sure I'll still hear from the "Penn State Truthers," who call reporters liars and try to counter covering up child abuse with all the so-called good Paterno did throughout his career. That's fine. It's tough to see an icon you've rooted for your entire life being torn apart in front of your eyes, something I touched on in a recent cartoon:
Here are more Paterno cartoons I've drawn over the years: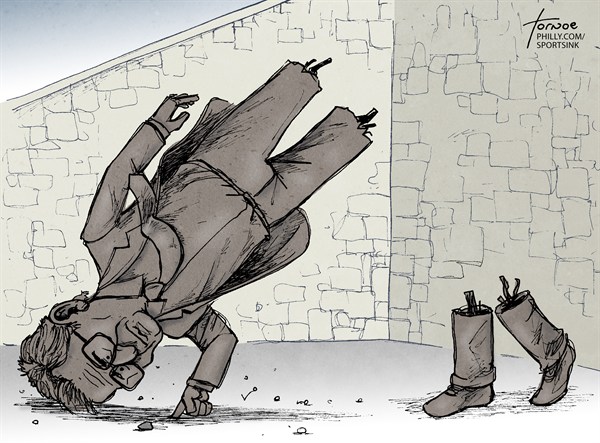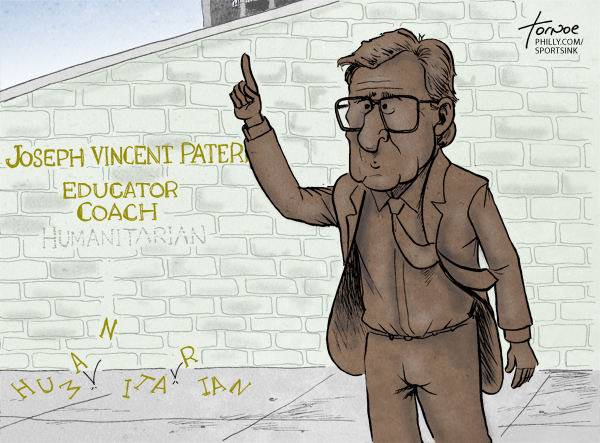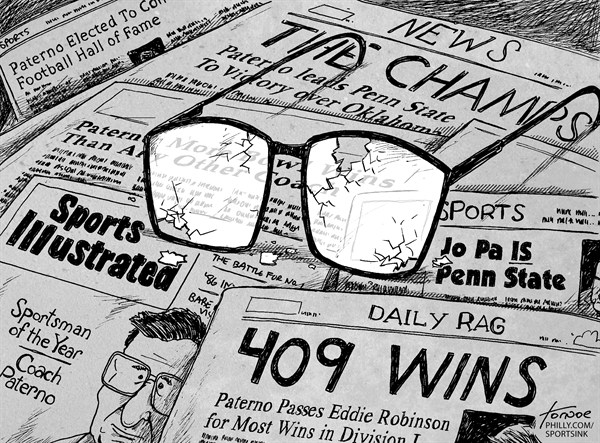 -----
Rob Tornoe is the sports cartoonist for the Philadelphia Inquirer and Philly.com. Follow him on Facebook and Twitter.
Follow Philly.com Sports on Facebook and Twitter, and download the Philly Sports Now app for iPhone