With his team at 1-4 overall and 0-2 in the Colonial Athletic Association, Villanova football coach Andy Talley is trying to make sure his young squad doesn't lose the faith.
Going into the Wildcats game at No. 7 New Hampshire on Saturday. there are 17 freshmen or redshirt freshmen on the team's two-deep chart, including six starters. The sophomore class is represented by six players, including three starters.
There are only four senior starters.
Videos: The Inquirer's Kevin Tatum catches up with Villanova wide receiver Norman White, a 2010 all-CAA selection who is out due to injury.
Videos: The Inquirer's Kevin Tatum talks to Villanova football coach Andy Talley about the Wildcats' win over Penn and loss to William and Mary.
Villanova quarterback Dustin Thomas, a redshirt freshman who was the Wildcats starter before suffering a shoulder injury in the team's second game of the season, is getting close to returning.
He was scheduled to start throwing again during 'Nova's Tuesday practice. Thomas will not play this week at New Hampshire. Next up for the Wildcats are James Madison on the road and Old Dominion at home.
``I was hoping he'd be ready for James Madison," 'Nova coach Andy Talley said. ``But right now, it looks like it'll be the Old Dominion game, unless something really good happens in the next 10 days."
Though his team played its best game of the season on Saturday in a losing cause against the Colonial Athletic Association's preseason favorite, Villanova coach could not be satisfied with the 200 total yards the Wildcats wound up with in the 20-16 loss to visiting William and Mary.
Talley is playing his third quarterback in this young season, and the current starter, redshirt senior Christian Culicerto, made only his second career start against one of the best defenses the CAA has to offer.
Culicerto hardly played badly. He completed 15 of 24 passes for 132 yards, with one interception and one touchdown pass. His counterpart, William and Mary's Michael Graham, was 13 of 24 passing for 171 yards, with one interception on no touchdown passes.
Villanova will resume its Colonial Athletic Association schedule by hosting Williams and Mary on Saturday.
Wildcats coach Andy Talley, who in a rebuilding year has played as many 18 first-year players in games. is not exactly looking forward to facing a Tribe squad that was picked to win the Colonial Athletic Association title.
William and Mary, which last season earned a co-championship in the CAA, and made the Football Championship Subdivision playoffs for the second straight year, returned 13 starters.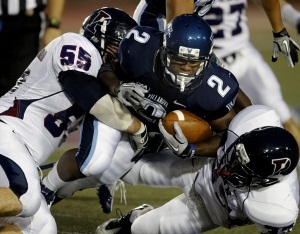 Though his team came out with a victory over Penn Satruday night at Franklin Field, Villanova coach Andy Talley said on Monday that the Wildcats still have a long way to go.
After watching true freshman Chris Polony struggle mightily against Monmouth on Saturday in the first game of his collegiate career, Villanova coach Andy Talley said on Monday that redshirt senior Christian Culicerto will take the reins this week against Penn at Franklin Field.
In the Wildcats' 20-9 loss to visting Monmouth, Polony started and lasted until about midway through the second quarter before being relieved by Culicerto.
Polony had thrown for only 12 yards on 2 of 8 passing.