Archive: September, 2011
Villanova will resume its Colonial Athletic Association schedule by hosting Williams and Mary on Saturday.
Wildcats coach Andy Talley, who in a rebuilding year has played as many 18 first-year players in games. is not exactly looking forward to facing a Tribe squad that was picked to win the Colonial Athletic Association title.
William and Mary, which last season earned a co-championship in the CAA, and made the Football Championship Subdivision playoffs for the second straight year, returned 13 starters.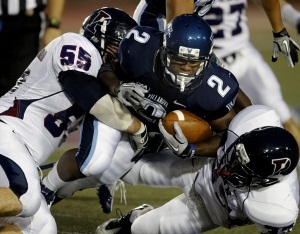 Though his team came out with a victory over Penn Satruday night at Franklin Field, Villanova coach Andy Talley said on Monday that the Wildcats still have a long way to go.
After watching true freshman Chris Polony struggle mightily against Monmouth on Saturday in the first game of his collegiate career, Villanova coach Andy Talley said on Monday that redshirt senior Christian Culicerto will take the reins this week against Penn at Franklin Field.
In the Wildcats' 20-9 loss to visting Monmouth, Polony started and lasted until about midway through the second quarter before being relieved by Culicerto.
Polony had thrown for only 12 yards on 2 of 8 passing.
Things just keep getting worse for Villanova.
The Wildcats recorded just their loss in their last 26 at Villanova Stadium in a 20-9 defeat to Monmouth Saturday afternoon.
Villanova opened the game with true freshman Chris Polony under center. After Polony proved ineffective, redshirt senior Christian Culicerto entered the game midway through the second quarter.
Villanova is only two games into its football season, but coach Andy Talley can be excused if he feels it's already been interminable.
The young Wildcats (0-2) suffered another blow to their offense with the loss of quarterback Dustin Thomas for four to six weeks with a third-degree separation of his left, nonthrowing shoulder.
Thomas, a redshirt freshman from Ventnor, N.J., who starred at St. Augustine Prep, suffered the injury after finishing a 10-yard run in the third quarter of Saturday's 31-10 loss at Towson. Thomas will be replaced by Chris Polony, a 6-foot-3 true freshman who will take his first snap Saturday when 'Nova plays its home opener against Monmouth.
Joe Juliano, Inquirer Staff Writer
A Nov. 11 opener against Monmouth at the Pavilion and six games at the Wells Fargo Center, including a matchup against defending national champion Connecticut, highlight Villanova's 2011-12 basketball schedule released Thursday.
The Wildcats will open their Big Five schedule on Nov. 15 at home against La Salle, and begin their Big East slate on Dec. 28 at West Virginia.
The Cats, who were 21-11 last season, will play an exhibition game Nov. 8 against New York Tech at the Wells Fargo Center. Their other games in South Philadelphia are against Boston University on Dec. 13, Syracuse on Jan. 11, Marquette on Jan. 28, Notre Dame on Feb. 18 and Connecticut on Feb. 20.
Back on the field for the first time since high school, Dustin Thomas struggled immensely on Thursday night. But, Villanova head coach Andy Talley saw more than the three passes Thomas threw away into the hands of Temple defenders.
Talley said on Monday that he was content with the quarterback's ability to handle both the physical aspect of the game and the pressure that came with playing at a big venue against a rival team. Thomas completed just 44 percent of his passes Thursday as he gained 109 yards on 11-for-25 passing. Talley said he expects Thomas to grow as the season progresses and become one of the better quarterbacks in the CAA.
"In our offense right now, he cannot just manage the game," said Talley in a conference call Monday morning. "He's got to be able to make plays. I think he tried to do that on Thursday night. He struggled a little bit in certain areas of the game. He turned the ball over four times, three interceptions and a fumble and that will get you beat normally by 30 points against anybody, let alone a team as good as Temple is."
Though his team was down 21-0 after the first half, and 35-0 after three quarters, Villanova coach Andy Talley kept his first-string offense in the game all the way to end of the Wildcats 42-7 loss to Temple in the Mayor's Cup at Lincoln Financial Field.
Talley played 17 first-year starters, including at quarterback, both offensive tackles, at offensive guard, at tight end and at running back.
``If we were a more experienced football team, we would have put some other guys in there," 'Nova coach Andy Talley s said after the game. ``We wanted to give them repetitions, and let them stay in the game, and work rhtough this. It was painful, but necessary. I will stay positive, especially with a young team. If this was an older team, and they come out and got beat, 42-7, I'd be ripping some people up."