Archive: July, 2013
Esther Lee
Somewhere in the world while on tour, Rihanna is smiling to herself over her latest victory.
The pop singer won a legal battle against fast fashion retailer Topshop in London Wednesday over T-shirts bearing her image.
After nearly a year of back and forth exchanges, the artist sued Topshop parent company Arcadia Group Brands, Ltd. for $5 million over the products stamped with her photo and sold in 2011 and early 2012. The shirts, initially dubbed the "Rihanna Tank," were later called the "Icon Tank" and the "Headscarf Girl Tank" after Rihanna had complained. Her legal team asserted that the retailer had not only "duped" fans, but the offensive tees may have affected the star's ability to control her "reputation" within the fashion industry.
Esther Lee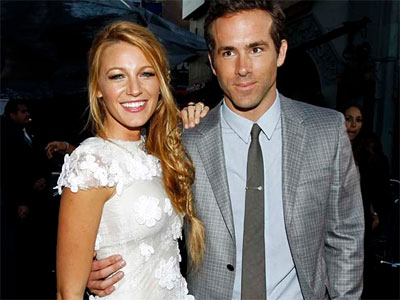 It is known that newly-minted Lucky editor in chief Eva Chen is debuting her editorial influence on the publication with the all-important September issue.
However, who she selected to front her first issue remained a mystery, until Monday morning.
The ever-stylish Blake Lively is the magazine's September cover girl. Changes implemented as part of Chen's new rule includes a modernized, editorialized publication front. During the interview, Mrs. Ryan Reynolds shares more insight on her relationship with her husband: "I'm very lucky to be with someone who has better taste than me. We influence each other in different ways."
Esther Lee
Sure, Vogue cover girls are immortalized, their image slapped, on the forefront of fashion's monthly bible. But at what cost?
July issue cover girl Katy Perry revealed to Jay Leno Friday the extreme length she went to prep for the Annie Leibovitz-shot session. "I kind of went on a cleanse," she shared. "I did a lot of stuff like vitamins and supplements, I changed my coffee to green tea, I didn't drink alcohol for three months."
It's the kind of focused, masochistic diet or cleanse - whatever you may call it - that makes us want to run to the nearest Five Guys (RIP Center City) and nosh on burgers and french fries- along with a cold beer. However, we have to give Perry, who looks absolutely stunning in the issue, props for prepping for the shoot with such consistency.
Esther Lee
And she's back! Along with Lady Gaga's artistic interpretation and insight behind the mechanisms of her makeup-smeared face that graces the cover image for her upcoming single "Applause," she shared with WWD Monday what her six-month long hiatus away from the spotlight entailed.
In the interview, the 27-year-old pop star addresses the hip injury that resulted in her canceling her world tour. "Nobody knew, and I haven't even told the fans yet. But when we got all the MRIs finished before I went to surgery there were giant craters, a hole in my hip the size of a quarter, and the cartilage was just hanging out the other side of my hip. I had a tear on the inside of my joint and a huge breakage," she shares in great detail.
Gaga's stylist and fashion director Maxwell also gave some insight on what the artist might wear in upcoming videos and appearances. The range of designers include custom-designed pieces by Alexander Wang for Balenciaga, Versace, Armani, Hedi Slimane for Saint Laurent (obvi), and catsuits by Mila Schön.
Esther Lee
Barneys Co-Op is no-more for Philadelphia- and other locations across the country. But the store isn't necessarily closing.
The New York-based luxury retailer is converting its remaining Co-Op stores to "Barneys New York" locations, CEO Mark Lee told WWD in a new report published Wednesday.
The industrial-style Co-Ops, which accounted for 10-15 percent of Barneys total sales in 2010, has in recent years shuttered "underperforming" spots with six Co-Op spots closed between 2011 and 2012.
Esther Lee
If you're on your way to Sips or find yourself in need of a new weekend dress, this sample sale should probably be your first Wednesday evening destination.
The 2013 designers-in-residence and 2012 alumni of the Philadelphia Fashion Incubator at Macy's Center City will showcase their current lines at Chez Colette in the Sofitel (120 S. 17th St.) from 4-8 p.m.
Local brands to be featured include Morgia Bridal, Trisha Will, Senpai + Kohai, Granaté Prêt, Pretty Pretty Rebel, Aso Damisi, and D'Agostino Fashion Textile Design.
Esther Lee
Polka-dots for pretty princesses post-pregnancy!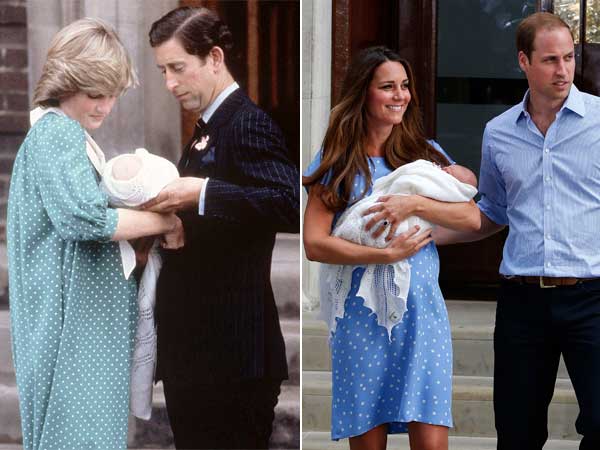 Left: FILE, AP Photo / John Redman - In this June 22, 1982, file photo, Britain's Prince Charles, Prince of Wales, and wife Princess Diana take home their newborn son Prince William, as they leave St. Mary's Hospital in London. Right: Britain's Prince William and Kate, Duchess of Cambridge hold the Prince of Cambridge, Tuesday July 23, 2013, as they pose for photographers outside St. Mary's Hospital exclusive Lindo Wing in London where the Duchess gave birth on Monday July 22. (AP Photo/Lefteris Pitarakis)
Kate Middleton stepped out with her newborn baby boy and husband Prince William shortly after 7 p.m. London local time Tuesday.
Esther Lee
Was she giving the world signals when she starred in Jennifer Weiner's In Her Shoes?
WWD reports that actress Cameron Diaz is Pour la Victoire's new "artistic director." What makes this story different is that the face behind hit films like The Holiday and Charlie's Angels has avoided the familiar celebrity-turned-designer route taken by Sarah Jessica Parker, Victoria Beckham and the Olsen twins. Diaz has made it clear that although the news comes as a bit, more like a gaping surprise to the industry, she does not see her work with Pour la Victoire as an "endorsement deal."
Diaz has an undisclosed stake in PLV Studio which allows her to emphasize her "partnership" role within the company. Although her influence on Pour la Victoire's brand aesthetic will not be felt until Spring 2014, the company will roll out a new campaign dubbed "Cameron's Picks" this fall and holiday season.