Archive: February, 2013
Caitlin Sweeney
Most of us are aching for some sun, so if you're looking to lighten-up your locks to get ready spring, stop in Andre Richard Salon tomorrow, February 28. Located on 1218 Locust Street, the salon will be hosting its BLONDE AMBITION event, with 20% off all blonding treatments, along with light refreshments while getting your new do'. If not looking to go platinum, try some streaks of sun; it's a guaranteed uplift for those winter blues. Please book an appointment online and click BOOK NOW at www.andrerichardsalon.com.
Andre Richard Salon Hours: Tuesday, Wednesday and Thursday from 10am-8pm, Friday 9am-6pm, and Saturday 9am-4pm.
Esther Lee
A "new look" is indeed in the works for the Philadelphia Eagles cheerleaders.
A decade after debuting her first batch of the squad's uniforms, fashion designer Vera Wang is in the process of currently redesigning the green-and-white, skimpy spandex pieces.
"We are thrilled that we are continuing our relationship with Ms. Wang - one that we have had for ten years," confirmed the Philadelphia Eagles. The organization says the project is currently in the "very preliminary stages."
Esther Lee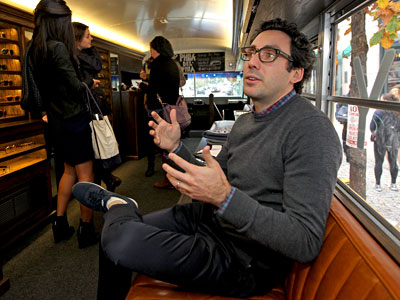 It's a boost of confidence for an up-and-coming brand to have two big names backing it up. For Warby Parker, this moment has been in development for quite some time.
Both J.Crew CEO Millard "Mickey" Drexler and American Express are investing in the Philly-conceived sustainable eyewear brand, reports DealBook.
"We've tried to be very deliberate in getting people with specific expertise," Warby Parker co-founder Neil Blumenthal told the NY Times in an interview. "Nobody knows retail like Mickey. And within financial services, nobody knows a brand more prominent than American Express."
Lucy Briggs
Our leading ladies dominated the red carpet Sunday night and managed to tackle some of the top beauty trends for fall to boot. Not just for the runway, these five looks are easy enough to try for a cute date or a girls' night out on the town.
1. Reese Witherspoon / Jessica Chastain: 1940s Waves
Reese's and Jessica's polished Veronica Lake-esque waves are on the top of our beauty wishlist this season. Paired with elegant dresses, their manes and megawatt smiles were a knockout.
Esther Lee
Leave it to the other Jennifer to bask in the style spotlight on the Oscars red carpet Sunday evening.
Best Actress recipient Jennifer Lawrence was the early fashion winner in her cream-colored Dior Haute Couture gown, this according to ABC's Twitter hashtag poll. Then, Jennifer Aniston showed up with Justin Theroux at the tail end of red carpet arrivals coverage in a shocking red Valentino gown.
J. Law's numbers instantly waned as Aniston's haute meter skyrocketed and continued to gain steam as the evening progressed. By show's end, Aniston surpassed the pack of Hollywood actresses with 47% of the votes. J. Law trailed with 24% of the votes, and Mashable shares the rest:
Esther Lee
It was a winning moment for Philly when Bradley Cooper and his date, mom Gloria Cooper, made their way to E!'s Ryan Seacrest on the Academy Awards red carpet Sunday night, and gave an enthusiastic "Hi, Philadelphia!" before a live national audience.
The city roared in response.
And now that we've chewed and digested full head-to-toe Oscar looks, imagine our surprise when we realized we had completely overlooked Mama Cooper's choice of footwear! The local woman we have to thank for rearing and raising the star of "Silver Linings Playbook" opted for comfort at the Dolby Theatre by pairing metallic sneakers beneath her dress. We assume the shoes - largely disregarded by the un-trained eye - were safely tucked beneath her black gown for most of the evening. However the always faithful paparazzi managed to snap a few images of the Coopers, in full, on the red carpet.
Esther Lee
UPDATE, Tuesday, February 26
"I didn't know what I was wearing until two hours ago," Anne Hathaway told reporters Sunday evening. The actress, who made her way down the red carpet in a pale pink Prada number, not only surprised fashion, but also Valentino, who she was expected to wear to the 85th Academy Awards. The actress issued a public apology Tuesday for her fashion gaffe.
Here's the back story.
Elizabeth Wellington, Fashion Columnist
And it seems like a red carpet event isn't complete without our first lady, Michelle Obama.
Obama, fresh from a formal White House dinner with the nation's governors, was teleprompted in to announce the best picture award. Her sartorial choice: a silver, spaghetti strapped, Naeem Kahn gown. I liked her choice - although my Twitter feed was rampant with "oh we hate those bangs comments."