Archive: December, 2012
Esther Lee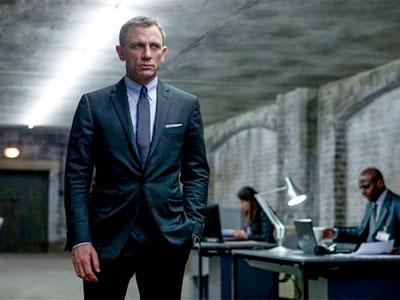 44-year-old actor Daniel Craig has been named GQ's "Most Stylish Man of 2012." It must be those Brioni and Tom Ford tuxes he wears as James Bond in the series' 23rd installment, "Skyfall," which hit theaters this fall.
Craig beat the likes of David Beckham, Jay-Z and Joseph Gordon-Levitt to land the top spot.
Maria Papadakis
Virtual personal styling service CakeStyle hosted a pop up shop event with its founder Cecelia Myers at The Sporting Club at the Bellevue in mid-December. Philly.com's Maria Papadakis was there to learn more about the company's background and unique offerings.
Watch the video, below. Viewers get an exclusive 10% off coupon code with philly10.
CakeStyle from FocusedStudios on Vimeo.
Caitlin Sweeney
Although Christmas is over, there are still plenty of holiday festivities, parties and New Years Eve bashes to attend.
While bopping and shopping around the city, Caitlin Sweeney of Cobblestone and Stilettos visited several local boutiques to try on party dresses perfect for the countdown to 2013. Read her anecdotes and thoughts on each experience and look, below.
Look No. 1
Philly.com
Reuben "Big Rube" Harley's favorite looks of 2012 as seen on the streets of Philadelphia, and two New York Fashion Weeks. Sparkled heels, quilted jackets, tailored suits and statement bags make the grade.
Esther Lee
Scrambling for gifts?
Last-minute holiday shoppers can stop into a vacant Rittenhouse Square garage starting Wednesday to shop 611's "DJ Life" and "Luxe Life" collections. There will be a selection of items offered for less than $25 for those on a budget or in need of stocking stuffers, in addition to apparel and accessories from 611's spring 2013 line.
The garage is located at 225 S. 18th Street (on Locust between 17th & 18th behind Parc). Starts Wed., Dec. 19 through Dec. 30, open daily from noon - 7 p.m.
Elizabeth Wellington, Fashion Columnist
Kim Kardashian unveiled long layers and bangs today at LAX. And in the last few months we are witnessing, yet another, return of the bang. But as 2013 closes the bang has gone from hipster to glam girl.
What do you think about the bang? Will this be your new holiday season look?
Lucy Briggs
Tomorrow, Tuesday, December 18th, make your way on down to Kembrel's Center City location for a complimentary grooming and styling session presented by 2B Groomed Barbering Studio and Avenue Swank. The event will include 2B Groomed hot shaves, Kembrel new arrivals, shoe shines, Uber gift cards, Smokin' Betty's comfort food, and Art in The Age spirits.
Kembrel VIP customers are always invited and a limited number of tickets are also open to the general public. Attendees are welcome to bring one guest of their choosing. RSVP is requested by the end of the day on Monday, December 17th by emailing veronica@kembrel.com. If you (or your significant other) would like a complementary hot shave, please indicate that in your email.
What: Head 2 Toe Holiday Men's Grooming Event
Esther Lee
Forget Mad Men and Downton Abbey. TV show fashion simply will not be the same without Gossip Girl.
Six seasons ago, television's most stylish set hit primetime, luring young viewers into the scandalous inner circle of a privileged, corrupted and hyper sexually-active group of high school Manhattanites. Monday night, the show went out with a two hour special, where Gossip Girl's identity was finally revealed.