Archive: November, 2012
Elizabeth Wellington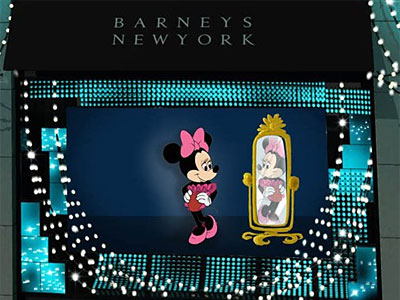 Despite the controversy, Barneys New York store windows featuring slightly controversial Disney's Electric Holiday film starring Minnie Mouse is too cute.
Here is the plot in a nutshell: Minnie Mouse goes to Paris and is perusing store windows when she spots a to-die for Lanvin dress. The ruffled, strapless frock sends Minnie into a daydreaming frenzy starring not just her animated buddies, Mickey, Daisy Duck, Goofy, Princess Tiana and Snow White, but also some of the fashion industry's heavy hitters in cartoon form. Minnie is photographed by Steven Misel, her makeup is touched up by Pat McGrath and celebs Sarah Jessica Parker, Lady Gaga and Naomi Campbell sit in the front row of the Disney characters' runway show along with fashion journalist Suzy Menkes of the International Herald Tribune and Franca Sozzani of Italian Vogue.
Tinkerbell sprinkles some fairy dust Minnie, Daisy and Mickey Goofy and turning them into tall, thin fashion models and the emerge down the runway form a stage fashioned into mouse ears - love it. Daisy Duck rocks Dulce & Gabana while Princess Tiana opts for Proenza Schouler and Mickey Mouse struts in Balenciaga.
Caitlin Sweeney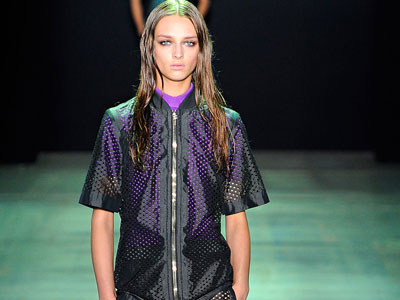 Read all of our coverage from this year's Philadelphia Marathon at www.philly.com/marathon2012.
This is for those of you runners here in Philly or the ones looking to catch the bug. It is addicting, I swear...just force yourself to actually do it for 2 weeks (easier said than done, I know). The Philadelphia Marathon is coming up this weekend, so in celebration, here are some great spots to run in the city and around the Philly area. Looking hot in your gear is great motivation, so you need to know where to shop. Personally, I love running along the Schuylkill River and if I am out in the area, Haverford College is a quick and sweet scenic route.
There's also the Wissahickon Trail for some good ole' country redwoods and stone bridges to gawk at. Check out the Philadelphia Running Trails and Routes. If you are running in the Philadelphia Marathon this weekend, there's nothing wrong with indulging in a few bevies as soon as you are finished. My last two races have led me to Molly Malloy's in the Reading Terminal where they have 24 craft beers on tap, amazing food and fabulous bartenders. Good Luck!
Reuben Harley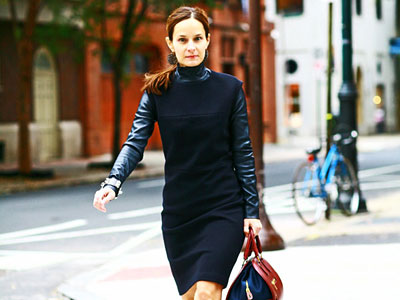 Big Rube profiles Stefanie Lutzo, owner of Rittenhouse Square-based Adresse Philadelphia, a designer destination for the city's most fashionable. Naturally, Lutzo leads the pack.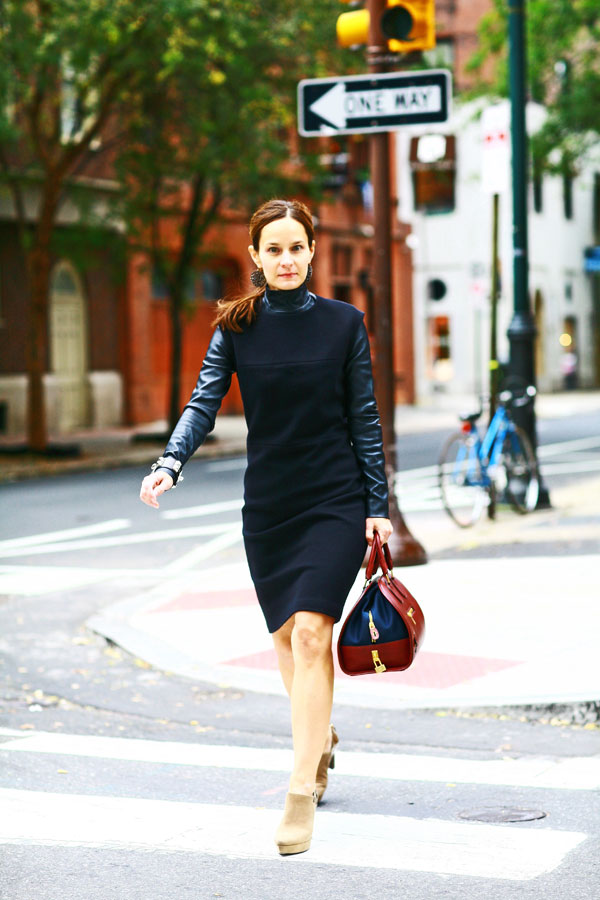 Read his Q&A with her, below.
Elizabeth Wellington
Monica Botkier of the Botkier bag is at Delaware boutique, Peter Kate this afternoon for a trunk show.
Botkier is one of the many featured designers at Peter Kate's "girls night out" event. She will sign bags for ladies looking for early holiday treats. The store also carries Nicole Miller, Diane von Furstenberg, Tory Burch and Kate Spade. But Botkier will be the only designer at the party.
Elizabeth Wellington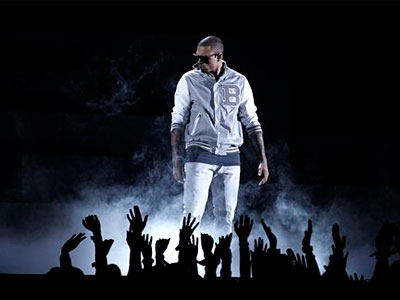 And in why won't he go just go away news, Chris Brown signed a contract with Wilhelmina Model's Artist management division.
It's a shame, because I used to like C-Breezy. But he's so rude, so angry and so unnecessarily tattooed that I don't think he'd be a great spokesperson for the happier things in life: fragrances, fine wine, great fitting jeans. Nope, it's just not working for me.

Another SMH fashion moment.

Esther Lee
The doors of the H&M store on Walnut Street opened at 8 a.m. Thursday, but some faithful fashion fans were in line since 8 the night before the launch.
Take for example Jason Ayers, who stood on the curb anxiously awaiting a friend who was inside the store. "I've been here since 8 last night and I have an interview in New York today," said Ayers, dressed in a grey bespoke suit. "There's this belted jacket I like and these shoes I wanted," he said noting that he's a fan of Margiela because it's "different, but classy."
Unlike the Versace x H&M launch, the Margiela debut seemed to be much more structured and organized, the line was shorter, too. Those who waited along Walnut Street were given wristbands to secure their entrance into the store. That meant that once they procured a numbered band, they were able to step out of line and go about their business until the doors opened at 8 a.m.
Tirdad Derakhshani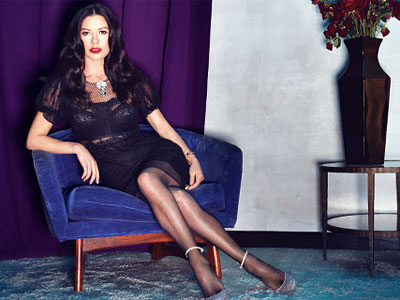 Catherine Zeta-Jones has never been one to use the media as a therapy session and, as so many celebs do, air her deepest, darkest secrets, desires and afflictions for all to see.
After all, she's a proper Welsh country girl – she deals with things privately. But as everyone knows, in Tinseltown, the private never stays private and last year, news broke that the Rock of Ages star had checked into a clinic for treatment of bipolar disorder.
So Jones, 43, began speaking about the condition, which was once known as manic depression and which mood disorder expert Kay Redfield Jamison posited in her acclaimed book, Touched with Fire: Manic-Depressive Illness and the Artistic Temperament, has afflicted – and perhaps inspired – many a creative soul including Vincent van Gogh and Kurt Cobain, both of whom committed suicide.
Elizabeth Wellington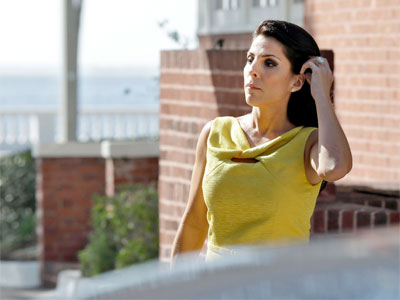 Say what you want about Jill Kelley, but home girl is really working this canary yellow sheath complete with little keyhole and skinny belt. She expertly paired the look with nude pumps.
Talk about dressing the part.

Kelley set off the murky General Petraeus business by flagging threatening emails she received from Petraeus' paramour, Paula Broadwell. Kelley hired crisis manager Judy Smith - the woman whom the ABC's Scandal is based on - to handle the drama.