Layla A. Jones, philly.com
The "Scandal" collection for The Limited is available in stores and online today, just in time for the show's fourth season premiere on Sept. 25.
First reported back in June, the "Scandal" for The Limited collection is the first such fashion line of its kind, merging a hit television series, its costume designer, lead character (Kerry Washington), and a large chain retailer. "Gladiator" Olivia Pope, played by Washington, is the obvious inspiration for the line, which includes timeless, professional-yet-stylish-looking pieces, including a double-breasted, collarless blazer, shawl-neck coats and knee-length pencil skirts.
The collection ranges in price from $49 for a ruffle-collar top to $248 for a Dolman wrap coat.
Renee DeSantis, abeautyloft.com
When the nail art craze first came back on the scene a few years ago, to say I was resistant to it would be an understatement. Images of Sheneneh from the 90s TV show "Martin" flashed through my mind. But today's nail art doesn't have to be flashy or look like it belongs on the 15-year-old version of you.
Nail art can take you from the office to cocktail hour, but here are some important do's and don'ts of how to wear it:
Don't keep nails too long. Nails that are too long with busy patterns tend to be too distracting and over powering.
Layla A. Jones, philly.com
Ornery old man, political provocateur and beloved Philadelphian Bill Cosby will be celebrating the 30th anniversary of "The Cosby Show" very soon. In honor of the 1980s sitcom, CNN tracked down the story behind the famed Cosby sweater.
Known for their bright colors and wacky patterns, Cosby sweaters were a staple on the show, on which Cosby played Dr. Cliff Huxtable, the patriarch of his upper-middle-class, black family living in New York City. The sweaters matched Cosby's over-the-top persona on the show and have recently made a style resurgence among the youth.
Koos van den Akker designed the first Cosby sweater as a gift. Later, the designer continued to make the sweaters Cosby wore on the show, along with other brands, like Missoni and Perry Ellis.
Layla A. Jones, philly.com
Domestic abuse comes in many forms – physical abuse, emotional abuse and mental abuse. But one form of domestic abuse isn't talked about as widely: financial abuse.
"Scandal" star Kerry Washington is a brand ambassador for the Allstate Foundation's Purple Purse initiative, which aims to raise awareness about a form of abuse that hinders women from leaving a violent relationship. Abusive partners will withhold money from, affect the job security of, and cut off resources necessary for the partner being abused. According to PurplePurse.com, 98% of all domestic violence cases include some type of financial abuse.
So Washington's been carrying purple purses.
Layla A. Jones, philly.com
Yesterday Philadelphia kicked off the Philadelphia Collection with a classily modern opening party at the Hard Rock Café at 12th and Market streets. The Philadelphia Collection offers a wide array of 45 events and includes Philly Fashion Week, which runs from Sept. 16 until Sept. 20. But just because the Philadelphia Collection ends Sept. 23 doesn't mean you have to forgo stylish events for the rest of the season. Main Line Fashion Week assures that Philly's sartorial season lasts well into fall.
From Sept. 29 until Oct. 4, Main Line Fashion Week offers an industry panel, fashion shows and a shopping event centered on the Main Line retail scene. Featured participants include celebrity jewelry designer Ted Rossi and Beka Rendell, former Gov. Ed Rendell's art patron daughter-in-law.
Tomorrow, Main Line Fashion Week kicks off with a pre-event happy hour at Christopher's in Malvern where attendees can network and enjoy a special style preview.
Layla A. Jones, philly.com
Thursday Night Football for the Eagles just got a little more fashionable. At The Style Games, you can meet some of your favorite Eagles players and see them face off in various challenges … fashion challenges, that is.
Will your favorite Eagles really be there? Well, if players like LeSean McCoy, Nick Foles, Brent Celek, Darren Sproles and Mychal Kendricks, just to name a few, are at the top of your list, then yes. Yes they will.
Created by Destined for Success Management in collaboration with Jen Abrams, celebrity fashion designer, The Style Games at Saks Fifth Avenue's Men's Store directly benefits new Eagles wide receiver Brad Smith's True Foundation. Brad Smith's True Foundation benefits Youngstown, Ohio-area youths through promoting discipline, education and organized activities.
Ell Levi, Daily News
Here's how to apply your makeup using a cosmetic sponge applicator.
The Beautyblender ($19.95 at Sephora) works wonders when damp. It will smooth and refine your makeup to provide a clean finish and prevent caking.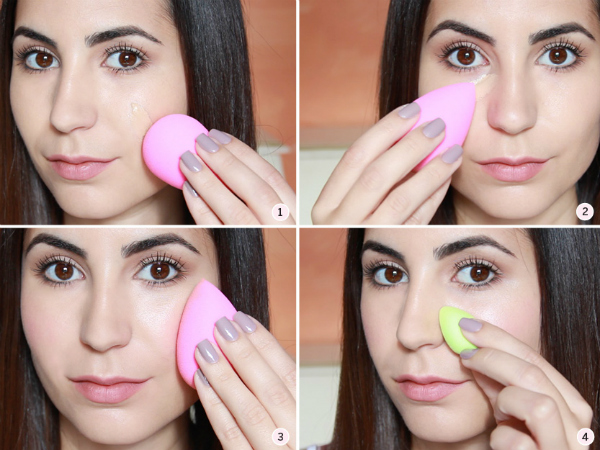 Robin Givhan for the Washington Post
NEW YORK — On the final days of the spring 2015 fashion shows, one of the industry's most reliably inventive labels, Proenza Schouler, presented a collection that was a bit like a summer camp project of the highest order — and just to be clear right off the bat: This is a good thing.
Designers Jack McCollough and Lazaro Hernandez focused on the unlikeliest of spring materials — leather — and wove it into shirts, skirts and even dresses, which were gradually deconstructed until their hemlines were little more than fringe. The delicate tops that looked as though they were knit from some version of cotton or linen, in an airy, open-weave mesh, had actually been constructed of fine nappa leather. And by the time the leather garments were mixed together with dresses that had been crocheted from viscose and metal, you'd lost faith in your eyes to tell truth from tricks of technology and sure-handed technique.
The two showed their collection down on Wall Street in a building that was more of a construction site than a temple of finance. Metal I-beams and disintegrating concrete dominated the space, serving as a dramatic, contradictory backdrop for a collection that was full of polish and sophistication — and the joy of experimentation.