Layla A. Jones, philly.com
An opening date for the long awaited Nordstrom Rack in Center City has been announced.
The off-priced clearance store that will be taking over 1700 Chestnut Street is set to open on Friday, October 24 at 9 a.m.
"We intend to bring our very best—exciting fashion from brands our customers love at great prices—to make the most of this opportunity to serve customers at the heart of Center City," said Nordstrom Rack President Geevy Thomas after announcing the retailer would be coming to Philadelphia over eight months ago.
Layla A. Jones, philly.com
There's a brand new MAC Cosmetics store opening in the Gallery mall.
The makeup store now occupies the space on the mall level near the regional rail station at 10th and Market and appears to be fully stocked. Located next to Claire's, the space formerly housed a short-lived bubble teashop. Already, Market East patrons are taking notice, with passerby's remarking at the new corner cosmetics store.
According to PR reps for PREIT, owner of the mall, the new 875-square-foot MAC location is scheduled to open on Friday, August 1.
Layla A. Jones, philly.com
In the wake of recent, festival-season concern about Native American cultural appropriation, the Canadian Bass Coast Festival has banned Native American-style headdresses from their premises.
"For various reasons, Bass Coast Festival is banning feathered war bonnets, or anything resembling them, on site," they wrote in a statement on Facebook. The new rule will be enforced by security.
"We understand why people are attracted to war bonnets," said the festival organizers. "They have a magnificent aesthetic. But their spiritual, cultural and aesthetic significance cannot be separated."
Layla A. Jones, philly.com
National Lipstick Day is a real thing. Why wouldn't it be? Lipstick has been helping save face (literally) for centuries and is often the perfect pop of color for an otherwise understated ensemble. In honor of this glorious occasion, here are 5 of the best, most unlikely (think, drugstore scores) lipstick shades in the biz. You're welcome.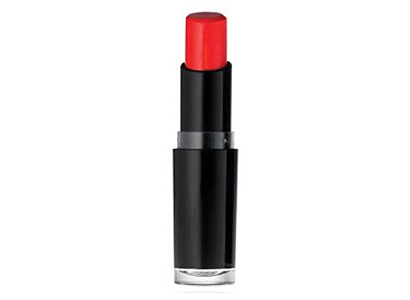 1. wet n wild Mega Last Lip Color in Purty Persimmon: At just $2, this cream matte lip color is a steal. Purty Persimmon perfectly captures the raging red-orange summer lipstick trend and manages to be matte without being dry. The website boasts four-hour coverage but they undercut the staying power of their own product. It sticks like a stain to last practically all-day. With the price and the quality, there's no reason not to grab these lippies in every color.
Layla A. Jones, philly.com
Primark, the British retail store involved in an apparent slave-labor hoax earlier this summer, is back in the spotlight after receiving negative feedback about their new mannequins.
The chain was quick to respond via Twitter when a shopper tweeted out an image of its rib-bearing mannequin saying they'd look into it. Days later, Primark announced the mannequins would be removed.
@Melfyx We're currently changing our window displays. The mannequins you describe will not be used in this way again.

— Primark (@Primark) July 24, 2014
Pittsburgh Post-Gazette, Pittsburgh, PA
Boys can wear bracelets, too.
It's no longer taboo for males to bling it up. But even the man who won't wear anything bolder than a watch knows that jewelry sends a message.
In the past, stereotypes weighed men down. Hippies of the 1960s were all about leather. Braided necklaces and thick cuffs were popular accessories for a generation of individualists sporting pony tails, mustaches and tunics. In the '70s, the heavy gold ID bracelet was a favorite of wise guys and wannabes while '80s rock musicians added metal studs to leather armbands for a more menacing look. In the '90s, rappers were all in when it came to thick gold chains, and professional athletes began sporting diamond earrings the size of small planets.
Layla A. Jones, philly.com
Colleen Brown is the first ever woman to be named to the board of embattled retail clothier American Apparel. Known for risqué mannequin displays, misogynistic ads, sexual harassment lawsuits and, most recently, the public termination of former CEO Dov Charney, this move comes as part of a company shake-up to revive revenue, The Business of Fashion reports. It will also add a woman's perspective to the company's decision making processes.
Brown has served as the CEO of Fisher Communications Inc., a TV and radio corporation, and currently serves as the managing director of Newport Board Group, a business consultancy firm. She is one of four new board members appointed.
Meanwhile, Dov Charney is in a fight to regain his position of CEO of American Apparel. A letter obtained by Buzzfeed detailed that Charney was ousted due to sexual and financial misconduct including failure to enforce company sexual harassment policy and the financial harm caused by lawsuits against Charney for this misconduct.
Layla A. Jones, philly.com
David Lynch isn't the only one in the entertainment industry making bras. Yesterday morning, Britney Spears announced she, too, would be making the foray into women's wear with a new lingerie line called The Intimate Britney Spears.
In collaboration with Danish lingerie company CHANGE Lingerie, The Intimate Britney Spears will launch in the U.S. and Canada on September 9 with a New York City party featuring Britney herself. Europe can expect the collection a few weeks later on September 26.
Featuring everything from lingerie sets to sweats, The Intimate Britney Spears products will be available on www.intimatebritneyspears.com priced between $17 and $79.