Archive: December, 2012
Elizabeth Wellington
High fashion may not want to admit it.
And the luxury world continues to thumb its nose up at the idea. But the Made In America movement is gaining ground in the apparel world - especially this holiday season.
I've been writing about this issue all year. But the industry really started to take notice when Women's Wear Daily released a survey based on NPD Group research that found 82 percent of American consumers are starting to pay attention where things are made. It also found 76 percent of shoppers say made in America is extremely or somewhat important.
Lucy Briggs
This Friday, December 14th, from 5:00 - 8:00pm, stop by your local Kiehl's retail store for a special holiday celebration. Enjoy an evening of drinks, snacks, and a surprise holiday treat while the Kiehl's customer representatives on duty will prepare gifts for everyone on your shopping list.

Plus, all shoppers will receive 20% off of their entire purchase on Friday and Saturday, so don't miss out!

Kiehl's Philadelphia1737 Walnut StreetPhiladelphia, PA 19103215-636-9936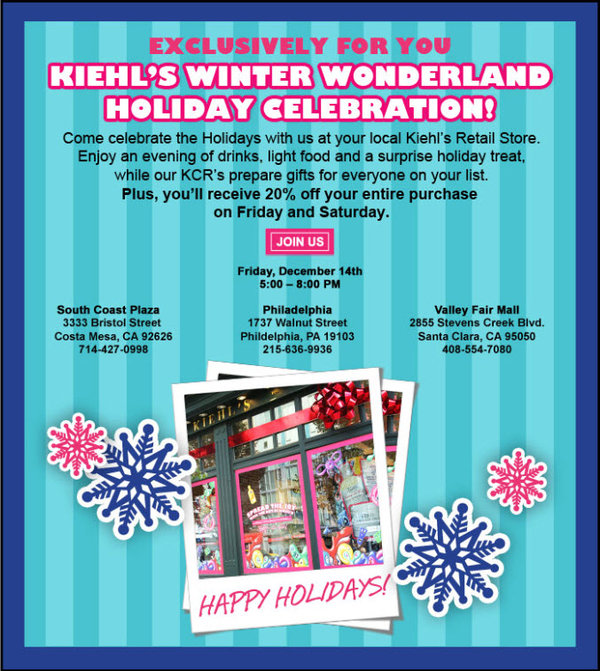 Esther Lee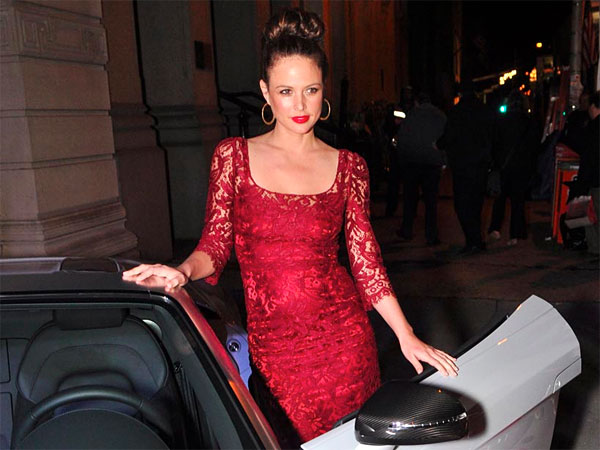 Let's talk about Josie.
The model has a following, and it isn't simply because she's stunning, which is exactly how you would describe the face of Maybelline for nearly a decade. In recent years, Maran has emerged as the unofficial spokesperson for natural makeup, gaining respect within the beauty and cosmetics industry after selling over 1 million units of her "Josie Maran Cosmetics" line on QVC. The makeup-touting masses have made it clear - that they adore her products and are clamoring for more – and naturally, Josie wants to deliver.
Elizabeth Wellington
F-U-$-K!
Don't you think by now Urban Outfitters knows what it is doing?
Whew, that felt good to get off my chest.
Elizabeth Wellington
Talk about the trend toward gender ambiguous fashion.
Kanye West didn't say anything outrageous at Wednesday night's star-studded 12-12-12 concert at Madison Square Garden. But his outfit was, well, interesting.
West rocked - get this - a $225 Pyrex Religion hoodie (drug reference, maybe?) a black leather kilt (whatever, that was a skirt) and he layered - yes layered - it over skinny black leather jeggings. (The new term out there is meggings man+jeggings, smh.) I'm thinking his sneaks are some form white on white Air-Jeezys. It's so Alexander Wang meets Rick Owens meets Betsey Johnson.
Poll: Kanye in a kilt: Hot or horrible?

(301 votes)
Esther Lee
As if Urban Outfitters hasn't dealt with enough controversy this year, the Philadelphia-based retailer decided to end 2012 with a bang by issuing a holiday catalog rife with expletives.
The majority of products, which include Urban's typical offerings - flasks, sweaters, and other goods, aren't directly offensive - but the manner in which these pieces are presented is creating a level of concern from parents who don't want their children to be exposed to words that the media avoids. Candles and pillows with the words "sh-t" and "f-ck" splayed across its canvases in full have moved parents and consumers of the youthful brand to speak out against Urban's seemingly callous use of profanity. A few of the offending products include a candle resembling the Love Park sculpture, replaced by the four letter word, "F-CK," emblazoned in capital letters. There's also a simple white, stainless steel flask, that reads, "That Sh-t Cray." The phrase, made popular by Jay-Z and Kanye with the release of their collaboration album earlier this year, has become a mainstream pop culture reference and phrase used by America's youth.
We recount Urban Outfitters' tumultuous, controversial, lawsuit-laced year: In March, the retailer released a collection of offensive St. Patty's Day tees that the Congressional Ad Hoc Committee on Irish Affairs responded to stating that the shirts were "fueling stereotypes that many Irish-Americans, as well as the people of Ireland, work so hard to dispel." The retailer did not respond to requests for comment regarding the issue. That same season, the parents of an underage model served the retailer with a lawsuit involving provocative images of their then 15-year-old daughter splashed across men's tees sold by the brand.
Elizabeth Wellington
We like The Boss' skinny pant and vest ensemble on the Hurricane Sandy relief concert.
Some of you in social media were complaining that Bruce's outfit was too tight - that the britches possibly cut off his circulation.
That doth not make him a fashion mistake. Quite the contrary. Springsteen looks manly and up to date.
Jenice Armstrong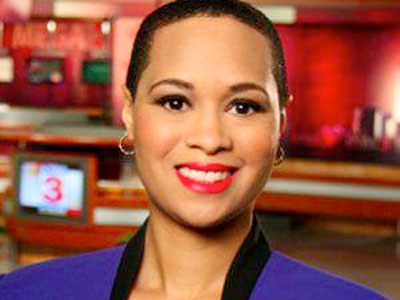 Oh, no they didn't!
I had to do a double take earlier today after I read about a black TV meteorologist in Shreveport, La., who got fired for responding to a racial remark on Facebook.
Guess what sparked the fateful email?