Archive: January, 2013
Esther Lee
Because the "Shameless" star shares an unequivocal love for fashion.
In an interview published Friday, Rossum tells Daily News TV critic Ellen Gray, "Dressing up is really fun, has always been fun for me. I love fashion, I love clothes, I love having that Cinderella moment where you get to borrow something and then it turns into a pumpkin and you give it back."
The star was an instant sartorial style hit on the red carpet after she starred as Christine in The Phantom of the Opera in 2004. Since then, Rossum has become a staple celebrity at fashion weeks, making best-dressed lists left and right. She cleans up really well at appearances, although we can't say that's the case for her on-screen character Fiona Gallagher. Read more, here.
Esther Lee
From blogging to designing.
It's all in a day's work for Philly-based menswear blogger Sabir M. Peele of Men's Style Pro, who's teamed up with a custom footwear retailer and released his own shoe.
"The brand reached out to me - found me on Twitter," Peele explained Thursday afternoon. "They said, 'We love your stuff, we love your site, would you be interested in doing a collaboration with us?'"
Esther Lee
We are all about DIY crafts and cool vintage finds these days (hello Pinterest!), so this upcoming event is the perfect addition to our weekend agendas.
Ardmore's most popular outdoor market, Clover Market, will hold an indoor event at the 23rd Street Armory this Sunday. With more than 50 vendors on site, food trucks, and informative workshops – on embroidery, how to create vintage style signs, and a floral arrangement demo – the event, officially dubbed the "Winter Market," should be worth checking out for interested buyers and creative types. Especially since founder Janet Long has been organizing Clover Market since Spring 2010. "It's a terrific community," Long says of her project, which just finished its third year in downtown Ardmore.
"I was thinking about [the Winter Market] last spring and the planning accelerated into the early fall," she told us Friday. The one-woman show says she's expecting a few thousand people to filter through the Armory's doors Sunday. Visitors, however, should expect an array of interesting and high-quality product offerings: Each vendor filled out an application and was selected with much consideration. Long explains how it's not only an opportunity for hand crafters to sell their products, but also for vendors to establish relationships with potential long-term customers. "We've seen that really blossom at the Market," she explains.
Esther Lee

Quite possibly the highest honor you can receive as a narcissistic, fashion-conscious human being is to land on Vanity Fair's International Best-Dressed List.
The feature, now in its 73d year, includes different types of chosen ones – editors, actors and actresses, artists, designers, socialites, politicos, royals, and other rich people. Previous honorees include Stacey Bendet Eisner of Alice & Olivia, actress Diane Kruger, Kate Middleton, Tory Burch of her eponymous brand, the Gyllenhaal siblings, and Martin Scorsese.
So what does it take for the super elusive, secret Best-Dressed committee to recognize that there are commoners in different pockets of the world with clear and coherent style senses?
Esther Lee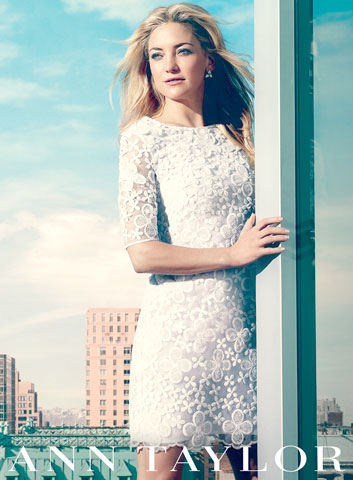 Perky blonde Hollywood actress Kate Hudson will once again front the brand's spring summer 2013 campaign. This time, however, Hudson will be wearing her own designs.
Inspired by red carpet style, the star's capsule collection will feature bright colors, a new take on the little black dress while remaining true to Ann Taylor's consistency, says Lisa Axelson, creative director of the brand, who worked with Hudson on the line.
What does the brand ambassador have to say about her designs? "I love the versatility in this collection," she told ELLE Thursday morning.
Esther Lee
A luxury car commercial featuring a hot model? Are we missing something?
A new Mercedes-Benz ad starring 20-year-old Kate Upton tited "Kate Upton Washes the All-New Mercedes-Benz CLA in Slow Motion" is raising eyebrows – particularly from the Parents' Television Council.
With over 3 million views on YouTube, the Mercedes-Benz commercial is said to reinforce the idea that using sex appeal to get what you want is a means to an end – something parents most certainly do not want their children to learn. The conservative organization says the ad is not selling cars; It's selling sexual objectification. The council claims the commercial is too racy for television in an attempt to halt it from airing during the Super Bowl on Feb. 3.
Esther Lee
Nearly ten years after being unceremoniously dumped by banker beau Aaron Buerge, South Jersey beauty Helene Eksterowicz has finally found true love – with a one-of-a-kind, 2-carat rock to prove it.
The second season winner of ABC's hit reality TV series The Bachelor took to her Facebook Saturday to announce her engagement to boyfriend Andrew Goodman. She shared an image of her ring with People StyleWatch Wednesday afternoon, adding, "It's exactly what I've always wanted."
So what exactly did Goodman, a senior technology consultant for IBM, concoct for his lucky lady?
Esther Lee
The short term effects of binge drinking are rarely pretty.
Hangovers - including headaches, the compulsive desire to vomit, dehydration, and physical and mental exhaustion are some of the initial consequences of partying too hard the evening before. (Or several evenings before, for some). But the residual effects on our long-term health and beauty are even less promising.
The Scottish government has released a new, free smartphone app called Drinking Mirror as part of its "Drink Smarter" campaign, an effort to curb excessive alcohol consumption. Users upload a photo of their face, then select the range of drinks they consume each week (options include 1-5, 6-10, and 10+). The mirror then calculates how their face will develop and age if they were to continue consuming alcohol at the current rate. The results typically are not reflective of the coveted notion of "aging gracefully."