Layla A. Jones, philly.com
The six-day climb necessary to scale Mount Kilimanjaro, Africa's highest peak, is no walk in the park but one climber, writer Rima Suqi, made it a walk in stilettos.
To celebrate her official entrance into middle age, Suqi ascended the mountain with a couple non-traditional supplies. While she didn't exactly climb the mountain wearing the Gunmetal brand heels, she put them on along with some red Chanel lipstick after reaching the peak. Next, she had her puzzled guide take pictures of her feat for a mini photo-shoot.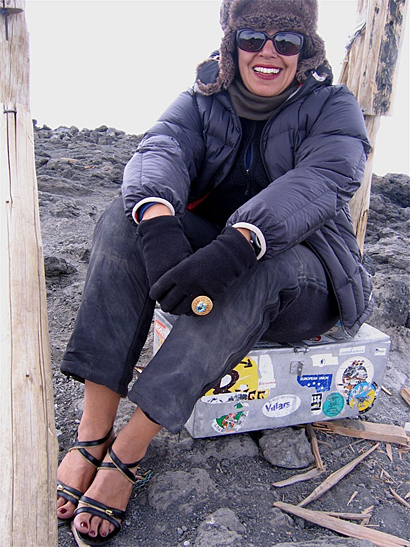 Layla A. Jones, philly.com
Earlier this week Christophe Lemaire announced his departure as the creative director of Hermès. Today, Harper's Bazaar reports Nadège Vanhee-Cybulski has been selected to take on the role as artistic director for women's ready-to-wear at the French fashion house.
Vanhee-Cybulski has formerly worked at high-end brands like Maison Martin Margiela and Céline and, most recently, as the women's design director at Mary-Kate and Ashley Olsen's brand The Row.
"Her talent and her creative track record," Hermès CEO Axel Dumas told Women's Wear Daily, "will be great assets in the continued development of women's ready-to-wear."
Layla A. Jones, philly.com
There is now a product for every woman who covets but does not possess the means to afford a pair of 'Devil Wears Prada' red-bottom Christian Louboutin pumps. The French shoe designer is venturing into the beauty world with the introduction of his new line of nail polish reports Women's Wear Daily. Makes sense considering the rich red lacquer that drenches the soles of each of his shoes.
At $50 a pop and $55 for the necessary care kit, the Louboutin cosmetics brand is sure to be an ultra-luxurious one. In comparison, Tom Ford nail polish is $32 while Chanel shades are listed at $27 on the brand's website.
For the cost, the Christian Louboutin nail polish aims to offer a luxury manicure experience in all aspects, including the product's packaging. The first enamel—naturally, a red—is called Rouge Louboutin and is on sale in the U.S. today at the Saks Fifth Avenue flagship store in New York. It's packaged in a vampy, black ombré orb with a stiletto-style cap that comes to a point at the top. The tallest of the nail polish tops, the Rouge Louboutin cap matches the height of Louboutin's highest heel ever.
Layla A. Jones, philly.com
UNIQLO, the clothing retailer that specializes in affordable basics, has been expanding all over the United States as of late. The Japanese store announced today that they will be opening a new store at Cherry Hill Mall on September 26.
The Philadelphia area got its first introduction to UNIQLO in May when the chain opened their much-anticipated King of Prussia Mall location. Since then, buzz spread quickly about the Center City location planned for 1608 Chestnut Street set to open in October. This location will include a "museum corner" showcasing UNIQLO's SPRZ NY (Surprise New York) collection.
In addition to the King of Prussia and Center City locations, UNIQLO has confirmed they will be opening a third Philadelphia location at Willow Grove Park Mall on October 10 and another New Jersey location in Wayne.
Layla A. Jones, philly.com
Malika Barber started her styling company Make Me Over Malika just six months ago. Since then, she consults a growing number of Philadelphia's everyday workingwomen on everything from what to wear to an upcoming gala to how to spruce up an otherwise boring work wardrobe.
Check out some of Barber's favorite fashion finds below and her tips for the three most common styling inquiries: color blocking, mixing patterns and dressing down fashionably.
Philly.com: Where do you get your sense of style?
Layla A. Jones, philly.com
Most people probably wouldn't expect their styling consultation to start with the question, "What are you self-conscious about and why?" But that's exactly how Malika Barber, owner of the styling company Make Me Over Malika, begins each styling session.
"I ask a lot of questions about the person before I even get into the clothes," the 25-year-old fashionista says at her suburban, single-family home in New Castle, Delaware. "I think because I have [a] background in psychology, I look at it totally different than the average stylist." She's wearing her favorite denim shirt from J. Crew topped with a cream lace appliqué tank top, patchwork skinny jeans and pointy, gold-toed cream-colored pumps. Her natural hair is coifed into a fluffy, straightened style.
Barber studied Psychology at Morgan State University in Baltimore, Maryland before going on to earn her Master's Degree from West Chester University. The tagline for her company, 'The Psychology of Styling,' plays on Barber's background in counseling and the customized point of view she brings to every session.
Layla A. Jones, philly.com
On Wednesday night the ESPY Awards, the ultimate sports awards show, aired hosted by rapper Drake. Athletes, sports commentators, musicians and actors flooded the red carpet with looks ranging from Academy Awards-appropriate to casual-chic. Check out some of the best dressed in attendance.
Layla A. Jones, philly.com
Seventeen Magazine launched its first apparel collection today exclusively at Sears. The 83-piece Seventeen Fashion Collection is now available at Sears stores nationwide and on Sears.com.
Vice President of Hearst Brand Development Glen Ellen Brown said a fashion collection was a natural extension of the editorial brand. "Seventeen Magazine," Brown said, "is a trusted leader in the teen market and fashion is one of its core pillars." Indeed, Seventeen debuted in 1944 and was the first teen magazine in the United States according to the University of Flordia Interactive Media Lab.

The collection, which caters to the high-school-aged back-to-school audience, includes a mix of trendy and classic looks from flouncy, floral dresses to structured blazers as well as shoes and accessories.