Mike Bertha, Philly.com
Philly Phaithful's origin story, like most other great origin stories, begins with someone quitting his job and re-purposing a room his childhood home. Daniel Hershberg was working in an ESPN production truck in Los Angeles covering the X Games in 2008 when he called his parents and informed them that he was going to quit his job and move back home to start a T-shirt company.
Hershberg's flux capacitor moment came only after his cousin, a fellow Cornell grad, was up in Boston and heard about Chowdaheadz through the friend of a friend of someone's girlfriend's neighbor's hairdresser, or whatever.
"It wasn't even my idea," Hershberg says of Philly Phaithful. "My cousin called me up when he saw Chowdaheadz and, basically, said that he thought that, with my knowledge and passion for Philly sports, I could do something similar, but with better designs and execution."
Colin Kerrigan, Philly.com Photographer
For this edition of Trendy Homes, we venture into the one room studio space of Alyssa Rae Hoffman, who lives in the Fishtown neighborhood of Philadelphia. Her work at lifestyle brand Free People is reflected in her personal taste and how she has styled her home.
Do you or someone you know have a Trendy Home that should be featured? Let us know!
Jessie Holeva
Valentines Day is today, and three things come to mind. Chocolate, love, and lingerie. Haven't had time to browse for yourself yet? Here are 13 local lingerie finds that may set the mood for romantic holiday.
Ian Michael Crumm, Philly.com
NEW YORK CITY- 'Project Runway' winner Dom Streater wasn't the only Philadelphian presenting during New York Fashion Week
Philadelphia Eagle's wide receiver, Brad Smith, celebrated the winner of his Design for Brad Smith fashion design competition Friday during NYFW at the Ainsworth, a rustic sports bar in Chelsea.
The open competition called for designers to submit a complete red carpet look as a hand drawn or digitally created sketch. The winning look was hand chosen by Brad Smith.
Gabrielle Bonghi, Philly.com
For years, Steven Singer Jewelers, the celebrity gem dealer of the Philadelphia area, is a name that resonates throughout the region. You can't turn on WMMR or drive down the highway without hearing or seeing that famous tagline: "I HATE STEVEN SINGER."
The award-winning phrase has been ingrained in the minds of locals since 2002. The origins of the ad campaign comes from local voice actor Dennis Steele, who has worked on commercials for Wawa and the Pennsylvania Lottery. Legend goes that Steele purchased a ring from Singer's shop for his wife of 23 years. She loved it so much that nine months later the couple had a baby. Steele later returned to the Jewelers Row storefront to tell Singer he hated him for giving him sleepless nights, associated with giving his wife the ring and having the baby. But the jeweler took that sarcastic compliment and turned dirt into gold by making it the foundation of his new reverse-psychology ad campaign.
But it's not Singer's classic tagline that has me in awe this Valentine's Day season, it's the latest ad campaign that proves he isn't shy about showing some skin. "They're real. They're so spectacular. They start as $59." – that slogan is written across the chest of a busty, faceless blonde woman advertising Singer's signature 24kt gold-dipped roses, one of their biggest sellers this time of year.
Gabrielle Bonghi, Philly.com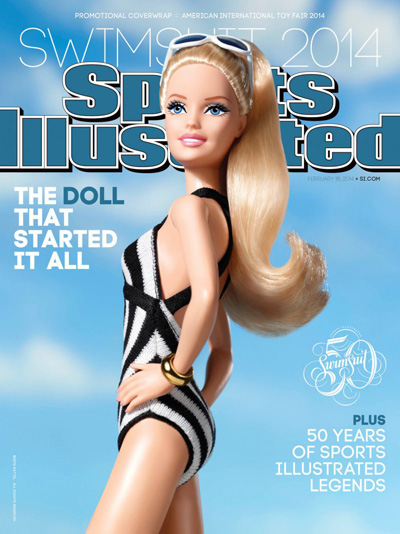 On its 50th anniversary, 1,000 copies of the Sports Illustrated swimsuit issue won't by covered by one of today's hottest super models or even a human. Instead a plastic, blonde Barbie rocks a retro black-and-white one-piece on the coveted annual issue. That's because Mattel and SI have come together for an "unapologetic" promotional campaign:
"Unapologetic," the theme of the campaign, is underlined by its use, with a hashtag in front, in social media like Twitter, as well as on a billboard in Times Square. "As a legend herself, and under constant criticism about her body and how she looks, posing in" the issue "gives Barbie and her fellow legends an opportunity to own who they are, celebrate what they have done and be #unapologetic," Mattel said in a statement on Tuesday.
Colin Kerrigan, Philly.com Photographer
For the latest edition of "Office Style," we visited the employees at ChatterBlast Media, an creative online strategy firm, in their Philadelphia Midtown Village office to see how the work they do reflects each of their own personal style.
"Because we're a creative agency, we want to foster everyone's expression and creativity so we don't have a dress code other than looking professional for our clients and representing yourself authentically. That said, we serve a diverse range of clients from creative types and authors to major corporations and government entities. So in some ways we're like chameleons where we play different parts and different roles depending on who we're seeing, but ultimately we just want people to express themselves." - Evan Urbania, CEO of ChatterBlast Media.
Sean Woods
He's no longer competing, but all eyes remain affixed to Johnny Weir, the former Olympian and world champion figure skater who is now turning heads with his outlandish fashion sense.
Weir, who was born in Coatesville and is openly gay, is adored by Russian figure skating fans despite the government's anti-gay propaganda laws. The former champion is in Sochi as a commentator for NBC, and said prior to the games that he had no plans to boycott the Russian Olympics, the first since his retirement from the sport.
"You don't have to agree with the politics, but you have to respect the culture of a country you are visiting," Weir told the New York Times. "I don't need to break any laws or wear a rainbow pin to show people that I support gay rights."