Layla A. Jones, philly.com
Mindy Scheier of Livingston, N.J. began modifying her son Oliver's clothing after he came in asking to wear jeans like the other kids at school. Her 10-year-old son usually has to wear sweatpants because he has a rare form of muscular dystrophy, which makes it hard for him to dress himself and for which he must wear leg braces.

Formerly a designer for Federated Department Stores, the brand that owns Macy's and Bloomingdale's, Scheier began making adjustments to already made clothing to empower her "differently-abled (a term she prefers to disabled)" son. With the modifications — Scheier added hidden magnets to button-down shirts and pants with easy access to leg braces — Oliver can dress himself and dress like other kids at school in the latest fashions.

But Scheier sought to do more than improve the quality of her own son's life which led her to create Runway of Dreams, a nonprofit that advocates for modified mainstream clothing for children and young adults.
Renee DeSantis, abeautyloft.com
Kim Kardashian revealed a bold new hair color choice for the spring: platinum blonde. For her naturally dark hair and olive skin complexion, it was a surprising move, but with her freshly cut lob (long bob) the outcome is very striking and modern.
But before you run off to the salon to duplicate the look, I asked Center City hairstylist Susan Gambone from Vanity Salon what it really takes to go that blonde (besides guts).
"A transformation like this can be quite a process," says Gambone. Instead of becoming an insta-blonde, Gambone suggests doing it gradually in two sessions. This is especially true if you have dark hair.
Layla A. Jones, philly.com
You may have seen an image and accompanying headline about Gloria Steinem photographed wearing a clitoris ring.
That ring was given to her by Brooklyn-based artist Caledonia Curry also known as "SWOON," who has worked with Philadelphia's Mural Arts on an addiction project and was tapped for the city's upcoming "Open Source" project, anticipated to be Philly's biggest site-specific art exhibition ever.
SWOON took to Instagram to gush about her celebrity encounter and subsequent ring gifting.
Layla A. Jones, philly.com
If you're looking for states whose residents wear more risqué undergarments, you might want to head slightly north or out West. Lingerie company True&Co. conducted a customer survey to find the most popular underwear in each state and found that Pennsylvanians like to be comfy.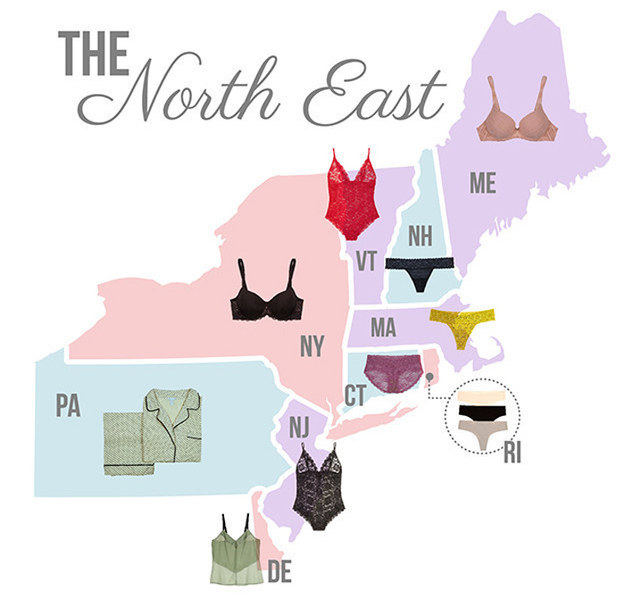 The most popular type of underwear in Pa. is white cotton loungewear, while our neighbors in Delaware prefer green silk lounge tops and New Jerseyans favor black lace boudoir body suits.
Renee DeSantis, abeautyloft.com
YouTube beauty vlogger Deepica Mutyala's video on "How to Mask Dark Under Eye Circles" nearly broke the Internet, garnering over 4 million views in just a month.
The fight against dark under eye circles, whether from genetics or lack of sleep, has always been a topic of interest for beauty experts and makeup artists. However, Mutyala's video in which she is gleefully applying a red, raccoon-ish ring around her eyes using a tube of red MAC lipstick made everyone do a double-click. She became an Internet sensation, appearing on "The Today Show" and other national media outlets to explain her wildly popular video.
But the proof was in the concealer. The dark under eye circles that plagued Mutyala at the begging of her tutorial were completely gone with just a coating of red lipstick topped off with her normal concealer.
Renee DeSantis, abeautyloft.com
On Tuesday I made my national TV debut on "The Better Show" discussing one of my favorite topics: Drugstore beauty products!
I love finding great drugstore beauty products that perform the same as, or better than, department store products and paying a fraction of the price. Are there differences between drugstore and department store makeup products? Sometimes. With higher-end products, you often pay extra for the more expensive packaging, the brand name, color pigmentation, and fragrance.
But a quick look at the ingredients will reveal that many of the drugstore beauty products contain the same ingredients as their higher-priced counterparts. In case you missed my segment, here are 9 products you'll want to pick up next time you're at the drugstore!
Layla A. Jones, philly.com
Just last Sunday Bradley Cooper came back home to Philly to declare to "60 Minutes" and all of the world that his family's "roots are very deep in this city."
The "American Sniper" actor's mom stayed true to this sentiment with her ensemble at Sunday night's Oscars. Cooper's mom, local Gloria Cooper, attended the Academy Awards with her movie star son, sporting a black and teal sleeved gown with one special accessory: earrings from Abington boutique Artware (1495 Old York Road, Abington).
Philadelphia magazine reports that Gloria Cooper came into the shop about two weeks ago looking for some jewels for a special occasion, which turned out to be the biggest night of the year for Hollywood.
Elizabeth Wellington, Fashion Columnist
Last night's Oscar looks closed the red carpet season with glitz and and subdued seduction. Here are my top 5 sartorial winners.
Only Lupita Nyong'o can pull off a gown fashioned from 6,000 - yes, 6,000 - pearls. This Francisco Costa for Calvin Klein sheath is a piece of art, albeit heavy. P.S. Thank you for showing America the many beautiful things a black woman can do with a mini fro.