Layla Jones
The office closes at 3:30 p.m. for the company's holiday cocktail party starting at 4:00 p.m. When you factor in the restaurant is 15 minutes away, that doesn't leave much time to change your look from corporate casual to holiday glam.
Quickly update your look with your makeup in 15 minutes using these five makeup products: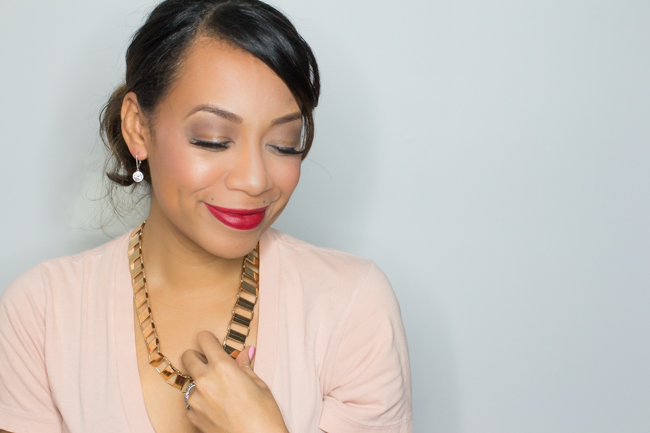 Eyes
Layla A. Jones, philly.com
Philly might be the most underestimated fashion powerhouse in the country. One woman who embodies Philly's footprint on fashion is Jamie Lewin. Recently named the director of design and trend at Piperlime, an online division of Gap, Inc., the Cheltenham High School graduate was born in Northeast Philadelphia. As a Fashion Institute of Technology grad, it only makes sense that some of the Lewin's fondest memories of growing up in the Philadelphia area include the city's fashion scene. Of course, she loved not only summers down the Shore and the ubiquitous Philly soft pretzels and water ice, but also "taking the train downtown with my girlfriends to shop at Urban Outfitters (when it was where Anthropologie is now) and Betsey Johnson across the street."
The 35-year-old has already held a plethora of positions within the fashion industry, from interning for Paula Hian in Manayunk to owning her own fashion line, Phyl Couture, which could be found locally at shops including Old City's Vagabond. Lewin went on to work at acclaimed fashion brands like Tracy Reese and Gap before settling in to her new, innovative Piperlime position, where she was instrumental in designing and launching the brand's first collection, which debuted this fall. Now, Lewin, who graduated with an undergraduate degree from Penn State, shares how she became Philly's very own Jenna Lyons-like success story.
Philly.com: When did you know you wanted to pursue a career in the fashion industry?
Ell Levi, Daily News
1. EYEKO
Black Magic Mascara & Brow Gel Set, $15
Layla Jones
Shake Shack Center City (2000 Sansom St.) is giving last-minute holiday shoppers more incentive to get gifts and support local businesses with a new promotion running from today, Dec. 15, until Dec. 31.
Shoppers who spend any amount of money at Knit Wit (1719 Chestnut St.), aoki boutique (115 S. 22nd St.) or ellelauri (114 S. 19th St. and 1625 Chestnut St.) can present their receipt at the Shake Shack counter for a complimentary Salted Caramel Hot Chocolate drink. That's a tasty treat too perfect to pass up.
Renee DeSantis, abeautyloft.com
Pantone's 2015 color of the year, marsala, is a lot prettier than the name suggests (I instantly think of Chicken Marsala which, while delicious, is not necessarily "pretty").
The deep reddish-brown color looks great on a variety of skin tones and translates well into wearable makeup products for the eyes, lips, cheeks, and nails. While Sephora and Pantone have teamed up to release an official marsala makeup collection to be released later this month at Sephora and Sephora.com, here are 5 marsala inspired beauty products you can wear now.
Ell Levi, Daily News
1. For soft lips and a smoother lipstick application, exfoliate first.
Make a homemade lip scrub by mixing brown sugar and olive oil. I used Mint Julips Lip Scrub from Lush, $9.95.
2. Moisturize with lip balm. Let it soak in for about a minute, then pat dry.
Layla A. Jones, philly.com
Urban Outfitters has had more than its fair share of negative press about racism, offensive content and cultural appropriation. Despite this, the Philly-based brand just keeps the problematic practices coming, as evident in their newest mishap, the URBN Holiday Party invitations.
It's hard to argue that the invitation, which Gawker reports was sent to employees from the "URBNcommunity" listserv, was some sort of perverted PR stunt—it was meant to stay between the company and its employees. However, it so offended some URBN employees that Gawker reports two employees tipped the blog about it.
The invitation, which asks that attendees "break out your juttis, kurtas, turbans, saris, lehenga cholis and harem pants," also generously asks attendees to donate cold weather accessories for Operation Brotherly Love (now Operation Warm), a charity created by Chadds Ford native Dick Sanford. It arguably seeks to use appropriation of traditional Indian culture for a holiday party theme.
Layla A. Jones, philly.com
Where can you get top notch catering, first-look access at Safian & Rudolph Jewelers' new Jeweler's Row space and diamonds? Why, at the Safian & Rudolph Jewelers holiday part and grand reopening, of course.
On Tuesday, Dec. 9, visit the Philadelphia jewelry store's new, 1300-square-feet location at the corner of 7th and Sansom streets for a sparkling celebration featuring cocktails and bites by Brûlée Catering, a ribbon cutting ceremony and the chance to take home a free diamond necklace.
While at the festive grand reopening, be sure to post to social media using the hashtag #SafianRudolph throughout the night. RSVP to Diamonds@SafianRudolph.com is encouraged.