Valentine's Day is slowly approaching! I know we thought the gift-giving season was over, but let's face it, we have one more holiday to go. Here's the lowdown on local events, gift "stops" and online shops you can pick-up for the holiday.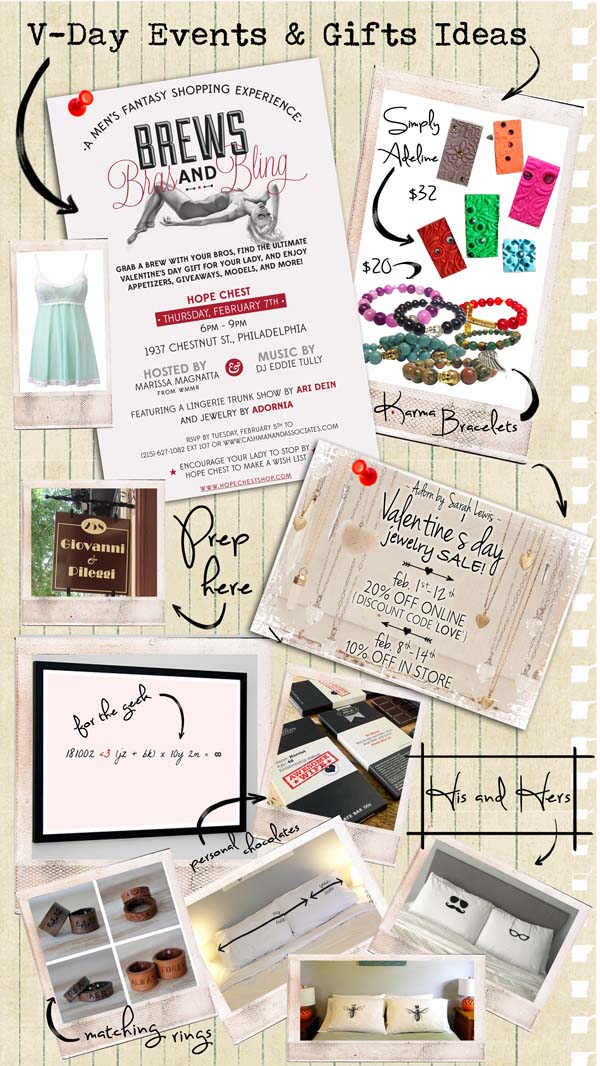 If you're completely clueless, some well appreciated lingerie by Cosabella, Simone Pierelle and to-die-for hosiery by Wolford will get you major brownie points (and after dinner as well). You can pick these brands up at Hope Chest Lingerie located on 1937 Chestnut Street and on the Mainline. A retail and lingerie guru, Jennifer Rosen has cultivated a collection of fine lingerie, bras, and sleepwear--perfect for putting some spice into your Valentine's Day celebration. You can start your shopping this Thursday, February 7th with cocktails, appetizers and help from sexy lingerie models at Hope Chest boutique for the Brews, Bras and Bling "Fantasy Shopping" event. From 6-9pm, Marisa Magnatta from WMMR's Preston and Steve show will host the event with music by DJ Eddie Tully, giveaways, promotions and a trunk-show with NYC-based designer ARI DEIN.
Where should you prep for the evening? Pop into Giovanni and Pileggi in Center City for a stylish blowout, starting at $40. Located in Rittenhouse Square on 256 South 16th Street, this seasoned hair salon has some fabulous stylists to help you master a sexy, Victoria's Secret blowout for your date or girl's night.
Support some local designers for jewelry and accessories. Adorn by Sarah Lewis is a guru with her stones and handcrafted metal jewelry. From February 1-12th, enjoy 20% off when you enter the discount code LOVE at checkout. Her boutique on 1314 Frankford Ave. in Fishtown is having 10% off all jewelry, store hours are Noon-8pm, Feb 8th-13th and Noon-6pm on the 14th!
Karma Collections Bracelets are semi-precious gemstone handcrafted by local designer Kellie Brown. For only $20, these are the perfect layering bracelets for your spiritual-boho girl. The Karma bracelets are sold online and at the Status Shop on 3rd and South Street. For more beautiful, handmade local accessories, check out Jennifer Boyle's Simply Adeline clay backed rings and earrings; all inspired by the seductive 50 Shades of Grey novels.
Looking for some random, online gifts? Here's some cheeky and quirky picks for sale on the big web, just try and order by Friday for a guarunteed Valentine's Day delivery. His and Hers are always easy, and I'm digging these cheeky pillowcases from Etsy. The King and Queen Bee , My Side and Your Side and Glasses and Mustaches are cool for the hipster. Matching accessories and jewelry can be dorky but leather is a great way to stay stylish this season. Custom leather rings are available on Etsy with various shades of leather and symbols. These personalized chocolate bars are much sweeter than a Facebook relationship update, where you can include your relationship status and a little message on these Belgian chocolates. For the math geek, add this personalized love equation poster to your list for $31 unframed or $55 framed. Make sure you order before by February 7 for a Valentine's Day arrival.