The 2013 Golden Globes red carpet was classier and more monotonous than previous year's sartorial selections. Winter white sparkled. Fiery reds sizzled and black lace draped over nude was sexy, yet modest for Hollywood's stars.
Speaking of black, more than a few actresses decided to channel their inner Angelina Jolie with their noir gowns plus leg action. We chuckled at Angelina last red carpet season, but it became a trend at this year's Golden Globes. And some of our favorite actresses stunned in florals while others did winter pastels with wild abandon.
Here are our top dresses from Sunday night's Golden Globes. Did we leave any out? What do you think?
1. Anne Hathaway's acceptance speech for Best Supporting Actress was nice, but it was her white, peplum Chanel gown that stole the spotlight.
2. Zac Posen did a phenomenal job with Naomi Watts' oxblood, long-sleeved gown. The piece may have been autumnal, but who cared about the color thanks to that amazing, well-placed diamond, cut-out back. Loved it!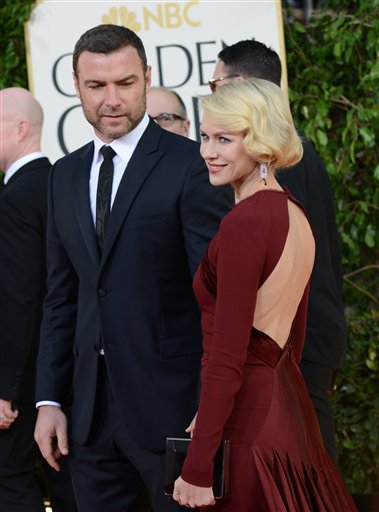 3. Marion Cotillard opted for an orangy red Raf Simons for Dior. Yes, we are partial to bold red gowns on Hollywood's big nights, but we were smitten with the cocktail-length of this frock. Surpring, yes, but sufficiently stylish.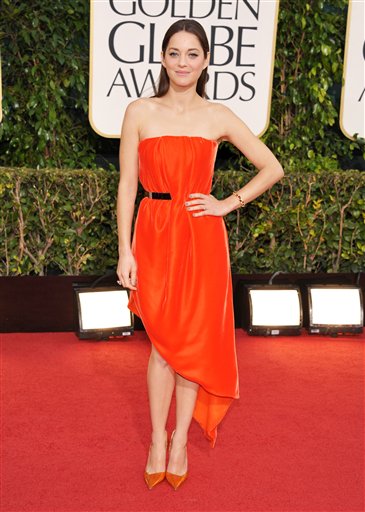 4. Oh my God, Taylor Swift didn't wear white Sunday night! She was, in fact, stunning in an eggplant gown by Donna Karan Atelier. What an awesome choice - a super-structured, well-fitted gown is always a stunner. Our little country singer is all grown up. (But whatever we think about Swift's sartorial choice, we are still glad that Adele won the Golden Globe for best original soundtrack. Her voice rocks.)
5. There was something about Lucy Liu's Carolina Herrera gown that I just couldn't take my eyes off. The floral print was very springy on the otherwise foggy Sunday night. But it was Liu's dress - and her fishtail, French braid - that just completed the look. Woodland princess!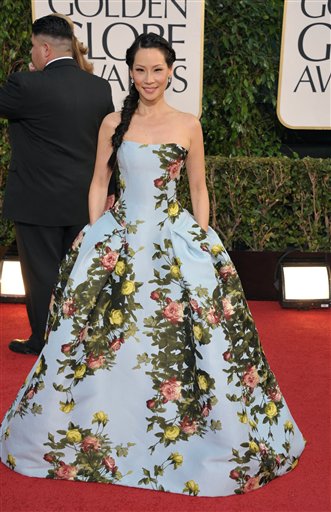 6. It would be wrong of us not to mention Kerry Washington's blush, lacy confection. What a dress! The detail on Kerry's Miu Miu sleeveless dress was phenomenal. Everything about the star, in fact, was ravishing, from her perfect bangs to her choice of sheer Lancome makeup. If only I knew how to do that lip pout!
View more photos from the 70th annual Golden Globes, below. Also, for a comprehensive overview on who wore what Sunday evening, click here.
---
Elizabeth Wellington is the Inquirer's fashion writer.