One name ruled the Oscars red carpet Sunday evening, and it belonged to Giorgio Armani. The Italian designer managed to finagle his creations onto three of five Best Actress nominees at the 85th Academy Awards.
Then there was the ever-present color white. An army of Hollywood's brightest stars opted for light, neutral hues, which called for a blase concoction of creams, golds and other effervescent shades blotting the Dolby Theatre entrance. However, for every three actresses in white, one daring celebrity went bold with a pop of color - coral for Kerry Washington and cerulean blue for Reese Witherspoon.
And unlike previous years, where we simply described and critiqued what the actresses and actors were wearing, we decided to add a different element to the red carpet recap this occasion: We played teachers and graded the stars' head-to-toe looks. Some were fortunate enough to receive A's, others fell behind several marks. Take a look below and vote on your favorite look in our poll.
Who: Jessica Chastain
Why: Best actress nominee
Designer: Armani Prive
Trend alert: sweetheart neckline, beigy nude, golden, strapless sparkle
Comments: This was a safe pretty choice that complimented her curves. We expected more from this red-haired raven who allowed her soft locks to tumble past her shoulders. The actress, who created quite a scene with her bold red lip, told Ryan Seacrest, "It's a very Happy Birthday, Mr. President kind of dress." Overall, snooze. Makeup took her one step closer to her aspiring, self-proclaimed "Happy Birthday, Mr. President" look.
Score: Elizabeth's grade: C / Esther's grade: B+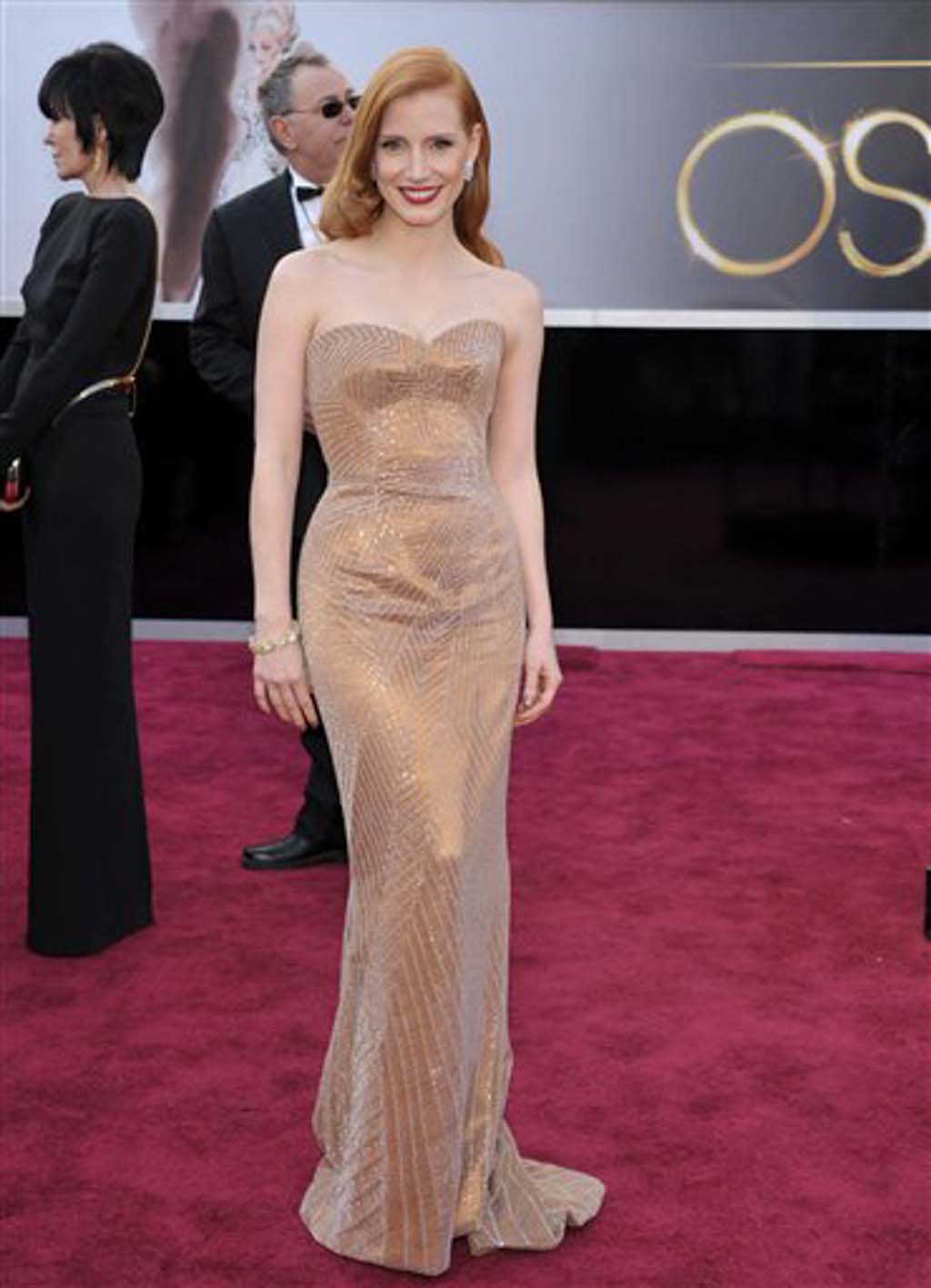 Who: Quvenzhané Wallis
Why: Best Actress nominee, youngest ever to be nominated in category
Designer: Armani
Trends: sparkling head piece, satiny navy blue shade, the puppy purse is hot with the Claire's crowd.
Comments: "It has been crazy," the 9-year-old said, carrying a serious puppy purse, headband and sparkly navy Armani dress. We weren't sure how a child was going to rock an Armani, but Wallis nailed it. Her sparkling headband upped the cute factor, and her look - right on down to those Shirley Temple curls - was age appropriate and adorable.
Score: A (for Adorable, obviously)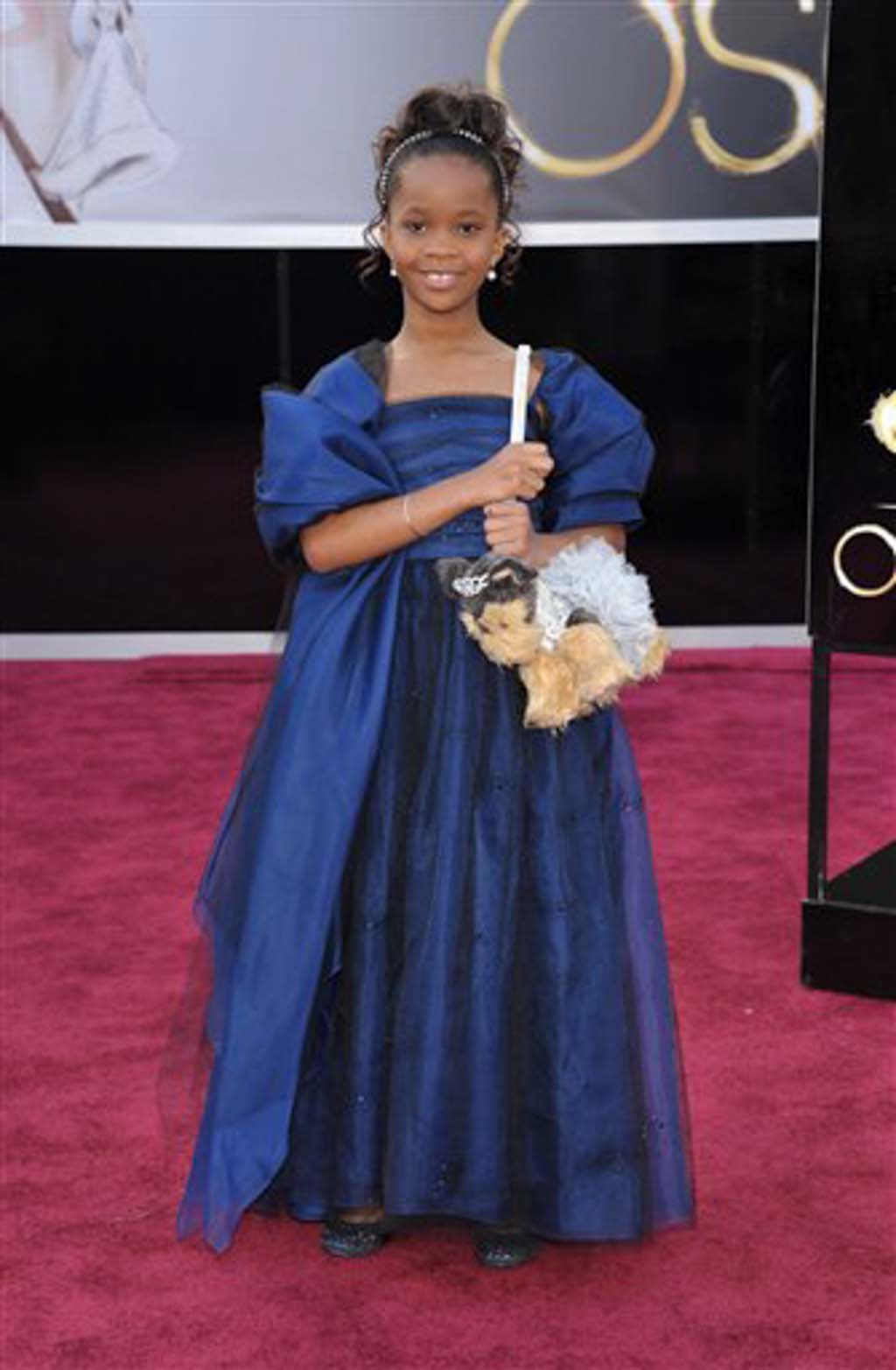 Who: Kerry Washington
Why: Presenter, Best supporting actress nominee
Designer: Miu Miu
Trends: color blocking, sequins/cystallized bodice, spring colors, strapless, bold red, tiny bow at the waist
Comments: Kerry Washington had a bit of a moment "yanking up" her strapless, part-sequin, part-coral Miu Miu gown on the red carpet, but the color was an outstanding choice. She paired her dress with Louboutins, a Prada purse, Chopard earrings, and a Fred Leighton ring. Washington, who always does colorblocking creatively, looked amazing in her crystallized bodice dress - a nice departure from the unending sea of nudes on the red carpet.
Grade: A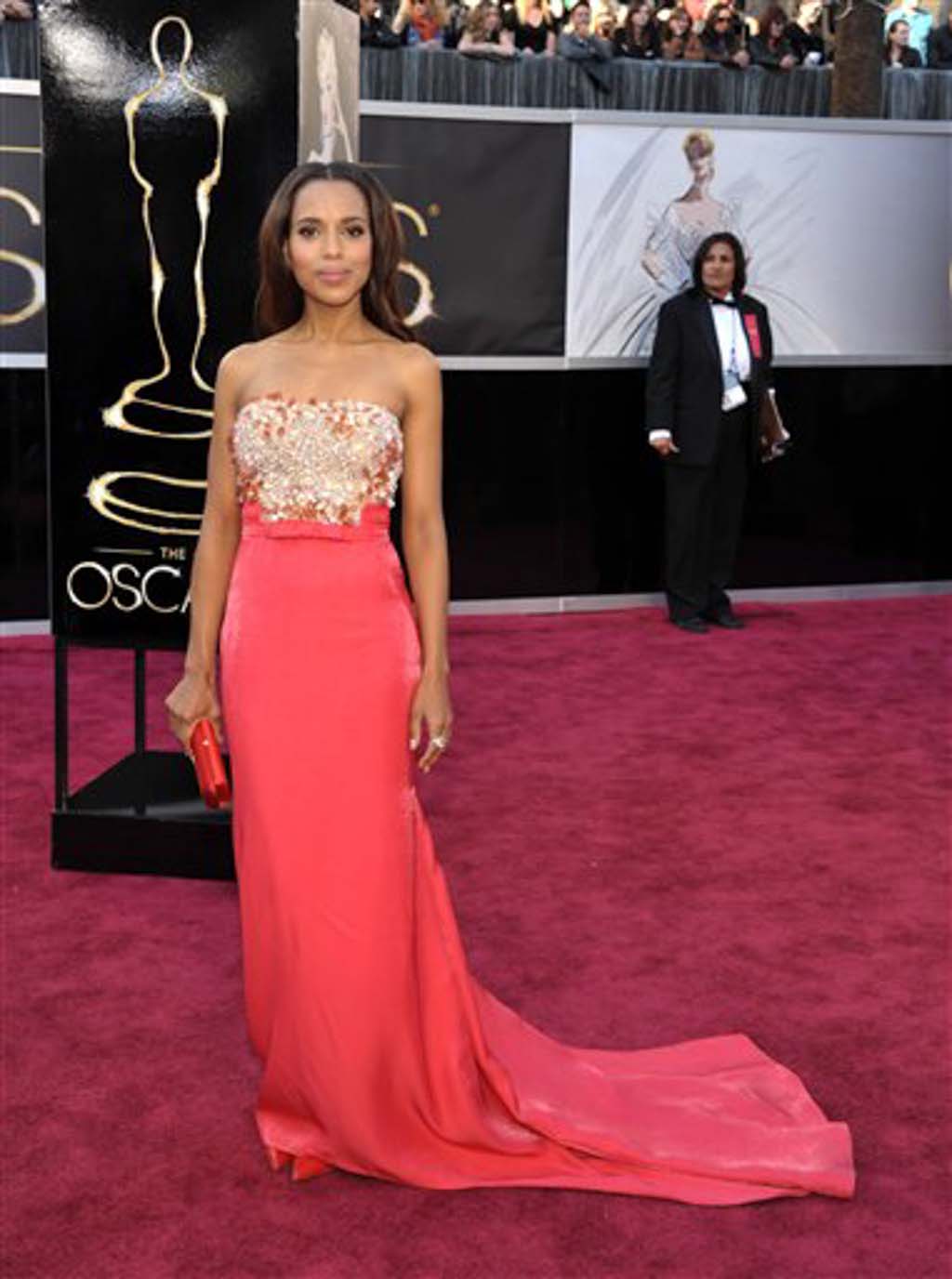 Who: Jennifer Lawrence
Why: Best Actress nominee
Designer: Dior Haute Couture
Trends: strapless, back jewelry, winter white
Comments: Hunger Games star Jennifer Lawrence was a hungry girl in her elegant, princess-like, cream-colored Dior Haute Couture gown, as she whined to Ryan Seacrest that she hadn't consumed food all day long. Despite the lack of nourishment, Lawrence kept her composure in the couture number. Mark Townsend styled the best actress nominee's hair in a swept chignon, which exposed her back jewelry.
Score: Elizabeth's grade: B+ / Esther's grade: A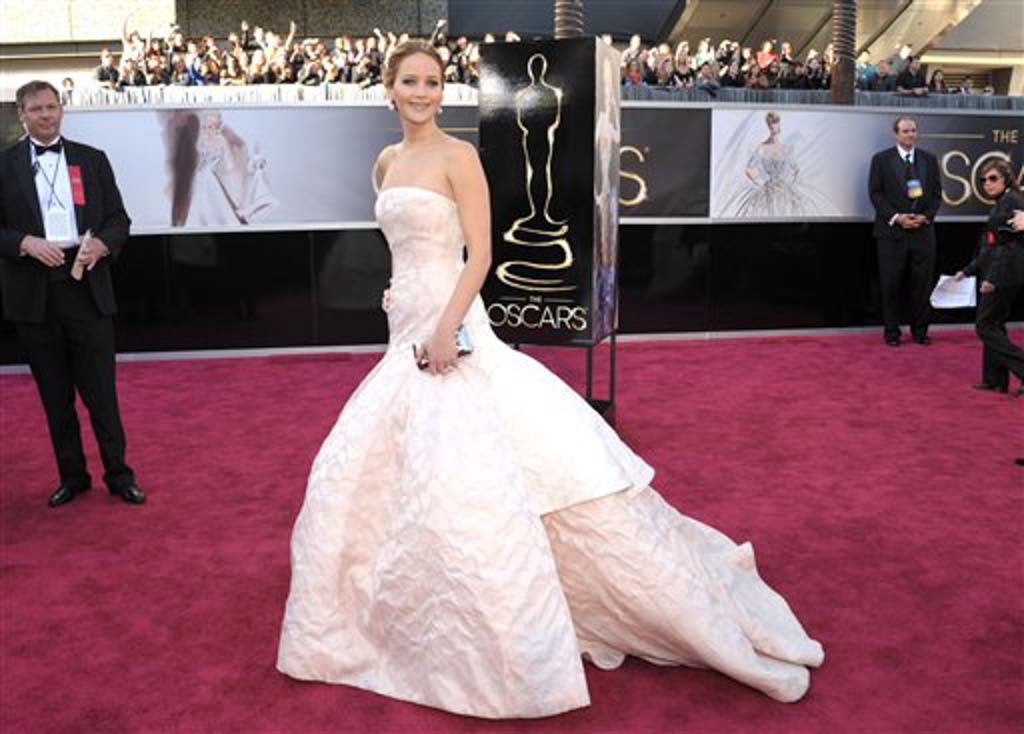 Who: Reese Witherspoon
Why: Presenter
Designer: Louis Vuitton
Trends: fitted corsett, trending navy blue gown. contoured colorblocking, tuxedo embellishments.
Comments: Reese Witherspoon stepped out on the Oscars red carpet in a cobalt blue and black Louis Vuitton gown that she picked out with her daughter, Ava. The dress was right on trend, but it's missing something. Somehow, it was missing oomph. It left Elizabeth feeling rather blah.
Score: Elizabeth: B- / Esther: A-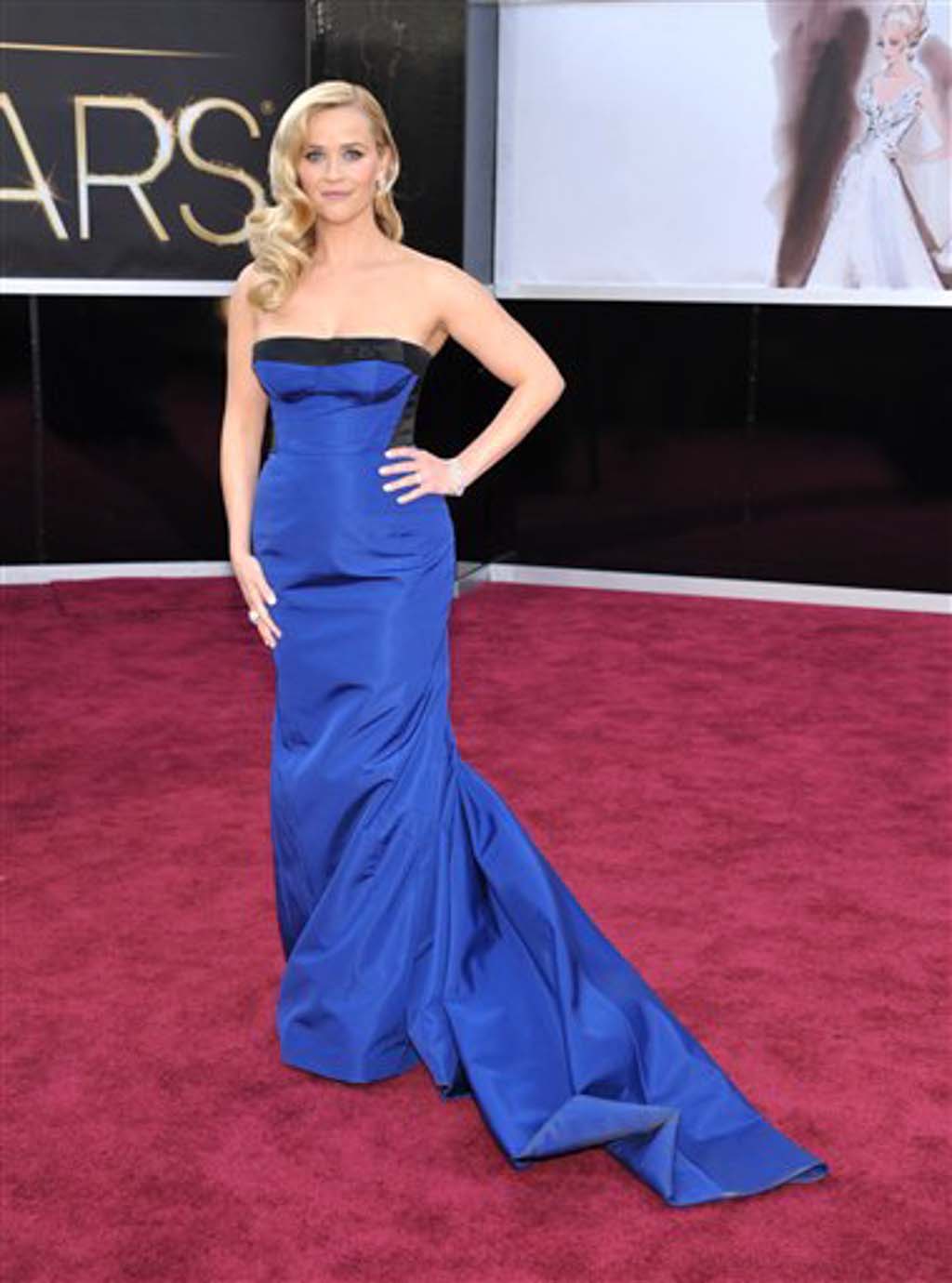 Who: Naomi Watts
Why: Best actress nominee
Designer: Armani Prive
Trends: cutouts, sequins, mermaid, body-hugging amazingness
Comments: Watts stunned in a sleeved, sparkly Armani number with an abstract triangle cutout. We think that she may be bringing in a new trend with that funky one-shouldered silhouette. Where did that amazing look come from? She paired her look with a soft, swept updo for a high-voltage look that is fitting for a woman named Watts.
Grade: A+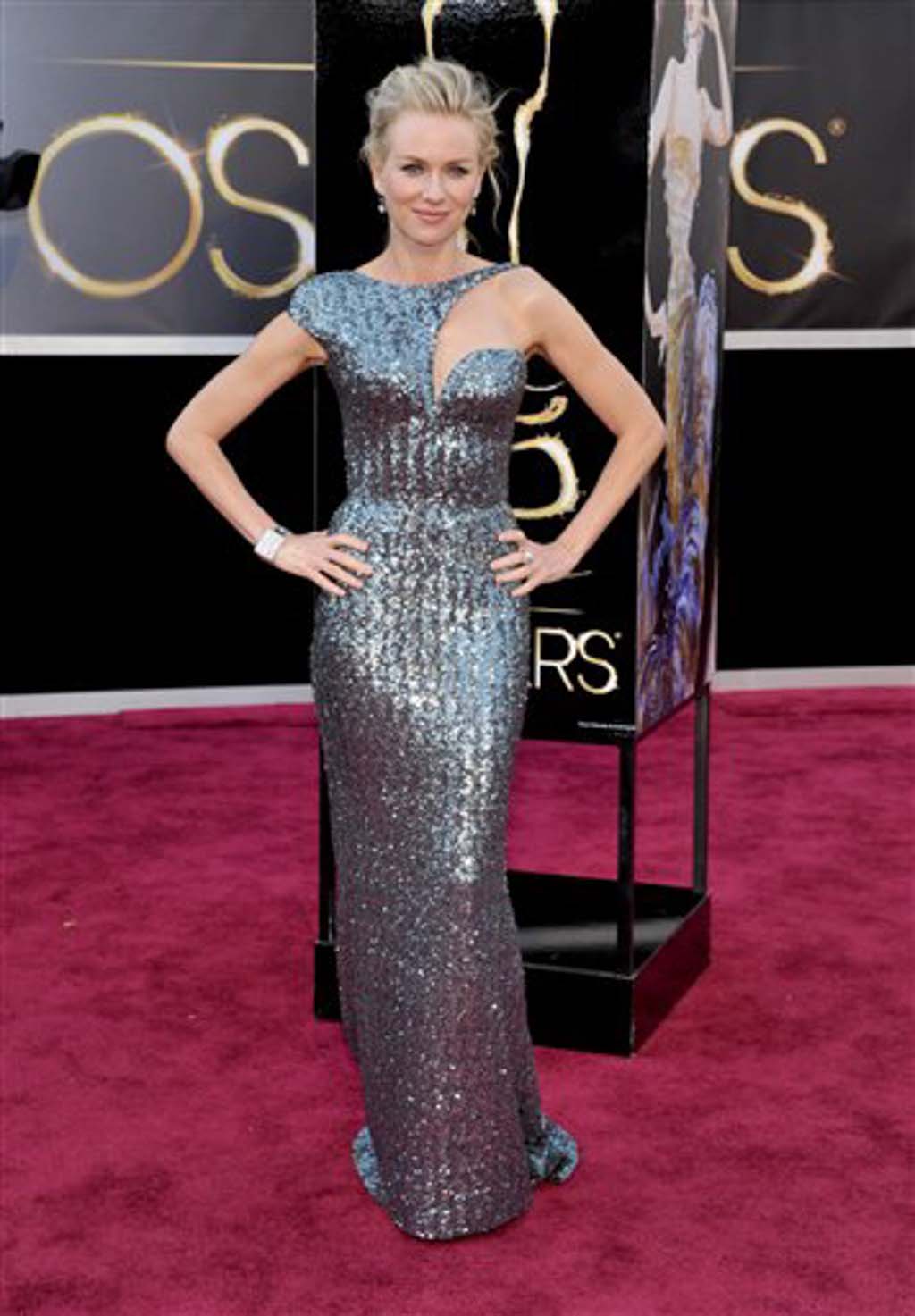 Who: Amy Adams
Why: Best Actress nominee
Designer: Oscar de la Renta
Trends: feathers, full A-line skirt, futuristic muted slate grey,
Comments: We had a lot to say about her gown. Elizabeth absolutely loved the princess silhouette. And the feathers on Adams' dress made the confection super dreamy. There was no way she could go wrong with this choice, it was like she was floating down the red carpet. Esther thought otherwise- the color washed out the beauty's complexion, and the silhouette mixed with the medium of feathers made her look like a giant goose on the red carpet. It was not the finest look on the red carpet Sunday night.
Score: Elizabeth: B+ / Esther: C
Who: Anne Hathaway
Why: Best Supporting Actress nominee and later winner
Designer: Prada trends: blush tones, spaghetti straps fusing into a halter top, super clean look
Comments: As for the most hated dress, I remain the top non fan of Anne Hathaway's too-pale-to-be-pink Prada gown. Yuck. But there is a reason behind this awfully darted, fashion failure: Hathaway learned three hours before she was to step on the red carpet that her previously approved Valentino - who by the way was the fashion winner of the night - was too similar to Amanda Seyfried's Alexander McQueen. Okay, we get why she went with the terribly tailored Prada. But since hindsight is always 20-20 – especially when it comes to fashion - we are guessing Hathaway wishes she went with her gut.
Score: Elizabeth's grade: B / Esther: C+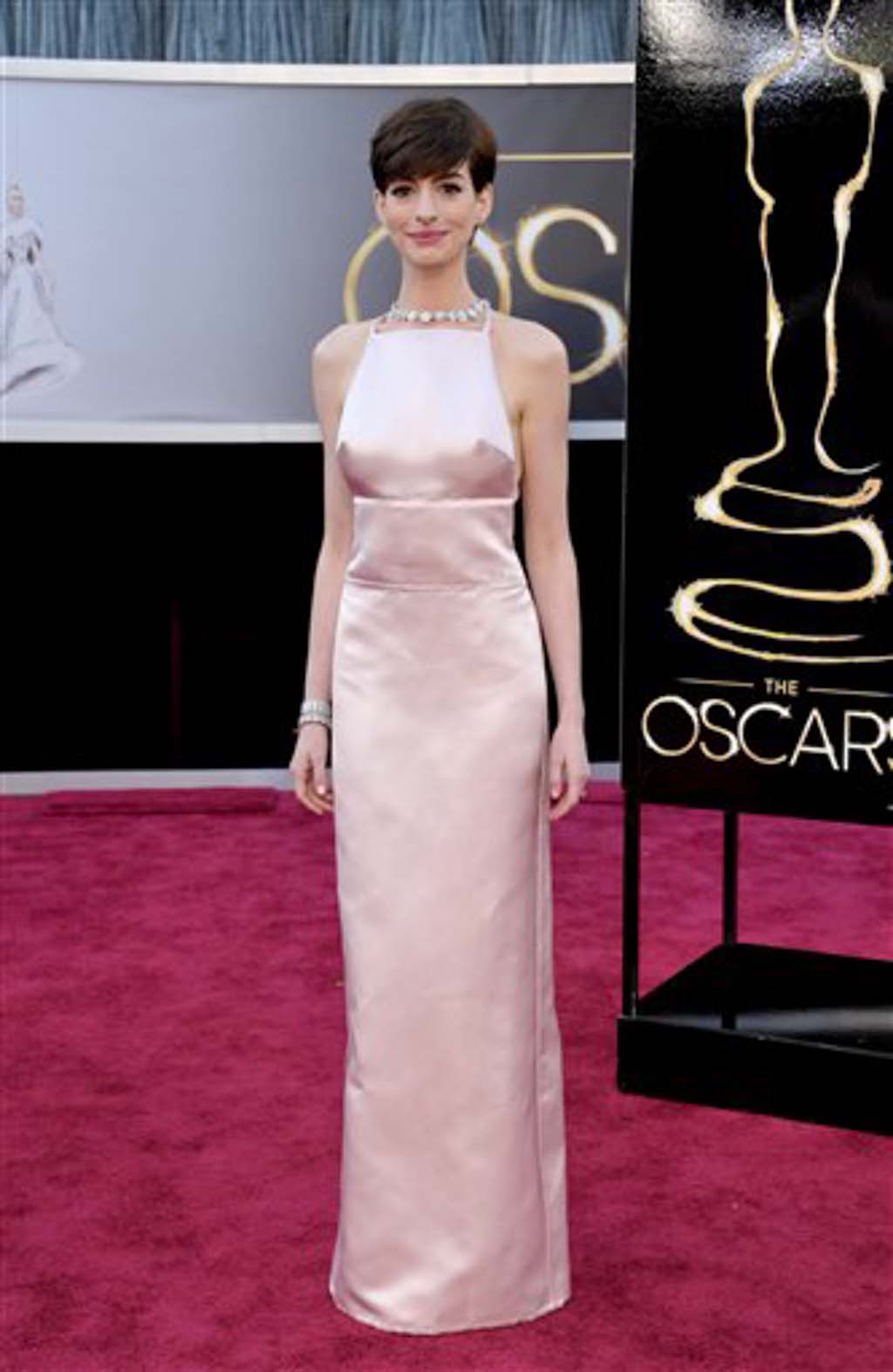 Who: Octavia Spencer
Why: Presenter
Designer: Tadashi Shoji
Trends: one-shoulder, nude, glitter, ruching in the waist area.
Comments: Shoji is Butler's go-to designer. Spencer, who recently lost 20 pounds, always picks a gown that makes her complexion glow and embellishes her curves. Although, we must admit, this gown was a bit foamy.
Grade: Elizabeth: B+, Esther: C+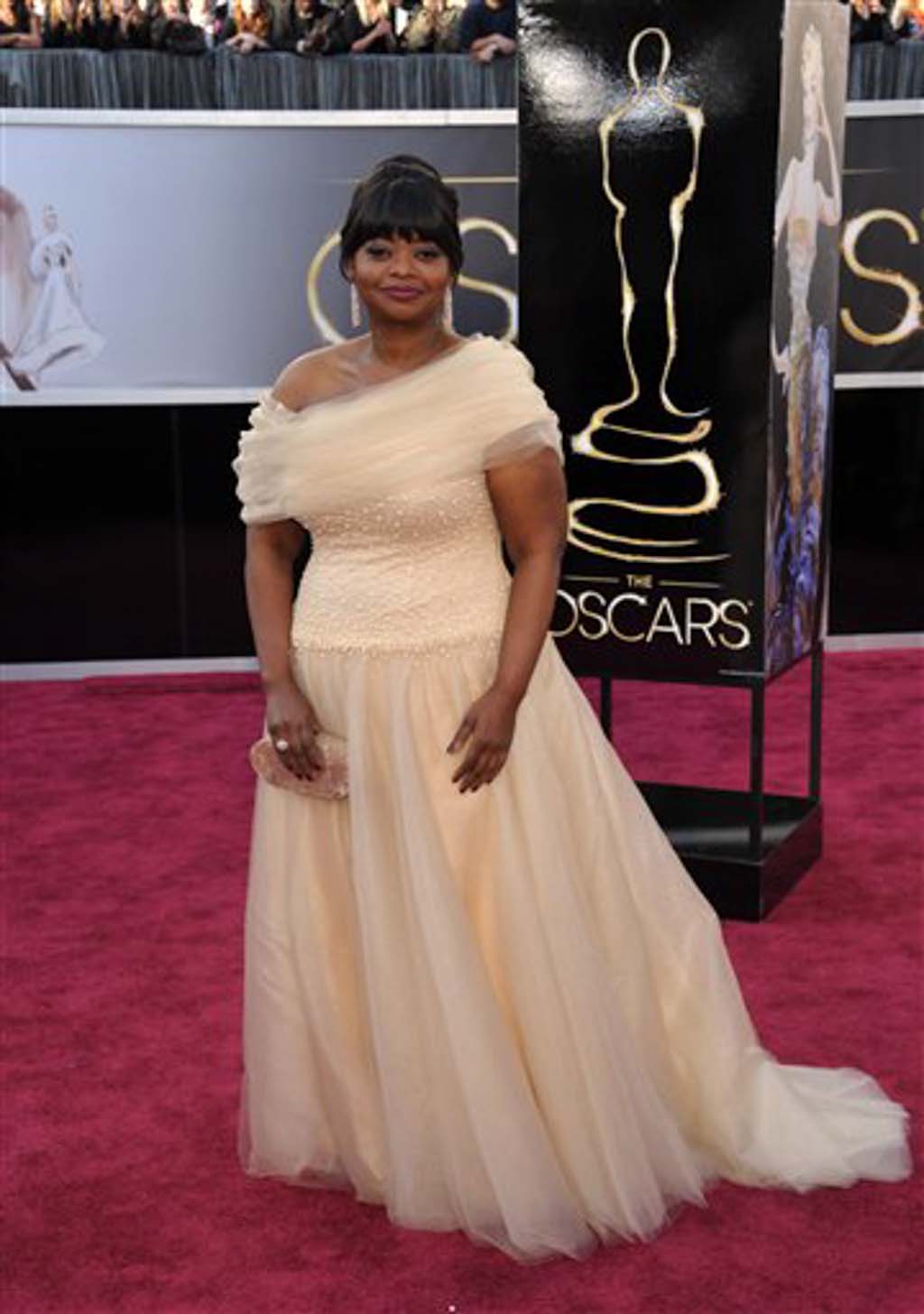 Who: Charlize Theron
Why: Presenter Designer: Dior Haute Coture
Trends: Winter white, cute little v-neck, peplum
Comments: Clean, simple, trendy, chic. The Ice Queen was a winner, winner, winner in this white peplum gown by Dior Haute Couture.
Grade: A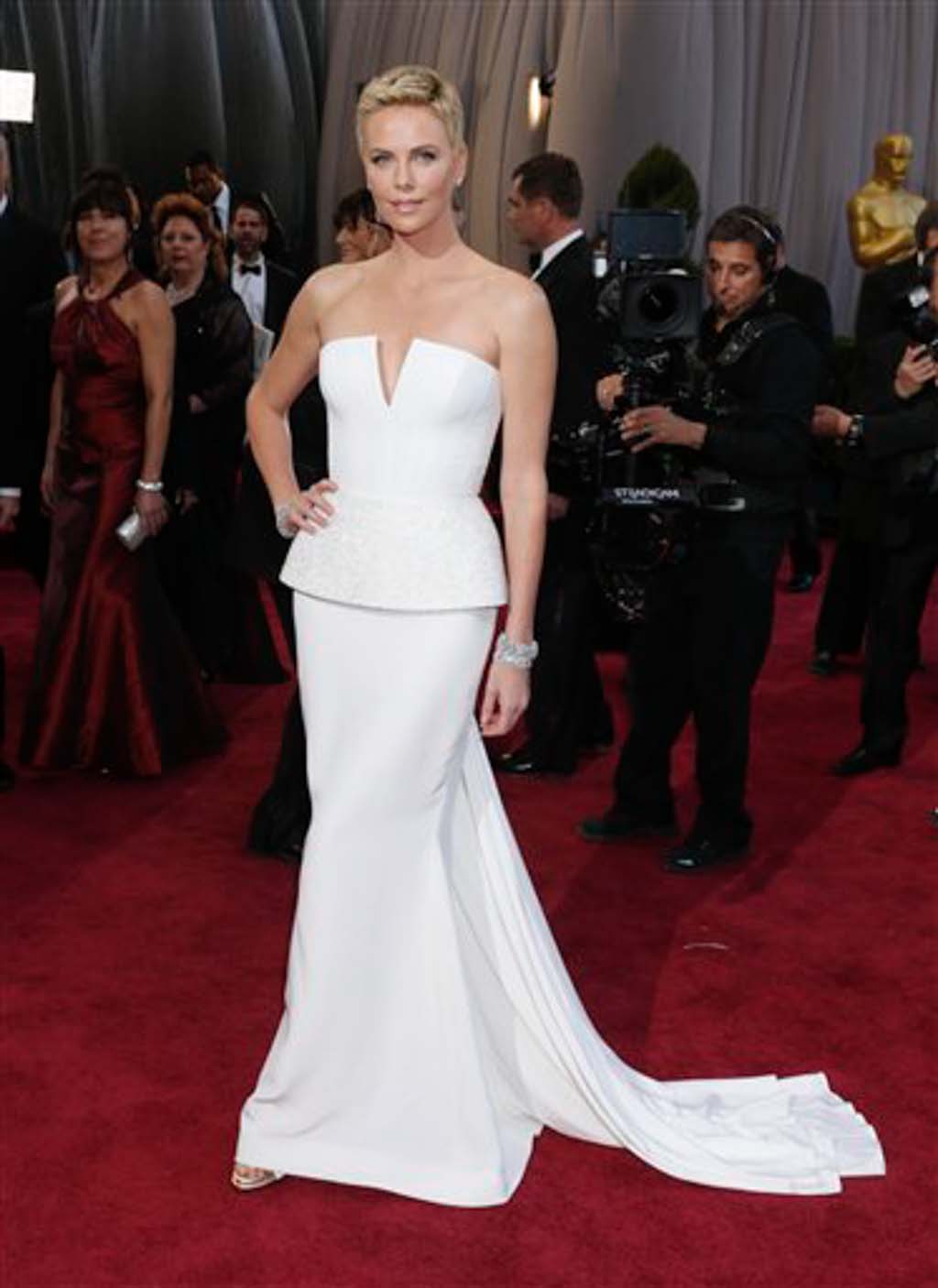 Who: Stacy Keibler
Why: Date to Clooney, supportive girlfriend
Designer: Naeem Khan
Trends: Metallic, halter neck, belted waist
Comments: This may be the first time Keibler out-shined bearded boyfriend George Clooney at an award show. She kept it clean with an intricate, glittery gown with a black, cinched, belted waist. Overall, the model looked red carpet ready, and we're feeling generous tonight (at least to her).
Score: Keibler's grade: A, Clooney's grade: C+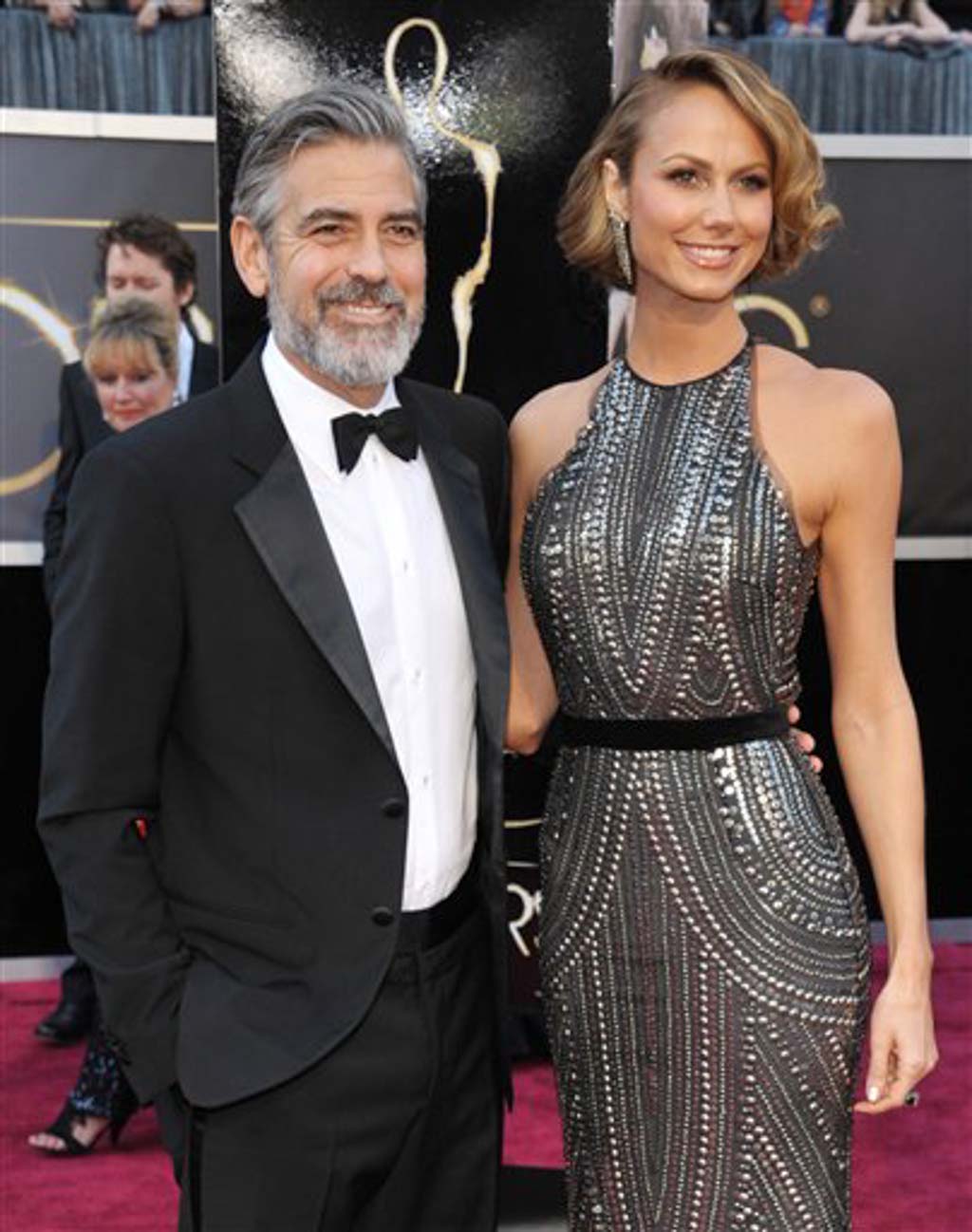 Who: Jennifer Garner
Why: Presenter; Wife and world's biggest supporter of Ben Affleck
Designer: Gucci
Trends: Strapless, plum, ruffled train on the back
Comments: Garner always manages to look effortlessly pretty and squeaky clean. "I loved this from the minute I saw the first sketch," she said on her custom-designed Gucci gown. The plum choice was floaty and dreamy, and the punch of color - absolutely gorgeous.
Grade: B+
Who: Halle Berry
Why: Presenter, Oscar red carpet staple
Designer: Versace
Trends: Deep-V, longsleeved, black, glitter
Comments: Have you ever seen Halle Berry look bad in anything? The star's Versace choice was a bold, chic choice for the red carpet. It wasn't our favorite, but it looked nice on Halle, who we appreciate for always taking fashion risks at the Oscars.
Grade: B+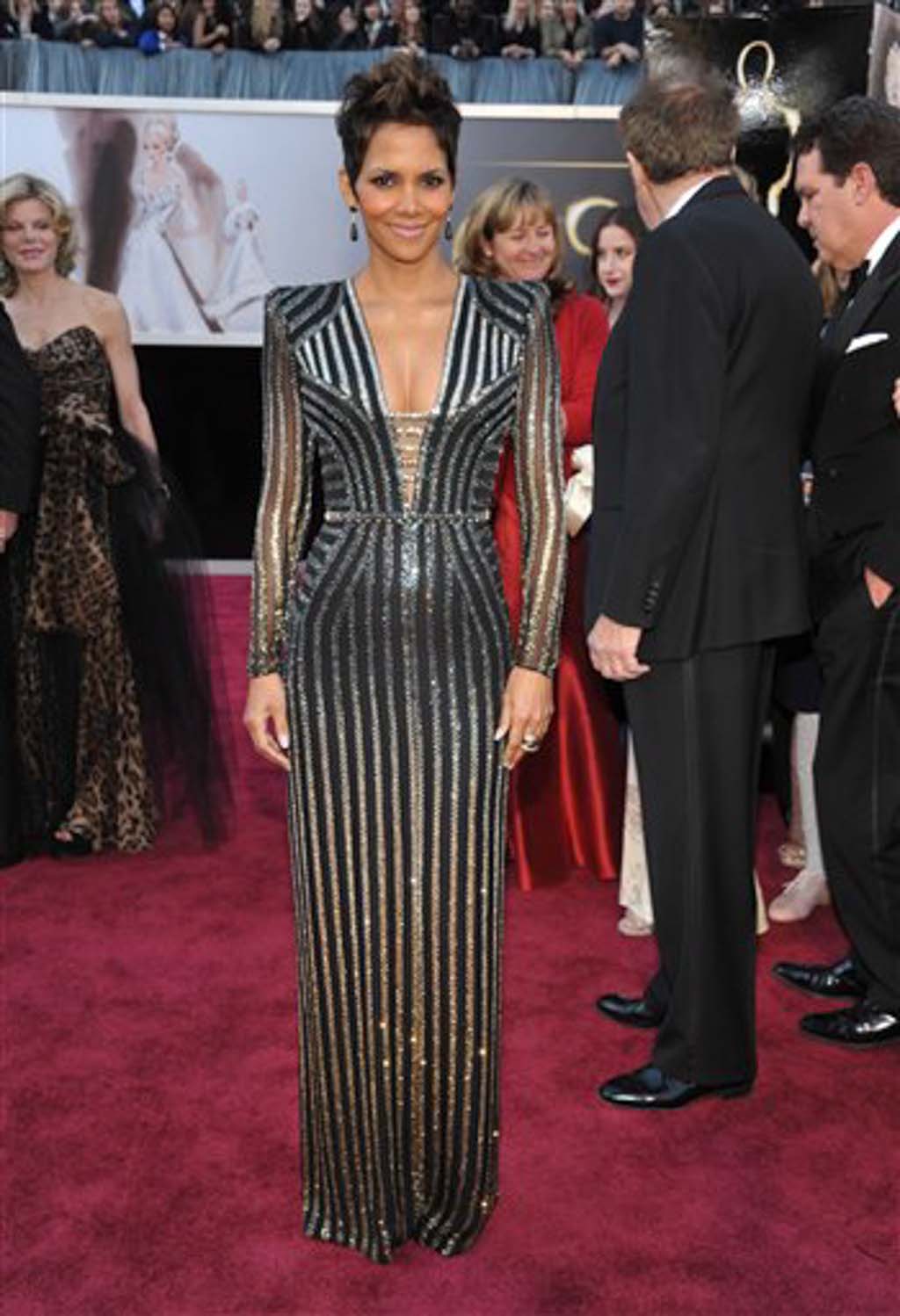 Who: Amanda Seyfried
Why: Best supporting actress nominee
Designer: Sarah Burton for Alexander McQueen
Trends: High neck, elongated bodice, applique detailing, nude shape, keywhole bodice, waist interest, slate futuristic shade
Comments: Initially, Seyfried looked washed out on cameras as she made her way down the red carpet. But the more we look at this image, we can't help but think how demure she looks in her cream-colored Alexander McQueen gown. The silhouette on this piece is absolutely fabulous. The fabric is as amazing as the cut. Totally dreamy.
Grade: A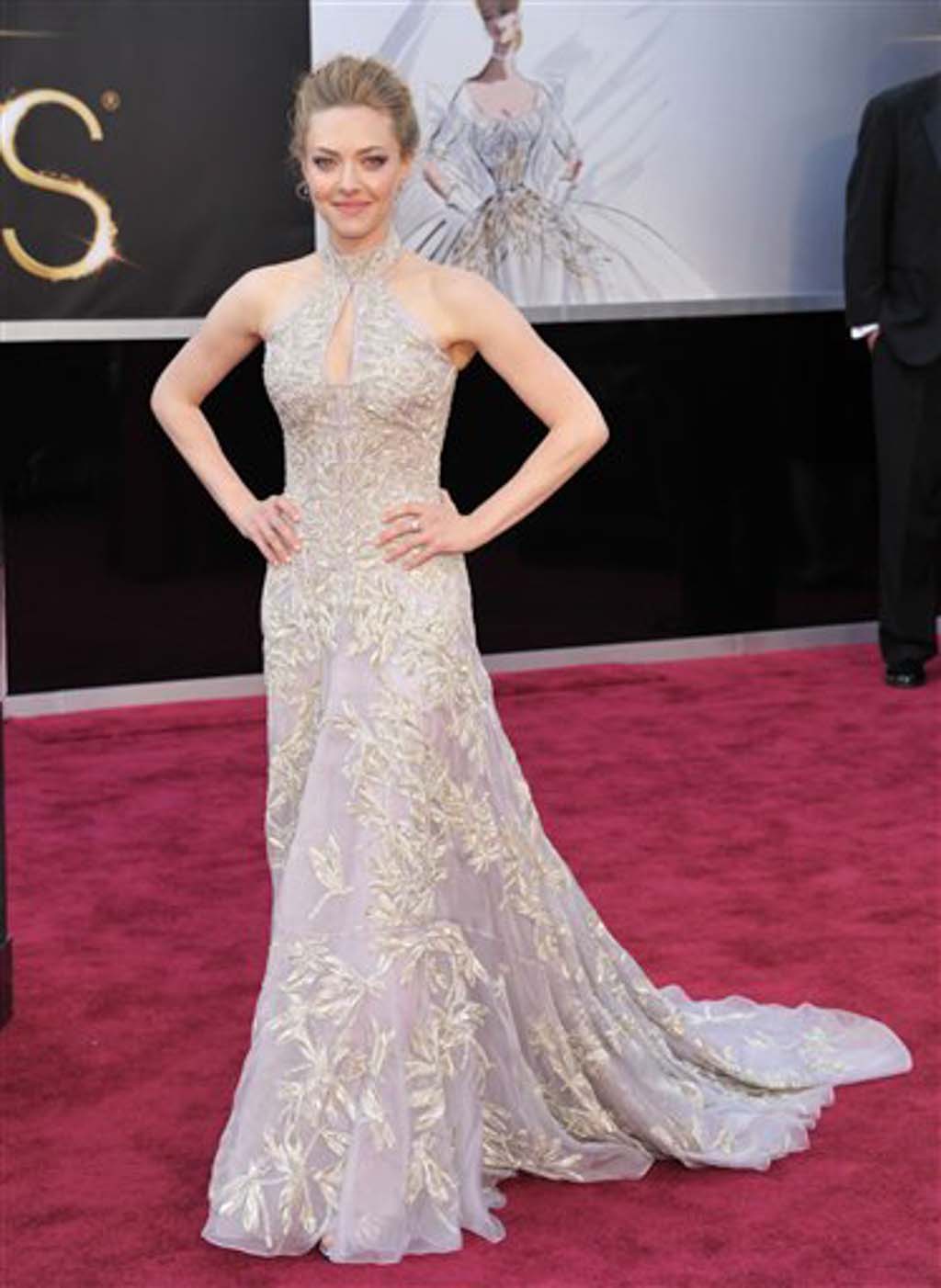 Who: Jennifer Hudson
Why: Performer
Designer: Roberto Cavalli
Trend: long-sleeves, navy blue, amazing glitter
Comments: The fit on this gown was amazing and we love the fact that Hudson is wearing the trendy longlseeved look. She definitely gets points for being sexy and slinky.
Grade: B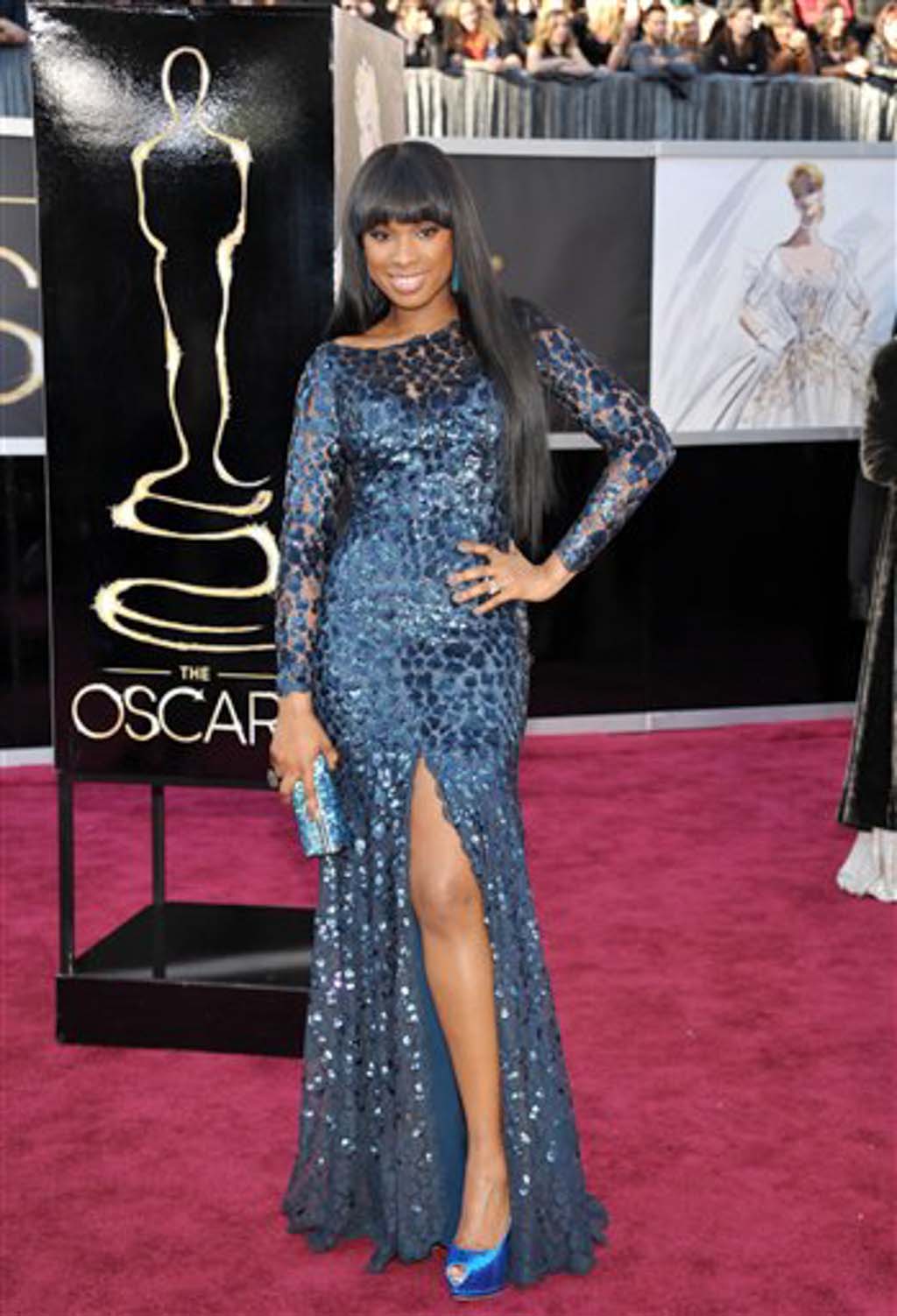 Still want more? Click here for the complete red carpet gallery.