It was a sea of reds, nudes and blacks at the Golden Globes Sunday night - one of the glitziest, celebrity-crazed, couture-driven evenings of the year. Below, we detail who wore what on the 70th Golden Globes red carpet - also the first ever to feature heating lamps.
The good, the bad and the unfortunate, we follow it all with commentary. Also, check out our six best-dressed picks, here.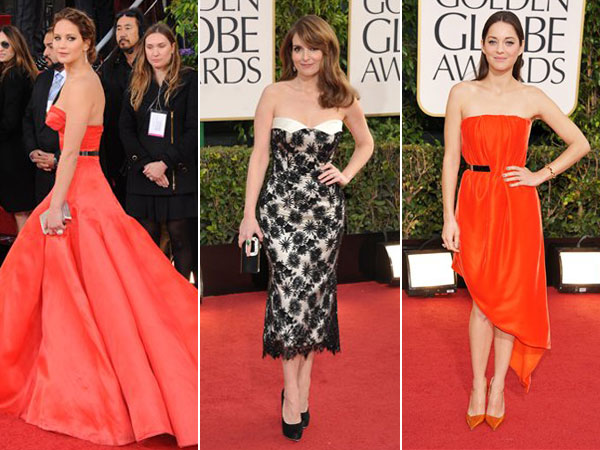 The co-hosts of the 85th annual Golden Globes Amy Poehler (above) and Tina Fey (below) made their way towards Ryan Seacrest looking va va gorgeous, with Poehler in a sultry, tailored black suit by Stella McCartney and Fey in a strapless lace gown by L'Wren Scott. The blush underpinnings and black lace gave Fey just the right edgy perfection and we liked her hair longer. We really did. What can we say? Philly girls clean up well.
Claire Danes (below) looked ravishing in a fire engine-red Versace gown, which she admittedly tried on for the first time at 9 p.m. Saturday night. "Versace was kind enough to make this for me," said Danes, on her selection. The Emmy Award-winning actress for her performance in Showtime's Homeland also won a Golden Globe for lead actress in a TV drama.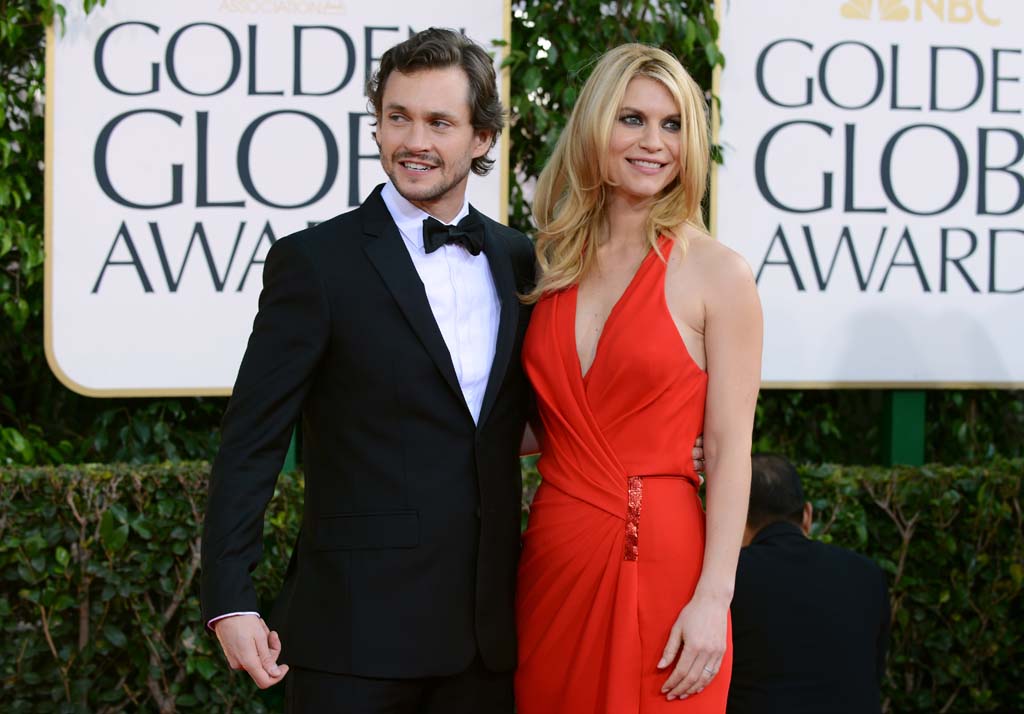 Golden Globe Award-winning actress Jennifer Lawrence, with her tiny waist, swept the red carpet in an elegant, flaming orange-red strapless gown by Dior Haute Couture (below). Also in raging red was The Newsroom's Alison Pill and New Girl's Zooey Deschanel. The latter made the safe choice in a strapless, princess-style Oscar de la Renta dress.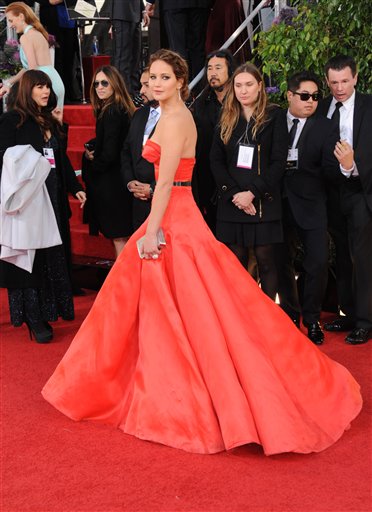 However, among the slew of actresses in red, who wore the bold hue best? The Impossible's Naomi Watts (below) walked onto the red carpet looking impeccable in a muted oxblood, sleeved Zac Posen gown with a diamond cut-out back. The back was everything. Although clearly, her man Liev Schreiber seems to like what's in front of him, too. Watts topped off her polished look with Lorraine Schwartz jewels. Classic Hollywood perfection.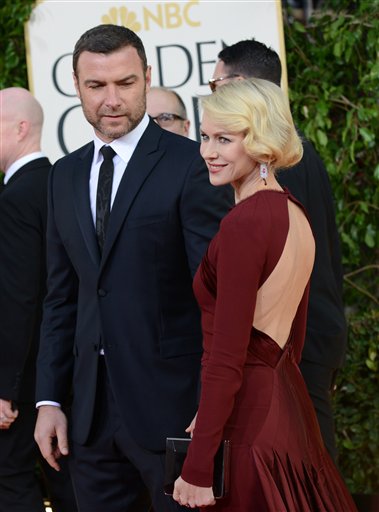 Speaking of Dior, Marion Cotillard (below) made a statement in a Spring 2013 Christian Dior gown from Raf Simons' very first collection for the brand. The face of the French fashion house was nominated for her performance in Rag and Bone. Although she didn't take home a globe, she certainly looked like a winner in her gorgeous gown.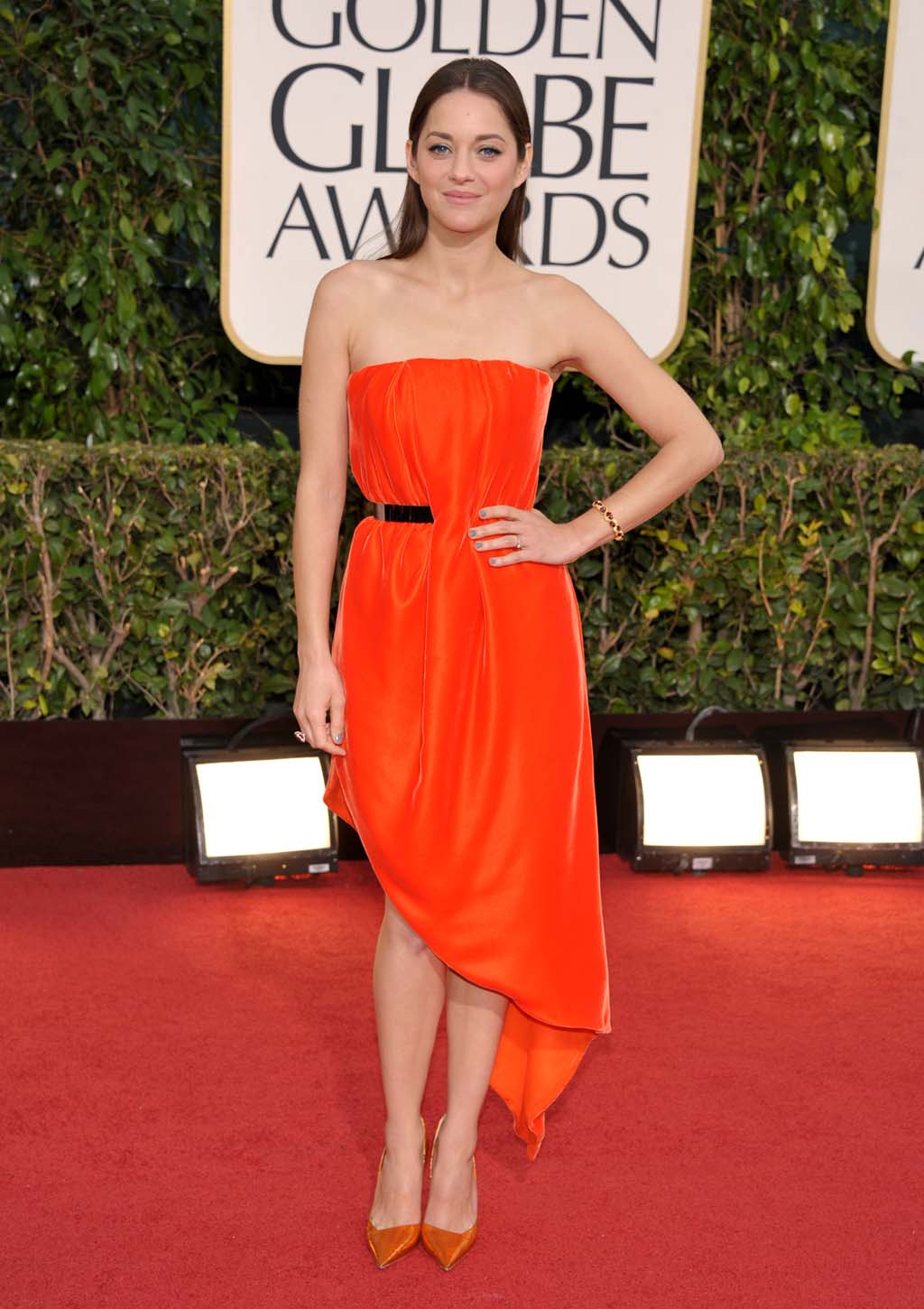 Fashion's latest "It" Girl Kerry Washington opted for a more mod look in a nude, plunging neckline Miu Miu gown accompanied by a fresh, chopped, sleek haircut. She paired her dress with Prada accessories, and a vintage Movado watch. "They pulled out of the vault for me," raved the Django Unchained star. We may not be used to Washington with such straight hair, but her bangs – and that Miu Miu – dress were just absolutely awesome.
"Maybe it's the New York influence on me," said Smash star Debra Messing, clad in a dramatic, black Donna Karan gown. The New Yorker, however, looked as if she was having a tough time enduring the fifty degree Los Angeles weather, albeit, she was in a strapless, sleeveless selection. We hope her "plethora" of jewels kept her warm throughout the evening.
Aw… Lena Dunham. We really wish you would have made that tattoo (below) disappear.
We loved the chocolate brown color, but something about about the award winning star looked so unfinished in her Zac Posen dress. Not very glamorous at all. Not even Brooklyn. But hey, it's Dunham and she does what she wants. We still adore her.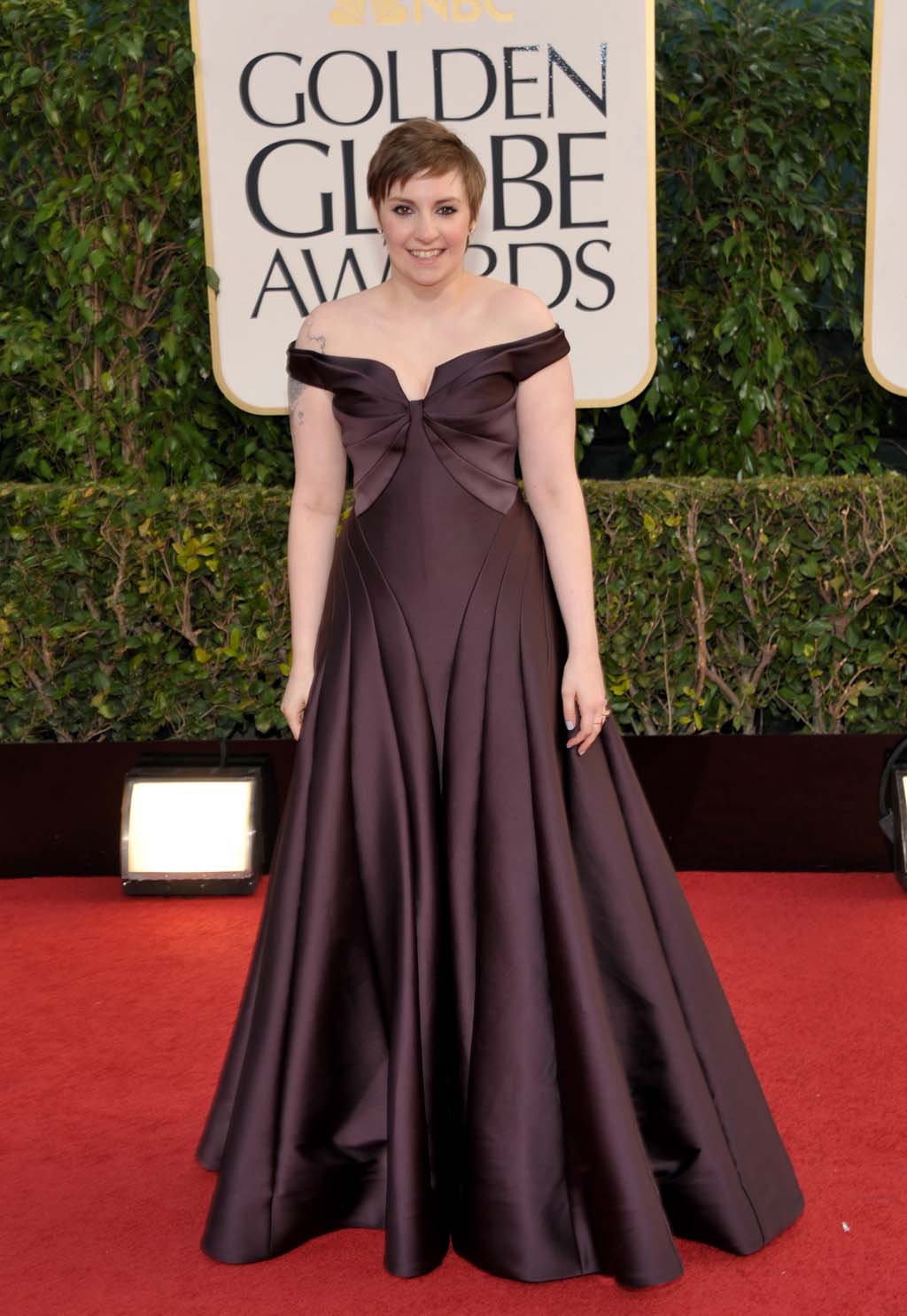 Amy Adams did blush well. Nude. Fishtail. Marchesa. You just can't go wrong with that. She made the right, last minute choice when she grabbed the Versace gown. The deep V-neck works.
Speaking of deep V's - Katharine McPhee took a serious plunge in that wholly, appropriate Theyskens Theory frock (below). So lovely, even if we thought she was channeling Angelina Jolie just a little. But it seemed the Smash star wasn't the only actress attempting to pull an Angie's leg on the red carpet. Eva Longoria also showed some serious leg, along with Lea Michele.
Sarah Hyland may be 22 years old, and the Max Azria Atelier was beautiful, but we think she should've taken advantage of the nude dress trends. The black was just way too maudlin. Someone should have told her that black lace over blush fabrics were the trend.
We liked Julia Dreyfus' choice in Vera Wang, but one of our favorites was Julianna Hough (above). Odd, yes, but that icy winter white Monique Llhuillier was, like, dreamy. To offset the look, Hough paired the gown with a gold Ferragamo clutch. Boyfriend Seacrest raved in a mildly uncomfortable moment on live TV, "You look absolutely beautiful and stunning."
Who are we kidding? It was an adorable moment. A close second to Ben Affleck gushing about his wife Jennifer Garner on stage upon accepting the Golden Globe for Best Director. We just had to slip that moment in this post. Click on the photo.
Lucy Liu's strapless, floral Carolina Herrera (below) made us feel springy on this cold, foggy winter night. The fishtail braid gave Liu the perfect forest princess look. Elizabeth loved! Loved!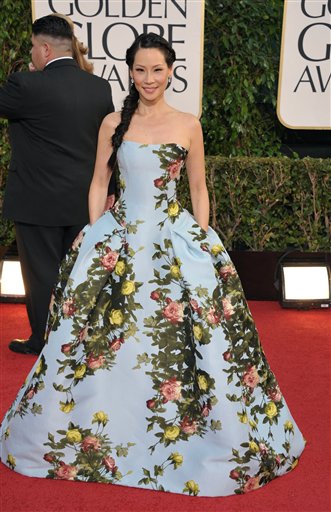 Amanda Seyfried's structured, yet tissue-thin Givenchy felt just right at this soft-pink red carpet.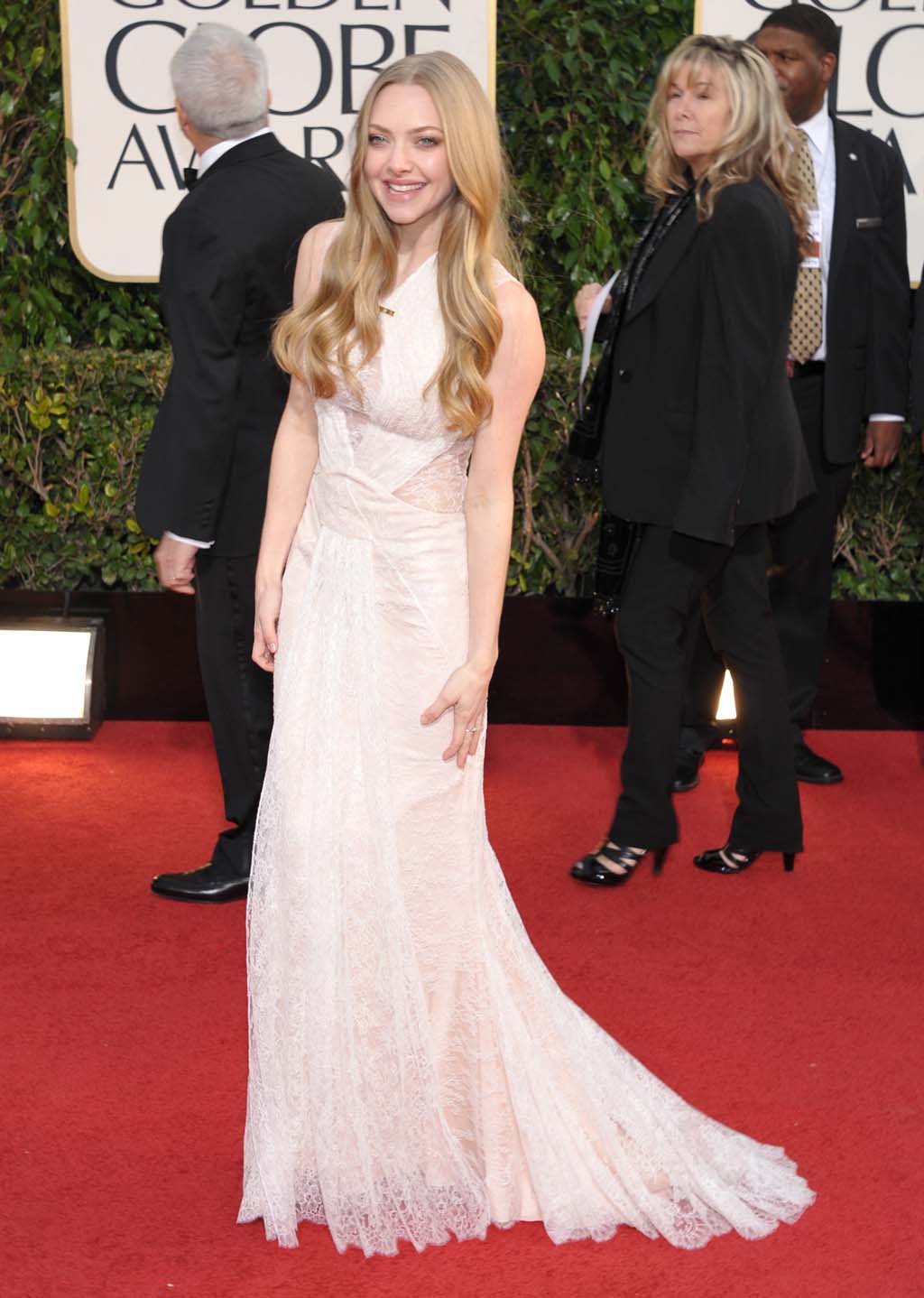 And finally, Taylor Swift (below) was not wearing white or a nude or a champagne-colored gown. In fact, Swift went dramatic and dark for this year's Globes in an eggplant-colored gown by Donna Karen Atelier. We wondered, along with the rest of the world, if Harry Styles was watching? Because Taylor looked as if she was shedding her youth, and on her way to becoming a grown-up.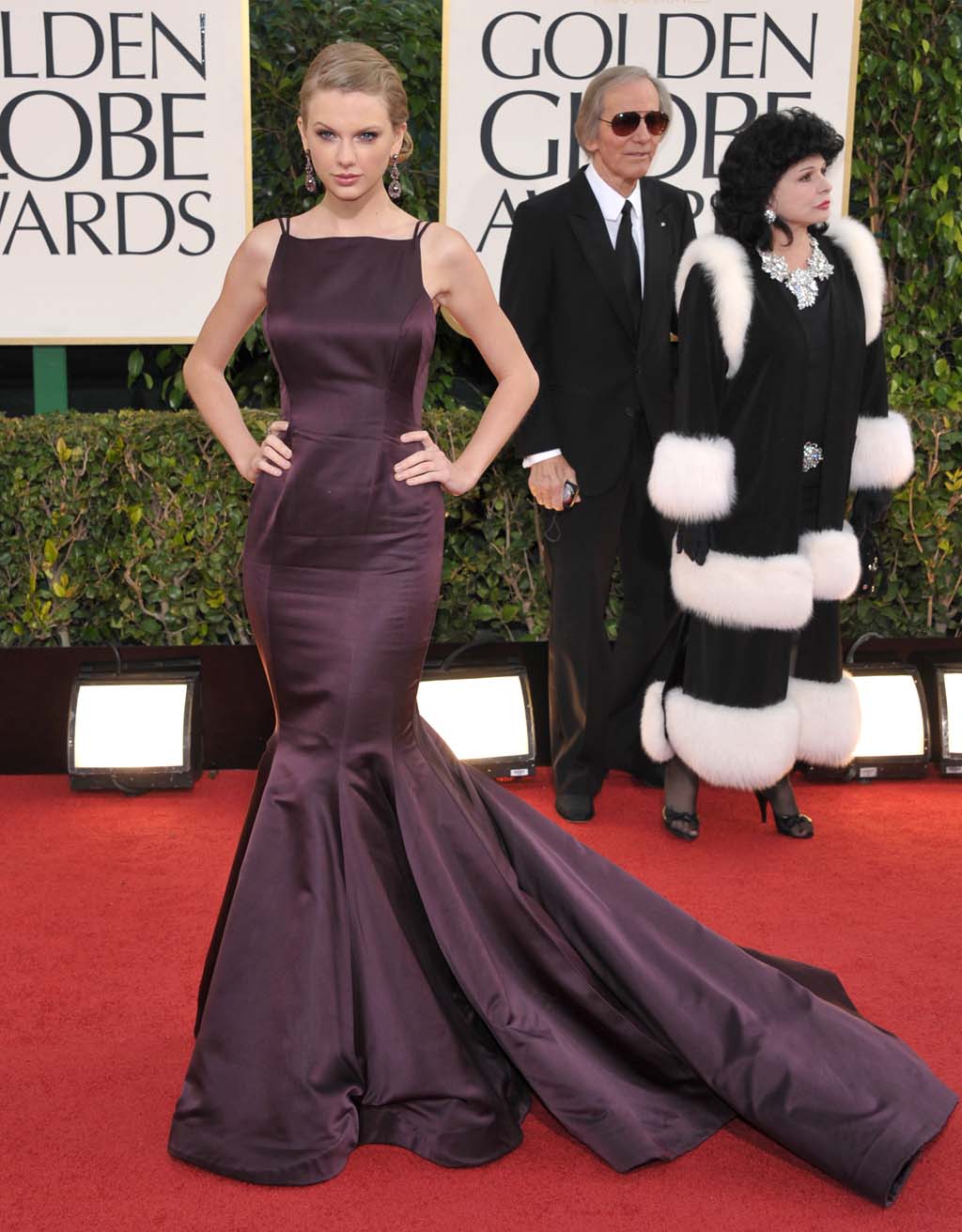 We weren't too sure about Jodie Foster's cheek-lengthed bob. But that sparkling, navy blue Giorgio Armani was pretty awesome. Although her answer on why she chose the navy blue brocade - "Mr. Armani likes navy blue" - was just plain lame. We guess Foster was storing her words for her momumental acceptance speech a few hours later.
We take a look at another Armani - Olivia Munn's - whose gown wasn't all that exciting either. However, her glittery blue top was, well, interesting. She certainly was rocking those diamonds, well.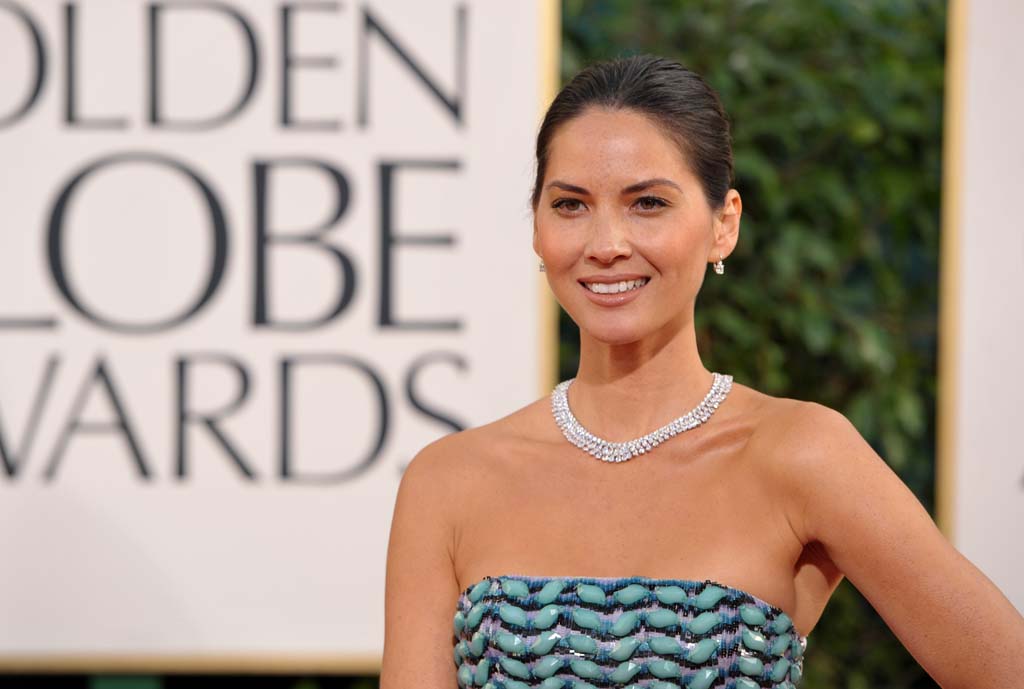 While we're on a bit of a rant: We did not love Nicole Kidman's studded Alexander McQueen, it was too Goth for our red carpet taste. And new mum Sienna Miller looked a bit too springy in her pink Erdem, but we liked the two-piece action.
Other new mum Adele rocked black, per usual, but this time she did the red carpet in Burberry. Another great long-sleeved look from the songstress. And the lashes, girl. She was batting the heck out of those falsies.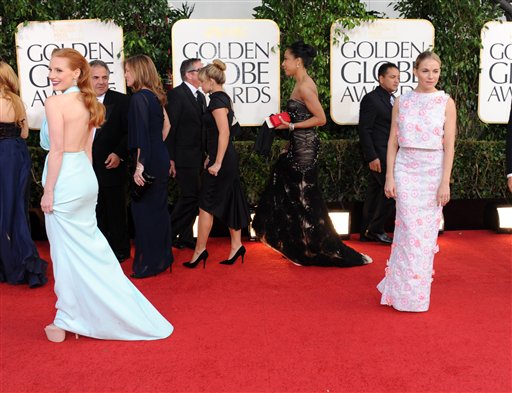 Jessica Chastain (above) wore an ethereal, azure-colored Calvin Klein Collection gown. She looked like an underwater princess. Whether or not that's a good thing, you decide.
Jon Hamm's leading lady Jennifer Westfeldt asked Tom Ford to make her that long-sleeved black and white dress. The proportions were absolutely perfect.
Unlike other celebrities on the red carpet Sunday night, Sofia Vergara went for an obscure, emerging designer named Michael Cinco, stating he was, "a new designer for me, I've never heard of him, and I usually stay away from black, but this was amazing." Her gown, a sparkly, strapless black sequin gown, fit her like a glove. Great endorsement. Although it was a typical look for Vergara, she looked beautiful, as always.
Anne Hathaway (below) kept it clean and simple in a white, Chanel gown that featured a dainty peplum at her hips. The best supporting actress winner paired her look with her short locks and a pretty rosy smile.
---
Elizabeth Wellington and Esther Lee chronicled the red carpet fashions of the 70th annual Golden Globes Sunday evening. Questions or nice comments? Share below or email them here and here.