On Thursday, eleven floors up from the streets of Manhattan, Philadelphia designer Dom Streater was exhibiting her first collection for New York Fashion Week since her victory on Project Runway.
The luminous, naturally lit whitewashed studio was precisely scattered with models donning Streater's blooming bright pieces. It was a particularly cold windy day in the Big Apple, but these garments seemed to be projecting their own sort of sunshine.
In the months between earning her fashion fame and displaying her newest collection, 25-year-old Dom has managed to quit her waitressing job at Silk City Diner – that supported her fashion ventures – and settle into a place of her own; a studio apartment on Pine Street in Center City. "It's the absolute best," she beamed. "I finally have a place where I can live my life and work on my craft." On this day the Moore College of Art graduate is surrounded by the excited faces of friends, family, colleagues and supporters who are enthusiastic to be there for her. "I thought after Project Runway ended, I'd have a second to take a breath. I still haven't taken a breath," laughed her mother, Tammy Hartley. Dom is working on no sleep and still manages to engage the room with her infectiously friendly attitude, all while wearing white Jeffery Campbell Skully platforms. "Well, they make me tall," chuckles the petite designer. With the help of her fashion PR team, Philly-based Skai Blue Media, the presentation was overwhelmingly enjoyable. "I mean we're so lucky to not just be working with a talented designer, but one who is such a down to earth person," gushes Skai Blue team member Alex Kacala.
The foundation of Streater's clothing was unapologetically girly. The palette offered shades of red, pink, black and gray that were arranged in custom floral-inspired patterns, both on their own or placed with a solid color. These custom patterns, a skill that crowned her Runway queen, are what made her collection a standout. She took a lot of inspiration from a late 19th century Russian ballerina by the name of Anna Pavlova. "When you see her in old photographs, she's always surrounded by flowers," Streater said. "She just looks so magical." While some pieces gave off subtle sex appeal with body shaping forms, others were more flowy and feminine. She also had a number of two or three-piece outfits, which really invite the idea of mixing and matching. "Years from now I would love to see people start to mix my pieces from various collections. The possibilities would be so cool!"
Here, Dom chose a few of her favorite pieces:
"My favorite, favorite is this gown. It's just such a gorgeous piece. It has this movement to it that I really love. For some reason it always reminds me of Romeo & Juliet – there's something really romantic about it."
"It's a similar print [all around] but you can see it's used in different ways. I like that the option is there for my customer to choose either of these pieces. I also lined all of the jackets with different prints so you get that kind of surprise – just an extra touch of detail."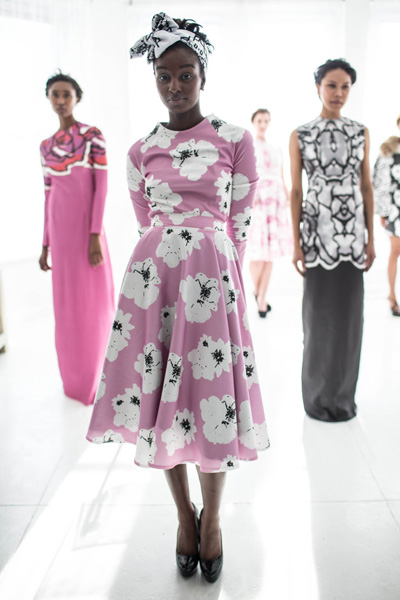 "I think this one is a nice counter-offer to the deep-v plunging ball gown. This is more modest and moderate. It also allows you to mix it up with other pieces, like a jacket. I try to make sure my customers feel experimental and that they can be experimental with my prints."