Want to own scandalous memorabilia from recent Presidential history?
A 32-item lot used in the investigation of Monica Lewinsky's sexual relationship with former U.S. President Bill Clinton is being auctioned online, Nate D. Sanders Auctions announced Monday. The description provided by the company says the Lewinsky lot was "examined as potential evidence by Kenneth Starr's team in one of the most controversial presidential scandals of the 20th century."
The Lewinsky-Clinton affair lead to the former President's eventual impeachment by the House of Representatives in 1998 on charges of perjury and obstruction of justice. Clinton was later acquitted by the Senate and completed his second term.
Each of the items was "originally gifted by Monica to her former high school teacher, Andy Bleiler (with whom she had a five-year affair) and which became evidence in the Kenneth Starr investigation to impeach President Clinton. The items were from Kate Nason, formerly Mrs. Andy Bleiler."
The lot includes "three sealed and slightly crushed boxes of presidential M&Ms," handwritten notes and cards signed by Lewinsky, a letter typed on official White House stationary and signed by Clinton, and other notes and photos. There's plenty of mid-'90s wear among the offerings including a navy velour DKNY hoodie, American Rag jean jacket, a yellow linen Ann Taylor jacket, and a "sheer black floor-length negligee."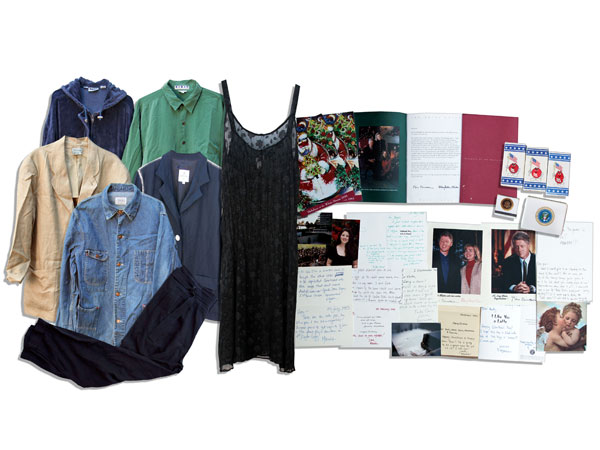 "Items owned by Monica Lewinsky, especially relating to the Clinton scandal and Ken Starr investigation are exceedingly rare," said auctioneer Nate D. Sanders in a statement to NBC News. "This is, to my knowledge, the only collection of this nature to come to light."
Unfortunately for those crazy bidders who will spend money to own these said items, the most infamous article of clothing associated with the Lewinsky affair is not included. Sorry!
The lot is expected is retrieve between $25,000 to $50,000. Bidding ends Thursday at 5 p.m. PST.