In the February issue of Elle magazine, the most notable female stars of television adorn the magazine's cover. We get to see Mindy Kaling, Amy Poehler, Zooey Deschanel, and Allison Williams shed their on-screen characters for a high-fashion portrait that shows their sexier sides.
While three of the featured ladies are portrayed in full-body photographs, the Mindy Project star was reduced to a close-up shot, and people are taking notice for the worse.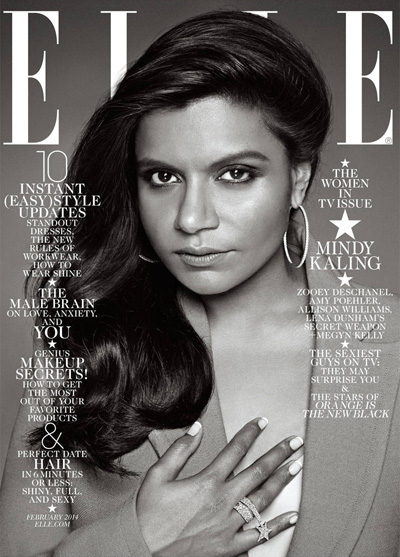 Kaling is not one to shy away from talking about her size. She once told NPR, "Since I am not model-skinny, but also not super-fat and fabulously owning my hugeness, I fall into that nebulous 'Normal American Woman Size' that legions of fashion stylists detest." She went on to say, "For the record I'm a size 8 (this week, anyway). Many stylists hate that size because, I think, to them, I lack the self-discipline to be an aesthetic, or the sassy confidence to be a total fatty hedonist. They're like pick a lane."
So how is Mindy responding to the overflow of criticism? She doesn't seem all that phased:
Wishing for more skin on my @ELLEmagazine cover? Chris Messina & I are naked on a brand new #themindyproject tonight, ya pervs! 930/830 FOX

— Mindy Kaling (@mindykaling) January 7, 2014
(It's actually, coincidentally, true. Thank heavens my writers constantly script nudity. So: super funny, totally nude Chris/Mindy tonight!)

— Mindy Kaling (@mindykaling) January 7, 2014
As for Elle, a spokesperson told E!:
"Mindy looks sexy, beautiful and chic. We think it is a striking and sophisticated cover and are thrilled to celebrate her in our Women in TV Issue."
Elle caught some heat not too long ago when the mag featured comedian Melissa McCarthy on the cover wearing a billowy coat, which appeared to mask her curvier figure on purpose. Apparently, McCarthy had pick the outfit.