"She's the greatest," Ryan Gosling said of his "Gangster Squad" co-star Emma Stone at the film's West Coast premiere of "Gangster Squad" Monday evening. So where was Eva Mendes?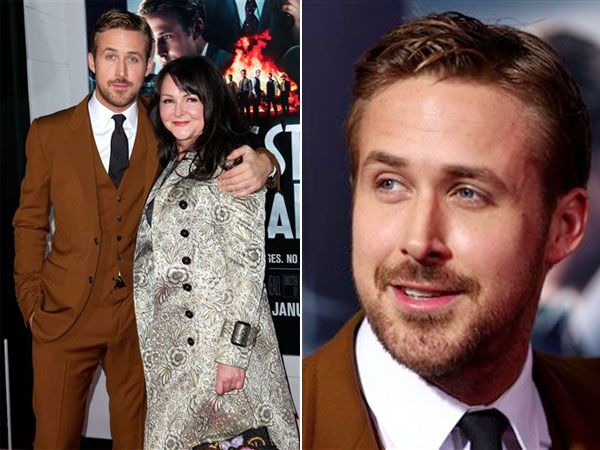 The hunky heartthrob actually brought his mother Donna to see the West Coast premiere of his latest movie instead, although Gosling's leading lady Mendes was there in spirit and garment. "My mother's wearing all of my girlfriend's clothes," Gosling said to E! News. Donna chirped, "She let me raid her closet!" So cute, these three. As for Gosling's sartorial selection of the evening - a three-piece Gucci suit in a very brown hue - we get the old Hollywood look he's attempting to emulate, but the tailored suits of the '50s featured in the film were better fits for the actor. (More from E! News)
Alber Elbaz presented Lanvin's pre-fall 2013 collection in New York City on Monday. Emma Stone showed up in Los Angeles hours later in a ruby red dress from the very same line. How she managed to pull that off?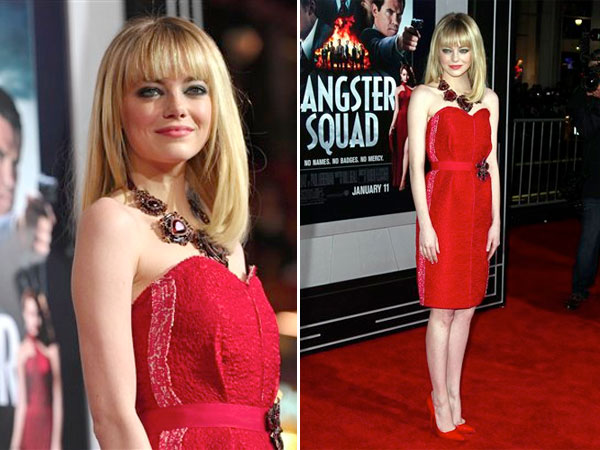 Stone altered the strapless dress to include a cinched waistline with the brooch pinned to accent her svelte waistline. She paired the ruby red dress with a chunky Lanvin necklace, and a pair of matching kitten heels. Is there an actress who does old Hollywood glamour with a modern edge better than Stone? The answer is no. (More from The Cut)
---
Esther Lee is the style editor of Philly.com. Qualms, quips, questions? Email her, here.