All right guys, they did it. After months of speculation, it actually happened.
Kanye West, 36, and Kim Kardashian, 33, cover the April issue of Vogue magazine. Kim wears a white wedding-styled dress while Kanye loosely wraps his arms around her from behind in a suit jacket – "Kim & Kanye: Their fashionable life and surreal times" boasts the cover.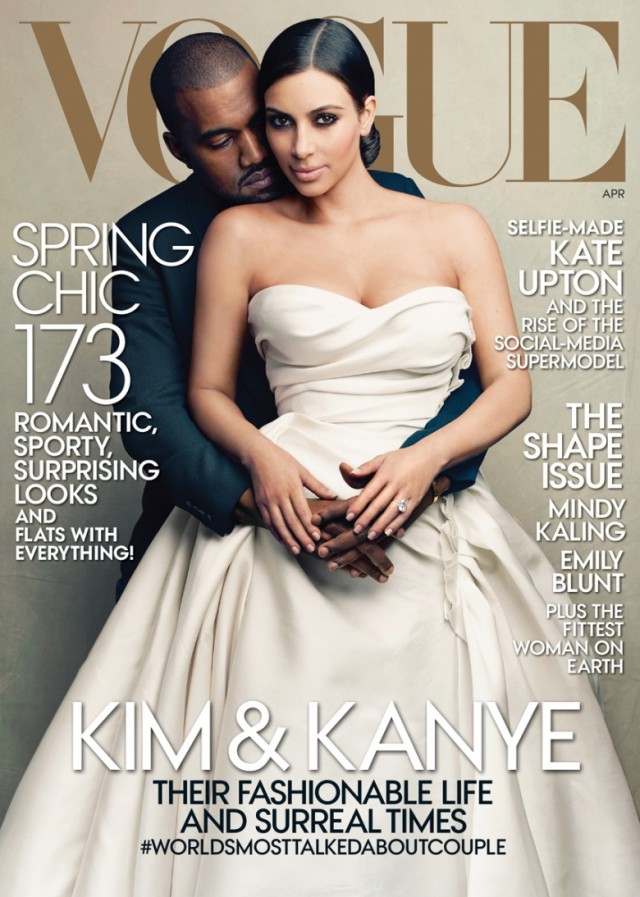 It has been reported that West was fighting to get his fiancé on the cover of the acclaim American mag for a long time. They were able to secure a feature for Italian Vogue, but that wasn't enough.
Radar Online originally wrote that famed American photog Tyler Shields, who is known for his controversial shooting style and had caught the eyes of Kanye and Kim, was asked to shoot Miss Kardashian but he flat out refused. But the couple has been making close friends with the magazine's editor-in-chief, Anna Wintour, over the last year, so it looks like it was only a matter of time and willingness.
When a decision was made, Vogue's go-to photographer Annie Leibovitz was up for the challenge. The shoot was entirely wedding-themed, with Kim modeling a number of gowns alongside her hubby and baby North West.
Check out a behind-the-scenes video of the couple's shoot here.
Kim and Kanye are set to say "I do" in Paris, France on Saturday, May 24. Their wedding will air as a special on the E! Network.