Polka-dots for pretty princesses post-pregnancy!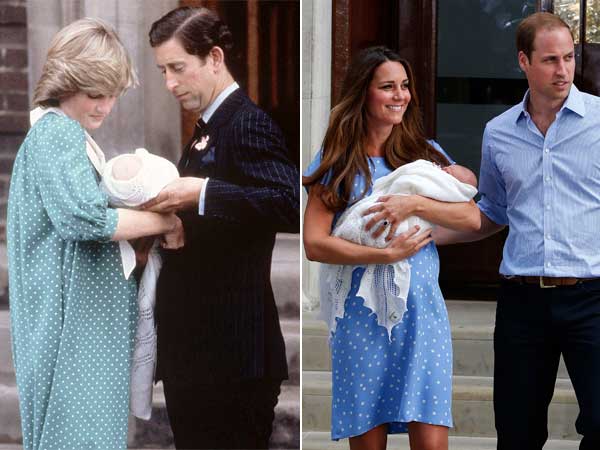 Left: FILE, AP Photo / John Redman - In this June 22, 1982, file photo, Britain's Prince Charles, Prince of Wales, and wife Princess Diana take home their newborn son Prince William, as they leave St. Mary's Hospital in London. Right: Britain's Prince William and Kate, Duchess of Cambridge hold the Prince of Cambridge, Tuesday July 23, 2013, as they pose for photographers outside St. Mary's Hospital exclusive Lindo Wing in London where the Duchess gave birth on Monday July 22. (AP Photo/Lefteris Pitarakis)
Kate Middleton stepped out with her newborn baby boy and husband Prince William shortly after 7 p.m. London local time Tuesday.
The moment marked by cheers from the huge crowd assembled outside St. Mary's Hospital in London was immortalized by the Duchess of Cambridge who greeted supporters in a polka-dot frock - a look reminiscent to Princess Diana's speckled outfit when the beloved, late figure introduced Prince William in 1982.
Middleton lovingly held her baby, the third in line to inherit the throne, in a Jenny Packham number, reports E! News. The new mum paired her post-pregnancy look with her go-to nude pumps.
For full details on the royal baby, click on the links below.