Malika Barber started her styling company Make Me Over Malika just six months ago. Since then, she consults a growing number of Philadelphia's everyday workingwomen on everything from what to wear to an upcoming gala to how to spruce up an otherwise boring work wardrobe.
Check out some of Barber's favorite fashion finds below and her tips for the three most common styling inquiries: color blocking, mixing patterns and dressing down fashionably.
Philly.com: Where do you get your sense of style?
Malika Barber: "Growing up my dad used to always tell me, 'If you look at nature and the colors in the flowers, you can see which colors match well together.' I always remembered that."
P.com: What's your favorite store?
MB: "My favorite store is J. Crew. I love J. Crew because I feel like it's still in my price point, but you can find clothes that will last you for a very long time and they always have a great sale."
P.com: Who is your favorite stylist?
MB: "As far as stylists I don't really have any favorites but of course there are people that I look up to. June Ambrose, of course. I think she's amazing. She has a really loud style. It's very similar to mine…or mine is similar to hers. So I definitely enjoy her stuff."
P.com: Any style icons?
MB: "There are certain people I look up to like Diana Ross. I love her hair. People might not look at her as a style icon but I'm just like she owns it. Anything you see her on, she owns it. Jenna Lyons, she's the CEO of J. Crew. She's not really on the scene as much but if anybody ever sees her they're going to definitely remember her look. She has a look that's just to die for. She definitely stands out."
P.com: What about her stands out to you?
MB: "She has a way of making simple outfits pop, if that makes sense. She doesn't have to ever really do a lot. It's not a lot of jewelry. It's not a lot of junk. It's really simple but it's like, 'you look amazing! And you didn't even really put a lot on.' Either you got it or you don't and she definitely has it."
P.com: What's your trademark?
MB: "A statement piece. I have one on now! I always have a statement piece whether it's my bracelet or my necklace or sometimes my hair is pretty big so I always have a statement piece on."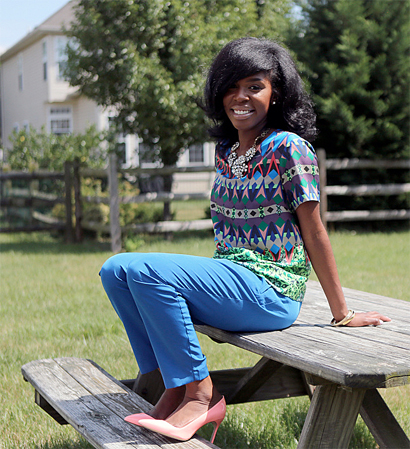 Color Blocking: "This is the outfit I wear when my clients ask me about color blocking. The easiest way to do it is you pull from the color that's displayed the least, and you place it somewhere else. So say, for instance, this shirt has like a ton of colors in it. And the peachy-pinkish color is displayed the least, so that's why I wore pink shoes. So that's the key to color blocking. It's the simplest way I can explain it to my clients so they can do it on their own." Barber is wearing a J. Crew top and pants with Manolo Blahnik pumps. (Stephanie Aaronson/Philly.com)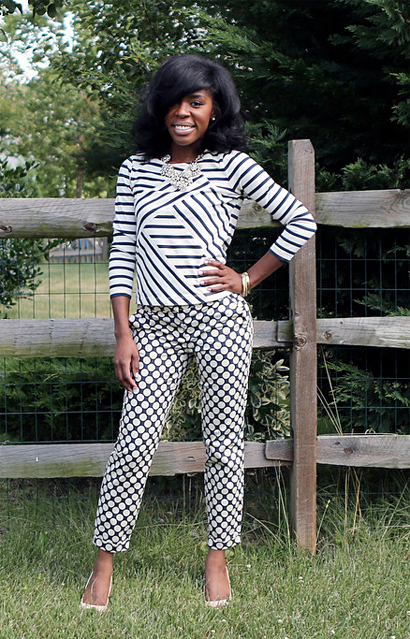 Malika mixes patterns with a striped top and polka-dot pants. She recommends to her clients they keep the color scheme the same when mixing patterns. "I get always a lot of questions about mixing prints and I think that the easiest way to do it is to stick with a color scheme. With my clients I tell them if you really want to mix prints and you still want to be safe and know it looks good stick with a color. So these are the exact same color, just two different prints." Barber is wearing a top from the Gap and J. Crew pants, shoes and accessories. (Stephanie Aaronson/Philly.com)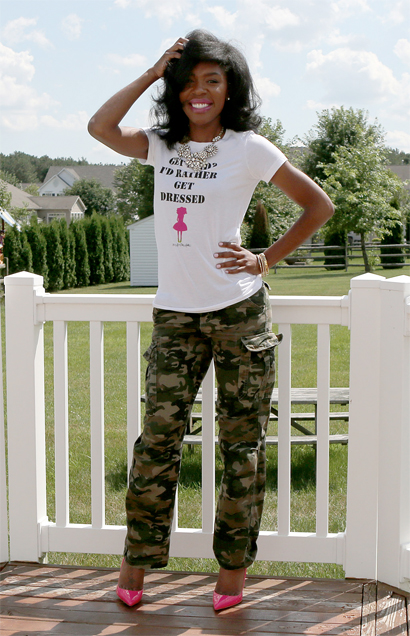 Malika wears her styling brand's signature "Get Mad? I'd Rather Get Dressed," top with "the infamous $12 cargo pants" from Target and neon pink heels. Her casual look is focused around cargos that can be dressed up with pumps or down with sneakers. "I wanted to do something fun for the younger people, so I always try to tell them, 'stay away from all the drama,' so 'Don't get mad, get dressed.' That's kind of how I came up with it. This is my logo on the shirt." Barber's hot pink pumps are by Christian Louboutin. (Stephanie Aaronson/Philly.com)