REVISIT, an accessories company dedicated to revitalizing areas of public interest through a 'caring capitalism' business model, launched their inaugural collection on Friday evening at the Four Seasons in Philadelphia.
Brown leather bags, bracelets, journals, and arrowhead necklaces sat atop waist-high white pillars inside of suite 755 in the Four Seasons. Wait staff ushered lobster crostini and Philly cheesesteak eggrolls to guests who sipped champagne as they perused the collection.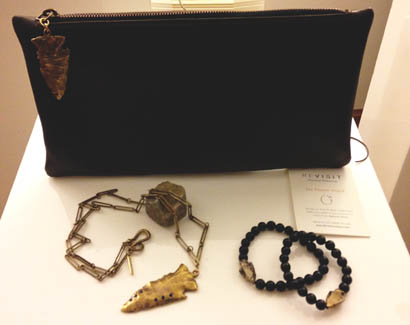 Philadelphia Eagles tight end, Brent Celek, partnered with Jillian DiIorio, former vice president of TOMS shoes to create the unisex accessories collection now available online at revisitproducts.com.
For every item purchased, REVISIT donates 25% of profits to groups and organizations that work to restore and preserve public spaces. The first space to prosper from REVISIT's funds is the home of the Liberty Bell, National History Park in Old City.
The company will focus initially on helping preserve National Parks, but plans to move into rundown towns and other public spaces in the near future.
After admiring an absolutely stunning leather portfolio, I sat down with Celek to ask him about his first venture into the fashion world. Here's what he had to say…
Describe your style.
Very simple. Clean with one item that is flashy, something that pops!
Is there a connection between sports and fashion?
I totally think there is a connection. Your style is your attitude. The way you dress, the way you think, the way you feel— that's all you. So, in everything I do, I like to be simple, nothing too flashy. But like I said, a little bit of pop here and there.
How did you and Jillian meet? What's your working relationship like?
Jill and I met four years ago, when she was the senior vice president of TOMS. Right when we met we really connected over the way we feel about family, the way we feel about business and how things should be fun. We think along the same lines. When I'm not around, I know that Jill is going to make the same decisions that I would make. The relationship just works. Once we became better friends and she left TOMS, we decided REVISIT would be the right thing to help national parks.
Where do you see REVISIT in 5 years?
I see us funding multiple projects for national parks. I see us really helping to make a difference in that space and doing great things in the fashion world.
Are you planning to sell all online or will you wholesale to stores?
For the first 6 months we plan to be online and then move into stores.