MTV awards shows typically draw a colorful range of flirty - and occasionally, outrageous - looks from stars who want to have some fun with their personal styles. On Sunday, actresses like Kerry Washington and Emma Watson took to the red carpet in slimming, colorful styles. We note the highlights (and lowlights) below.
Kerry Washington
The Scandal star stepped out of her business attire and into a long-sleeved black Michael Kors mini topped by a Roger Vivier mustard yellow skirt with a super long train. The actress paired her fun frock with a classy updo, nude lips and smoldering eye makeup. Some may liken her to Big Bird (which we aren't disputing), but we commend her for taking the red carpet risk.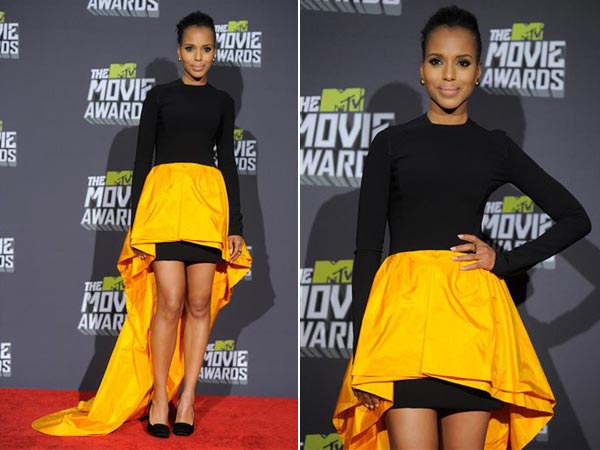 Zoe Saldana
Actress Zoe Saldana had us scratching our heads for a few minutes with this Givenchy number. There was something increasingly puzzling about her floral maxi skirt that had a black sheer panel to the left and a ridiculously high slit to the right, paired with a basic, black sleeved top.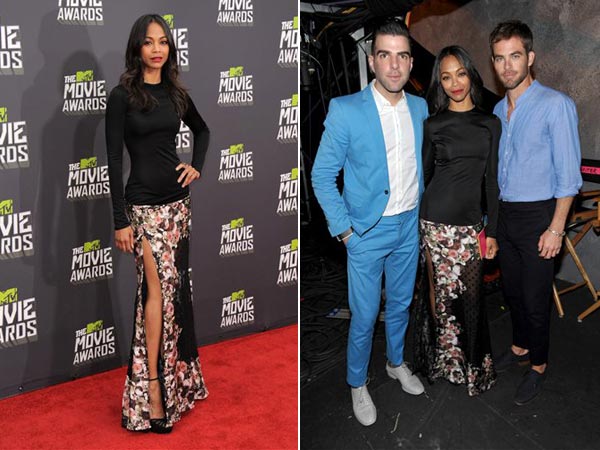 Emma Watson
The 22-year-old brunette beauty looked stylish and sassy in her white, blue and black-hued dress. Bruised and awful as it sounds, the dress actually worked quite beautifully on the precocious star, who is known to give lesser-known designers clout at big events. Watson chose Maxime Simoens for Sunday night's show.
Karlie Kloss / Kylie Jenner
Ever the supermodel, Karlie Kloss looked svelte and stunning in Cushnie et Ochs. The skinny minnie's white crop top with a tiny cutout, and a matching pencil skirt with a front slit were strong, futuristic fits for the MTV Movie Awards. Gracing the red carpet in a similar outfit, the youngest Kardashian, Kylie Jenner, also wore a cropped white top paired with a white skirt. The 15-year-old pulled the look off in a demure, classy way, with loose ombre locks and a chunky gold necklace.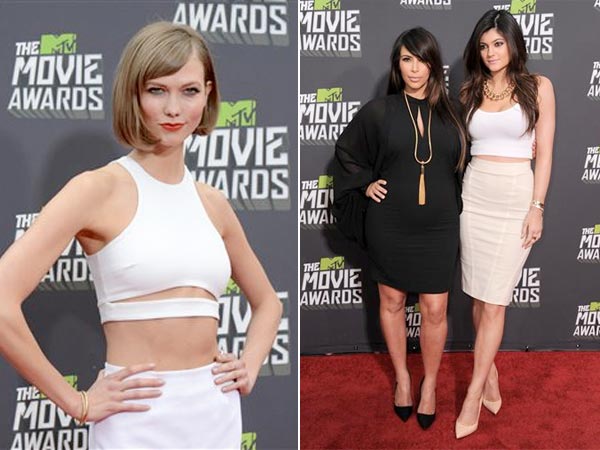 Kim Kardashian
Despite her recent pregnancy woes, the reality TV star still opted for heels on the red carpet. However, she did look more comfortable in a balloon-sleeved black Saint Laurent dress with a keyhole slit. Why that particular designer brand? It might have something to do with Hedi Slimane and his mutually-amicable relationship with Kanye West, baby daddy of Kim K's child.
The lowlights:
Chloe Grace Moretz
The star wanted to channel Justin Timberlake and Britney Spears in her denim Louis Vuitton look.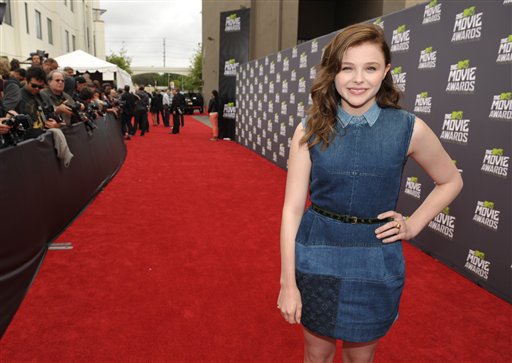 Ke$ha
We call her look, "an identity crisis of different mediums." The singer paired her nude-colored, lace bell bottoms with a black hat, black vest, and gothic makeup. She described the look to the Associated Press as "70's Manson child." She also had two words for her fashion critics: "Suck it."
How nice.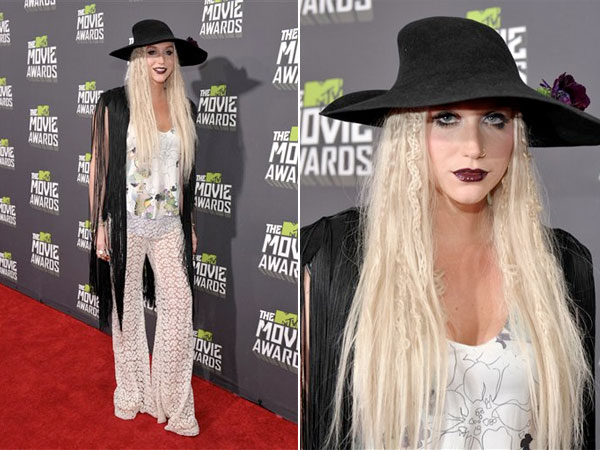 Hana Mae Lee
Please don't even get us started on this fascinator, because the cigarette butt on Hana Mae Lee's head was a smokin' not.
Snoop
Oh, Snoop. The dog days should be long gone for the rapper, but it appears he's holding on hard. Will he ever consider consulting a stylist- especially now that he's Snoop Lion?