Archive: February, 2013
One name ruled the Oscars red carpet Sunday evening, and it belonged to Giorgio Armani. The Italian designer managed to finagle his creations onto three of five Best Actress nominees at the 85th Academy Awards.
Then there was the ever-present color white. An army of Hollywood's brightest stars opted for light, neutral hues, which called for a blase concoction of creams, golds and other effervescent shades blotting the Dolby Theatre entrance. However, for every three actresses in white, one daring celebrity went bold with a pop of color - coral for Kerry Washington and cerulean blue for Reese Witherspoon.
And unlike previous years, where we simply described and critiqued what the actresses and actors were wearing, we decided to add a different element to the red carpet recap this occasion: We played teachers and graded the stars' head-to-toe looks. Some were fortunate enough to receive A's, others fell behind several marks. Take a look below and vote on your favorite look in our poll.
Esther Lee, Philly.com
The Body Shop opens in King of Prussia
The Body Shop celebrates the opening of its new beauty boutique at the King of Prussia Mall Saturday afternoon with skincare, make-up and body-care tips. The store, located on the upper level of the Plaza near Nordstrom, will offer complimentary makeovers, customized skincare consultations and giveaways. Interested guests can RSVP to krogers@bratseir.com.
Esther Lee, Philly.com
America's Next Top Model will see its twentieth cycle this summer - and its first-ever to feature male competitors.
The CW announced Thursday that eight men and eight women have been selected for the upcoming season of the popular TV show, produced and helmed by supermodel-turned-entrepreneur Tyra Banks. The selected group of sixteen will live under the same roof, and compete against each other for the opportunity to become America's Next Top Model.
Two area natives are included in the range of competitors. They include 22-year-old Cory Wade Hindorff who currently resides in Fishtown, and 20-year-old Chlea Ramirez of Bear, Delaware.
Esther Lee, Philly.com
It's been seven weeks since the head of Italian fashion house Missoni vanished off the coast of Venezuela. Is closure for the members of the Missoni clan rapidly approaching?
On Jan. 4, Vittorio Missoni went missing after his BN-2 Islander plane vanished from radar screens, just moments after departing from the luxurious archipelago of Los Roques. The plane, which was headed for Caracas, was carrying the CEO of the fashion house, his wife Maurizia Castiglioni, and four others.
Police on the island of Boanire told the Associated Press last Thursday that 2 pieces of luggage from Missoni's missing aircraft had washed up ashore. Bonaire police rep Hans Baltus confirmed that the items were indeed from the missing plane, although he did not provide information on how the bags were identified. Missoni family friend Claudio Verna - who has been serving as a family rep, namely with the press - was told by authorities that the bags were found on the rocky beach by a reporter earlier that week.
Esther Lee, Philly.com
Imagine this: You receive a 3-carat diamond engagement ring, a symbol of promise, a hefty piece of jewelry that your fiance is still paying off, and you lose it.
This unfortunate scenario actually happened in New York City to Hagar Elysayed, a teaching assistant who realized her ring was missing as she was riding the N-train one day. Elysayed quickly rushed home to look for the item only to discover that her ring was nowhere to be found.
Naturally, her fiance, who worked many hours of overtime to afford the piece of jewelry, was not very happy once he discovered her loss. "I guessed that since I lost a few pounds, it slipped off," Elysayed told the New York Post.
Esther Lee, Philly.com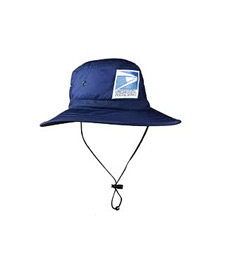 We have some exciting news to share with you from your local mail delivery friends, Philadelphia.
The U.S. Postal Service is launching its very own fashion line of apparel and accessories under the brand, "Rain Heat & Snow," which points to the unofficial - and now officially-licensed motto of the Postal Service: "Neither snow nor rain nor heat nor gloom of night stays these couriers from the swift completion of their appointed rounds." (In case you were wondering how else you receive mail in the midst of a hurricane, tornado and/or blizzard.)
In the official press release distributed Tuesday, the USPS says it's signed a licensing agreement with apparel company Wahconah Group, Inc. The agreement supposedly "leverages" the intellectual property of the Government-operated delivery service through these new products, which we are hoping will include the enviable delivery hat that's pictured above. No, really.
Esther Lee, Philly.com
While the rumor mill was fixated on the possiblity of Rihanna starring as the new face of Chanel after her ambiguous Jan. 27 tweet, the artist announced otherwise on Wednesday.
Rihanna, in conjunction with MAC Cosmetics, announced the singer's new role as the company's "creative partner." The opportunity will give the artist freedom to experiment with new colors and product ideas in a series of four projects for the cosmetics company, dubbed "RiRi [Hearts] MAC."
The first item to be released is RiRi Woo, a lipstick inspired by her favorite MAC shade, Ruby Woo. The product will be sold online and at Rihanna concerts starting May 4 with her performance at the Barclays Center in Brooklyn. RiRi Woo's release will be followed by a second summer collection which will be sold online, and the third installation of her line will be available at MAC stores this fall. Finally, Rihanna's fourth collection will hit stores in time for the holidays.
Esther Lee, Philly.com
In one of the craziest jewelry heists to go down in recent history, eight armed thieves made off with $50 million worth of diamonds and precious stones on the tarmac of a Brussels airport late Monday. The Associated Press reports the following:
"About 20 minutes before the flight's scheduled 8:05 p.m. departure, the robbers hid in a construction site outside the airport fence. Then they apparently cut through the fence and, in two black cars with blue police lights flashing, drove onto the tarmac, speeding straight to pier A, where the armored car had just finished transferring the diamonds to the Fokker.