Sunscreen, hats, sunscreen, cover-ups, more sunscreen - what more do you need to know about summer skin care?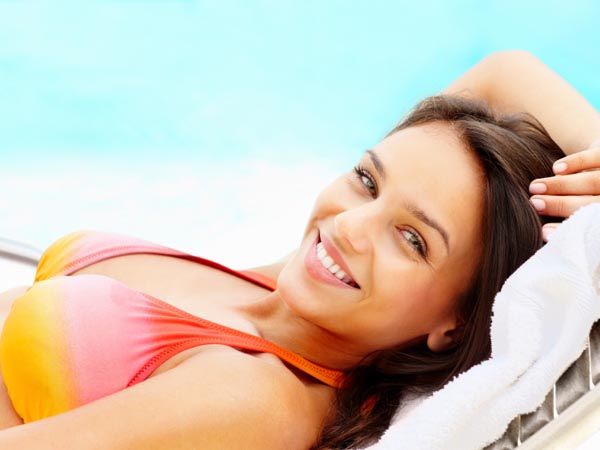 Turns out you need to know quite a bit more, according to Elizabeth A. Cardarelli, a leading skin care specialist at premier cosmetic medical dental collaborative, deme. The beauty hot-spot is generating enough buzz that Manhattan's "ladies-who-lunch" take the Acela train down to Philly for everything from cosmetic injectables to dental care to breast augmentations.
Cardarelli is also a skin care chemist, with her own line of preservative-free skin care products, Avery Graham. I asked Beth what I - what we all - should be doing to take care of our skin during the year's most photosensitive season. I approached her with what I thought were the obvious truths. Instead, I got was a face-full of myth busters!
Myth No. 1: You should wear sunscreen all the time—even in the car.
Cardarelli: Actually, not as much as you might think. There has been so much concern over sun damage that people are increasingly developing Vitamin D deficiencies, which can be very serious, and your body needs stimulation from the sun to trigger the formation of Vitamin D: It's critical for, along with calcium, bone strength and growth, along with modulating cell formation and a ton of other important functions.
Now, of course, you want your sun exposure to be moderate, and certainly if you're out by the pool or at the beach, you need to wear sunscreen and keep covered up as much as possible. But if you're talking about a 15-minute walk to work everyday, you don't need sunscreen for that—in fact, you're better off without it, for Vitamin D's sake.
Myth No. 2: Never have a chemical peel or microdermabrasion treatment during the summer months because you'll get even more sun damage.
Cardarelli:: Again, sorry to be such a nay-sayer, but no! Summer is the perfect time for a mild chemical peel. During the sun intensive months, we all apply sunscreen more, we sweat more, our pores open up more, all of which can create skin blockages and breakouts, dullness, and milia - those hard, little white bumps that can show up on the cheeks or under the eye area. Peeling off those dead, blocked layers of skin will help your skin stay healthy and vibrant and stimulate new cell growth.
It is true, however, that even with a mild peel, you're taking off up to 35 layers of skin, so you are more exposed and may want to spend more time inside after a peel, and certainly keep re-applying a good sunscreen made for sensitive skin after a peel. But proper exfoliation, particularly during the summer months - with all the gook that can build up on and in your skin - is essential.
Myth No. 3: Retinol treatments are terrific for exfoliation - not to mention the best topical line and wrinkle zappers.
Cardarelli: Yes, retinol is absolutely terrific for exfoliation and line and wrinkle reduction, but because it does make the skin photosensitive, you could end up with more sun damage if you use it during the summer months, when you're more exposed to the sun than at any other time of the year. That's why I always tell my clients not to use retinol during the summer—or maybe only once a week at bedtime.
Myth No. 4: Beware of chemical exfoliators, like glycolic acid - your skin could very well be intolerant of their strength.
Cardarelli: I recommend that [my patients] do use products with pure glycolic acid, which is an excellent, natural exfoliator, which is actually made out of sugar cane. Some people may have tried glycolic products in the past and feel they can't use them because they've had bad reactions, but the truth is that their skin is probably responding more to the glut of preservatives that are in many products—such as parabens and formaldehyde—rather than the glycolic.
Make sure you're checking labels and steer away from any of these carcinogenic preservatives. Anyone can use pure glycolic, with natural preservatives such as sugar itself, eucalyptus essential oil, and others, it provides excellent, non-photosensitive exfoliation for summer skin.
Myth No. 5: A good, non-chemical exfoliator is hard to find - and it's going to cost you.
Cardarelli: Mix a little water with a tablespoon or so of plain old baking soda, and you've got a perfect exfoliator. Not only are the "beads" small enough so as not to grate your skin, but baking soda also has excellent antifungal and disinfectant properties, making it perfect for people who tend to break out.
deme, 2200 Arch St., Suite 102, Philadelphia, PA 19103, (215) 561- 3363