Alex Kacala
This weekend, the Philadelphia rowing community will gather to celebrate a piece of fashion history at Undine Barge Club. Eccentric and outlandish blazers have become a staple in modern fashion, seen in collections of American designers like Ralph Lauren and Brooks Brothers.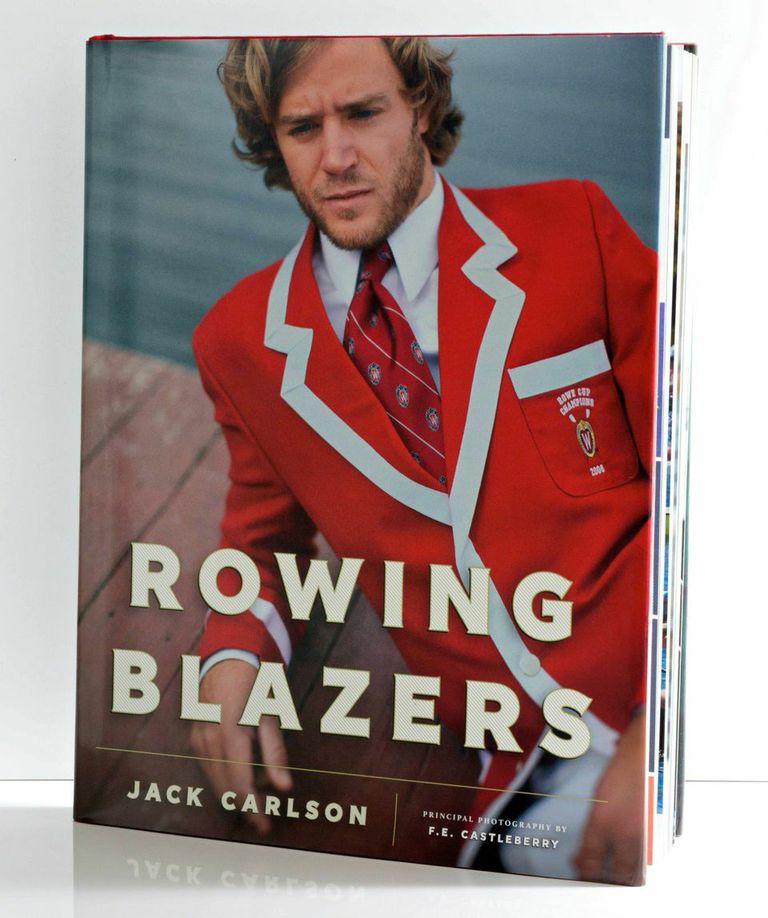 Even the preppiest of fashionistas may not know this trend has roots in the century old sport of rowing, and one book has recently come out to set the record straight. Rowing Blazers, written by American rower Jack Carlson, chronicles this history and showcases these stories of rowing blazers from around the world.
We had the opportunity to chat with the forces and organizers behind the book and event, where proceeds generated will be donated to local nonprofit Philadelphia City Rowing. We spoke with Paul Garberson of Undine Barge Club, Philadelphia City Rowing's Executive Director Terry Dougherty, and Rowing Blazers author Jack
Renee DeSantis, abeautyloft.com
"Your hair has gotten long. Let's keep it this length and clean it up. I don't even want to add any layers," says Salon Vanity hairstylist Susan Gambone while eyeing up my hair at my last appointment. Forty-five minutes later, I walked out of the Center City celebrity hot spot with just that -- long, healthy hair flawlessly blown out (as evident by my constant neck-swiveling, hair-flipping strut down Chestnut Street).
With a flair for cultivating long, bouncy hair and a love of high-performing hair products, Gambone was my first and only thought when it came time to protecting my hair from the unkind and often downright miserable elements of fall and winter.
Q: When the weather gets colder and the air drier, should your shampoo/conditioner change as well?
Layla A. Jones, philly.com
The Sixers exemplified their #togetherwebuild hashtag on Wednesday, Oct. 22 when they debuted the new Sixers Dancers "Signature Dress," a design collaboration with Nicole Miller. This is the first such collaboration between a designer and the team's dancers, and it came about in the most organic way.
Nicole Miller and the Sixers crossed paths 10 years ago when one dancer caught the brand's eye. "We were looking for the ultimate Nicole Miller Girl," said Mary Dougherty, owner of Nicole Miller Philadelphia. They found that girl in Dayna Hafetz, former Sixers Dancer and current head coach, and she modeled for the brand. Years later, Hafetz called Dougherty with an idea.
"I had dreams about Nicole Miller designing a dress for the Sixers Dancers," Hafetz said to Dougherty this past summer. Today, her dream became reality.
Ell Levi, Daily News
TOOLS
Small paintbrush; eye-shadow brush; red, yellow, brown and black nail polish; nail file; artificial nails; nail glue; black and brown eye shadow; cosmetic wedge; tweezers; and a nail clipper Optional: Stage blood, face paint, additional tools, such as different-sized paintbrushes.
STEPS
Layla A. Jones, philly.com
She may have been Carrie Bradshaw, but that doesn't put Sarah Jessica Parker above the law, something the star recently learned when she violated the no-trespassing sign on the former "Sex and the City" New York City row home stoop.
The star was using the steps of the "Sex and the City" abode for a photo shoot starring her shoe line. The problem is, the folks who live at the iconic TV home aren't amused by SJ, her adoring fans, or the constant "Sex and the City" tributes. They've placed a chain in front of the steps at 66 Perry St. along with a sign that reads, "Do NOT go on staircase please."
According to Gerald Banu, president of the Perry Street Association, residents on the street are often frustrated with the influx of visitors, making for a "very intense" situation. However, SJ was unfazed.
Layla Jones
Sears, the struggling department store chain announced Monday that it will be leasing space to the Irish retailer Primark.
Primark is owned by Associated British Foods and will be leasing space in Sears' across the Northeast United. King of Prussia Mall will be one of the sites acquiring a Primark space. The King of Prussia Sears will thereby no longer exist directly at the mall—the top level is already leased by Dick's Sporting Goods and the lower level will be taken over by Primark.
There will be seven Sears locations leasing space to Primark stores including a store at the Staten Island Mall in New York City. The department store chain said that within the next 12 to 18 months it will lease nearly 520,000 square feet of space to Primark. The remaining five spaces will be announced later.
Renee DeSantis, abeautyloft.com
Don't fall (no pun intended) for the unseasonably warm weather this week. The crisp fall air is sure to return.
The brisk autumn and winter air can wreak havoc on skin, so I went straight to the expert for preemptive damage control. Awarded "Best Facial" in Philadelphia by Allure magazine, Danuta Mieloch, aesthetician and owner of Rescue Spa in Center City has been transforming the faces of women in Philadelphia since 2004.
Mieloch tackles the most common winter skin care concerns, such as:
Layla A. Jones, philly.com
At Lord & Taylor Bala Cynwyd's upcoming FUNdraising Day, "Shop Chic and Make It Count," guests can give to charity while getting some perks of their own.
On Tuesday, Nov. 4, Lord & Taylor Bala Cynwyd (145 City Line Ave., Bala Cynwyd) is hosting its first FUNdraising Day, a full day of shopping, styling, music, pampering and savings. With 100 percent of the $5 ticket price going to support the 10 charities chosen for the event, attendees can give a little and save so much more.
The purpose of the FUNdraising Day is "to give back to our local community while saying thank you for supporting the store," said Lord & Taylor Bala Cynwyd Store Manager Christine Daly.