Renee DeSantis, abeautyloft.com
My bucket list at this point in my life is relatively short (crossing off this week's to-do list is an accomplishment), but #1 on the list is a trip to Paris with my sister and mother. The food, wine, sights and, of course, fashion makes it an obvious travel destination. But, as an experienced world traveler, a personal tour guide in the City of Light is non-negotiable.
Enter local lifestyle expert, Chloe Johnston. With a love of travel and a fashion background, Johnston's company provides customized tours in Paris that specialize in the region's art, culture, cuisine, and shopping.
Hot on the heels of Paris Fashion Week, Johnston gives us a rundown of Parisian beauty, fall 2015 beauty trends and her favorite beauty products.
Layla A. Jones, philly.com
Atelier Rittenhouse (1921 Walnut Street) is holding a flash sale on clothing, offering a discount of up to 60 percent off, on Friday, March 27 and Saturday, March 28 from 11 a.m. to 5 p.m.
The boutique, which offers high-end fashion alongside for-sale artwork, is holding the spring sale on brands like Misha Nonoo, Rosie Olivia Millinery and Katie Ermilio. Though art is not on sale, customers will receive $50 gift card toward any Atelier clothing purchase with any art purchase during the flash sale. The gift card must be used prior to June 30.
Some standout sale items include the Katie Ermilio bow peplum top on sale for $1,100, down from $1,700, the Bibhu Mohapatra navy floral cocktail dress, originally $2,350, now $1,400, the Misha Nonoo mint sweater with on sale for $200 and the Cushnie Et Ochs Orange ribbed pencil skirt on sale for nearly half off at $300.
Layla A. Jones, philly.com
It might have snowed on the first day of spring in Philadelphia, but that doesn't mean fashion isn't heating up. Eventually, the temperatures will warm up and, when they do, ellelauri will be ready with their new spring 2015 line, new Center City flagship store and new Avalon, N.J. location.
Liz Rymar, founder and head designer at ellelauri, looked to 70s inspired clothing with high-neck swing dresses, pastel floral prints and bold stripes. Look out for the vintage-look turquoise and tan Elaine shift mini dress for a cute, casual and comfortable spring-to-summer outfit. Items in the collection range from $50 to $188 and are available in store now.
After moving from The Shops at Liberty Place to 114 S. 19th St. in November, ellelauri is opening their summer N.J. location at 264 21st St. in Avalon, N.J. It will open on weekends starting Saturday, April 4th from 11 a.m. until 5 p.m. and from 11 a.m. until 3 p.m. on Sundays. Beginning May 21st, ellelauri's Avalon location will be open fulltime.
Renee DeSantis, abeautyloft.com
Today marks the first official day of spring (someone please give the meteorologist the memo), which means new beauty products! It's time to shed dull winter skin, hair, and makeup colors for smooth glistening skin and bright and cheerful makeup.
Not really needing an excuse to try new beauty products, I tested and tried some of the new products this spring and narrowed it down to my favorite 10.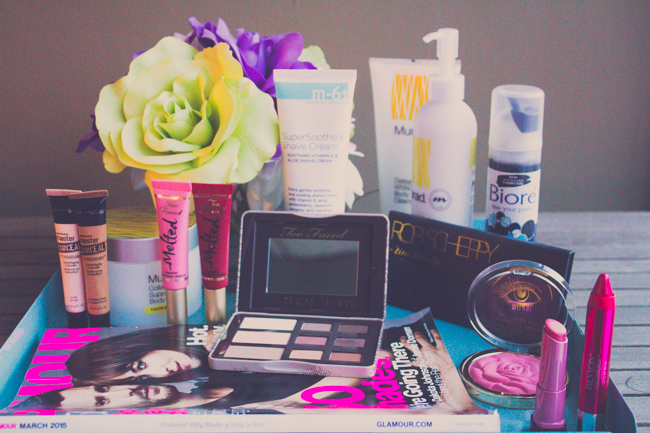 Layla A. Jones, philly.com
As if Taney Dragons star pitcher Mo'ne Davis wasn't already remarkable enough, the 13-year-old sports superstar has now made her foray into the field of fashion.
Partnering with M4D3 (Make A Difference Everyday), Mo'ne created an entire collection of sneakers, some of which feature the Taney Dragons blue-and-burgundy color scheme, for children and women. Proceeds from the sale of Mo'ne's sneakers will go to benefit Plan International USA's Because I am a Girl initiative, which seeks to aid girls living in poverty in developing countries.
"Designing shoes with M4D3 is exciting and I wanted to support Because I am a Girl to help girls and give them a chance at a better future," Mo'ne said in a press release about the sneaker collection launch.
Renee DeSantis, abeautyloft.com
It was a recurring scene. After taking the time to carefully give myself a manicure the night before, I would awake the next morning to find smudges and sheet imprints on my now ruined manicure.
The problem is that even though I sometimes gave myself an hour for my nails to dry before going to bed, they weren't completely dry. Determined to perfect a DIY manicure, I tested several popular (and not-so-popular) quick nail-drying methods.
Ice Water
Layla A. Jones, philly.com
With frigid temperatures moving out of the city (first 60-degree day of 2015, anyone?), local boutique Menagerie is ready to get rid of its last reminders of winter, which means you can get a head start on next year's winter shopping.
Menagerie is hosting a one-day-only sale Thursday, March 12 from 10 a.m. to 5 p.m. at both the new Haverford Square shop (379-385 Lancaster Ave., Haverford) and the Wayne location (503 W. Lancaster Ave., Wayne).
During the Peace Out Winter Sale, all winter items are 50 to 70 percent off, all winter jeans are 70 percent off, and shoppers can get 25 to 50 percent off of select jewelry. As a bonus, shoppers will receive 20 percent off a new spring item with the purchase of an on-sale winter item.
Layla Jones
On Thursday, March 12, the Europe-meets-Philadelphia shoe store BUS STOP Boutique will be launching its first private collection in collaboration with Taiwanese shoe brand All Black.
Shoelace-less, leather oxfords comprise the BUS STOP x All Black Limited Edition Capsule Collection. The 12 versions exist in different colors, including mauve, olive green, silver and two-toned versions like red and black.
Each pair was fashioned and named after an iconic Hollywood actress, befitting the collection's Women's History Month debut. The black-and-pink shoes are named after Marilyn Monroe, for example.