My Gun Manifesto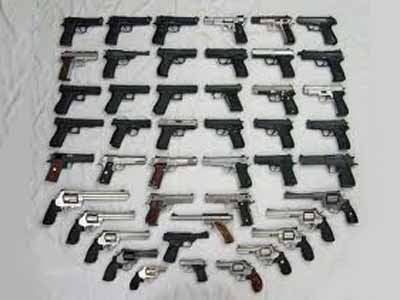 There is no one quick and easy solution to gun violence
My Gun Manifesto
We barely have time to recover from one mass shooting (Washington, D.C.) than we have another (Chicago), with the latter producing wounded rather than dead.
The gun debate will go on and on, with opposing sides agreeing on little.
However, I took part in a sort-of panel on guns for broadcast Sunday at 9:30 p.m. on Comcast. It was Larry Kane's "Voice of Reason" and we did agree on something.
I have written on gun-related issues almost 20 times in recent years and slowly came to the conclusion that a key component of pumping illegal guns onto the street is the straw purchaser, who buys a gun for another person who is barred from legally owning one.
Law enforcement does go after straw purchasers, but not enough. Straw purchasing is a felony.
Too many judges give too little time, and that was something everyone on the panel agreed with. I hope to address this in my column soon.
Meanwhile, I thought it was time for me – a gun owner who is licensed to carry – to put my beliefs where anyone can see them. None is a panacea. Each may help a bit, while providing minimum difficulties for the honest citizen.
Of course, enforcement is key. The pro-gun people make a strong argument when they say there are 22,000 gun laws on the books across the nation, but they are largely unenforced.
Here's what I would do:
Mandatory instant background checks. Close the gun-show loophole.
Purchase of no more than one gun a month. This is aimed at stopping the multiple straw purchaser.
Increase prison time for straw purchasers to a mandatory 10 years.
Lost or stolen guns must be reported. No penalty for the first lost or stolen. The idea is to thwart straw purchasers who may claim their gun(s) were lost or stolen.
Make carrying a gun during the commission of a crime a federal offense, 10-year mandatory, added to whatever sentence the original crime carries. If you carry a gun – not even displaying it – you get 10 years as a starting point.
Ban clips with more than 15 rounds. If you can't hit what you're aiming at with 15 chances, maybe you shouldn't be packing. You are free to carry several clips if you need to.
Demand states report people with mental illnesses to a federal data base, as they are required to do. Most are woefully behind.
Ask Hollywood to reduce celebrating violence in its products, across the board.
Ban "gun free" zones. They don't stop gunmen, they stop the victims from protecting themselves.
+ + +
A recent Gallup poll put a lot of blame on the mental health system.
It's just a snapshot, but you can see what most Americans think is important:
Forty-eight percent of Americans blame the mental health system "a great deal" for mass shootings in the United States, unchanged from January 2011. At the same time, fewer blame easy access to guns now (40%) than two years ago (46%), making the mental health system the perceived top cause of mass shootings.