Judicial hot potato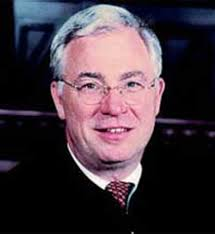 What's a judge to do about gay marriage? Who cares? This case isn't about gay marriage.
Judicial hot potato
I kind of feel for Commonwealth Court President Judge Dan Pellegrini.
Into his lap fell the question of whether or not Montgomery County Register of Wills D. Bruce Hanes was breaking the law by handing out marriage licenses for same-sex couples.
Pennsylvania law specifies marriage is between one man and one woman.
Hanes thinks otherwise. So does hypocritical state attorney general Kathleen Kane who (during the primary campaign) said the law is the law and must be upheld. Now? Not so much.
The issue before the court is not whether the law is constitutional. The Pennsylvania state supreme court should (and eventually will) decide that.
Both Kane and Hanes – funny how the names almost rhyme – have said they don't feel the law is constitutional. That's not their job. That's not their call.
Their supporters cite the recent Windsor U.S. Supreme Court decision that knocked down a part of the Defense of Marriage Act. They believe the Supremes said "same sex" prohibitions are unconstitutional. Wrong.
The Supreme Court decision explicitly left marriage rules up to the states.
If you allow Kane and Hanes to substitute their own opinions for the plain, written law, imagine how you'd feel (I've used this before and it is mentioned in this story)
http://www.philly.com/philly/news/local/20130905_Legal_questions_mark_same-sex_marriage_hearing.html
If the sheriff started handing out gun licenses without a background check because he "felt" background checks violated the 2nd Amendment, or if a tax assessor refused to evaluate properties under rules he or she felt were invalid.
The thing is, the ACLU has already sued to knock down Pennsylvania's law. Going to court is the right way.
But in an era of instant gratification, too few have the patience to play by the rules and if you are one of them, someday someone playing fast and loose with the law will bite you in the ass.
I guarantee it.