Zooey Deschanel: Adorable dork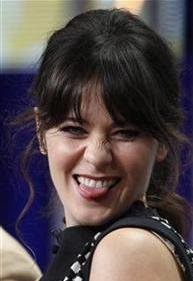 Zooey Deschanel brings her sweet self to 'New Girl,' one of the best new fall series.
Zooey Deschanel: Adorable dork
Zooey Deschanel stars as an adorable dork in Fox's New Girl this fall. Without her, the show would be routine. With her, it's one of the best new fall series.
"What I like about the character is she's not one thing," said creator Liz Meriwether, somewhat of an adorable dork herself. "I feel it's common in TV, especially with female characters, to kind of put them in a box and be like, they're a dork, so they can't be attractive. They're attractive, so they can't be smart. I have definitely come across that before, and I think Zooey is everything."
"This show advocates the attractive dork," director Jake Kasdan chimed in.
Zooey and friends entertained the critics Friday, as the star tried to deal with the obvious love in the room. Saying the word adorable has gone out over Twitter more than at any other time in history, one critic asked her, "How do you feel about that?"
"Twitter?" she replied. "I love Twitter."
The guy wouldn't stop. "When did you first know you were adorable?"
So she put her hands to her head and said, "My mom told me when I get compliments to cover my ears. I mean I'm sorry. I'm so embarrassed now. Thank you for saying that."
Zooey's older sister, Emily, has been investigating cases on Fox's Bones for seven years. The new Fox star said she'd gotten tips on the mechanics of press conferences and personal appearances from her sis. "She's been amazing and has been so supportive, and I'm excited she's pregnant. She's going to have a baby soon, so she's going to have this baby around and stuff. It's going to be awesome."
Adorable? Dorky? What do you think?