"Survivor" Snags a Philadelphian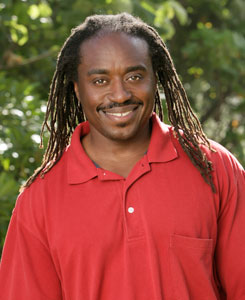 Copy lede here.
"Survivor" Snags a Philadelphian
For the first time in years, a Philadelphian has made it onto the island. Glenside attorney Russell Swan, 42, is one of a bumper crop of 20 Survivor castaways, working in Samoa this time, as the show premieres Sept. 17 on CBS.
Like a lot of 'em, Russell S. (there's a Russell H. on the show, too, a Texas oil company owner, which should add a little confusion) has it all figured out going in.
"I'm just a regular guy," he says in the CBS video. Not one of these "tall, strapping, white, blond guys" who usually populate shows like Survivor. (Has he ever watched it?) He's going to let everybody think he's just a hunky body-builder type, he says. Little will they know he's a conniving lawyer, waiting in the weeds and not trying to be a dominant male. "You got to find a sucka," says Russell, who plans to have everybody out-foxed at every turn and make "allegiances" in all the right places. Women? He'll talk about his 6-year-old daughter and being a dad. Men? He'll talk about his glory days as a kick-boxer.
"At the end of the day, I'm gonna be figuring out how to eliminate these people," he says, "because I want the $1 million."
Good luck, Russell.
Survivor has the usual cast of characters, including a mixologist and a bartender; a brawny 49-year-old policewoman with a New Hampshuh accent (who'll use some of her winnings to heat the mudroom), and the usual complement of hot students, hairstylists and salesfolk who, in their skimpy clothes, will make the viewers drool. There's a private chef with a funny, braided beard who looks like Jeffrey Tambor. My pick to click, handsome John Fincher from Los Angeles who's supposedly a rocket scientist.
Not so well-suited for the winner's circle, despite two degrees from Pepperdine University, in psychology and sociology: Erik Cardona, the bartender, whose top hobby is skirt-chasing. Though his favorite female is his dog, "There's nothing sweeter than taking another man's goods," says Erik, who pooh-poohs guys with regular jobs as "sell-outs."