'Southland' Renewed!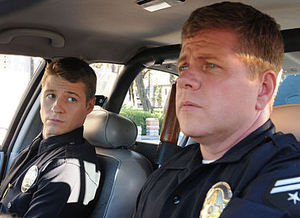 Copy lede here.
'Southland' Renewed!
Ain't this a pleasant surprise? Nobody (or at least not many people) gave Southland much of a chance. But TNT has just announced a third-season pick-up.
The network originally grabbed the leftover episodes, presumably at a bargain price, of the L.A. cop show with the authentic feel after NBC -- home of prime-time failure -- canceled the show. But the series looked like it was going south on cable, too. The numbers were decent, but those in the know figured the series would be too expensive to justify more episodes.
Enter the hard bargainers at TNT, who saw a few things in the ratings that chumps like me may have missed. They made a deal with Warner Bros., which produces the show, for 10 new episodes that will wind up on the tube next January.
What spurred them? 1) So-called Live +7 viewing bumped the total audience by 50 percent over the live viewing, and 26 percent over viewing on the day an episode originally aired. That means people weren't just recording the show -- you know how that goes -- but also actually watching it. Advertisers pay attention to that. 2) Southland has the youngest median audience of any TNT original series. Advertisers are still fully behind the youth movement.
And that means everybody's behind Southland too, at least 10 more episodes' worth.