Move Over, Dr. Phil: Seinfeld, the Marriage Counsellor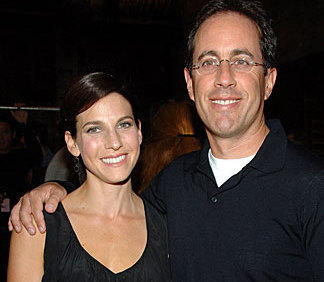 Copy lede here.
Move Over, Dr. Phil: Seinfeld, the Marriage Counsellor
At least it's not George or Kramer, but do we really need Jerry Seinfeld helping us with our marriages?
"We're not presuming to help these people," Seinfeld clarified, discussing the new NBC show he's producing, The Marriage Ref. "We're not going to fix your marriage."
The show will send cameras into the homes of long-suffering couples (one argues over whether to stuff their dear, departed dog; another disputes the rectitude of parking the motorcycle in the living room). After looking at the tape, the ref says who's right and who's wrong, everybody kisses and makes up, and announcer Marv Alpert - a noted marriage expert, himself - gives the couple a prize.
"They're not going to win any valuable prizes," Seinfeld emphasized. "But they will get a prize."
Veteran comedian Tom Papa, whom Seinfeld called an addictive presence, will be the ref, and his ruling will be final. "We're not so big on right and wrong," Seinfeld said. "We're just
going to make the call. 'I think he was out. I think he was safe. Let's move on.' "
A revolving panel of celebreties - Alec Baldwin, Tina Fey, Eva Longoria, Charles Barkley and Larry David are among those signed so far - will advise Papa.
"Why a panel of celebrities, instead of experts?" a TV critic asked.
"Because experts are helpful," Seinfeld replied. "And that's not our thing. This is a comedy show. ... We don't believe that there are experts anyway, even if we wanted them."
"Anybody saying they're an expert on your marriage, don't believe them," Papa piped in.
NBC's giving Ref a swell sneak peak premiere at 10:30 p.m. Feb. 28, following the Winter Olympics closing ceremony. The show moves to its regular slot, Sundays from 8 to 9 p.m., on March 14.
And, yes, dear, I promise not to leave the toilet seat up ever again.