Michael Imperioli, on the origin of crooks and cops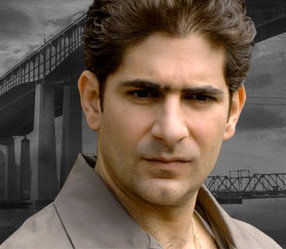 Copy lede here.
Michael Imperioli, on the origin of crooks and cops
Cops and robbers. Do they come from the same place?
"I don't know if the motivations are the same," said Michael Imperioli, five-time Emmy nominee (and one-time winner) for his role as callow mobster Christopher Moltisanti in The Sopranos. "I think, you know, the origins may be the same. Like ... where I grew up in New York, which is very close to the Bronx, Mt. Vernon, N.Y., people who lived in the same neighborhood could have gone in either direction."
Imperioli, first among equals in ABC's rough-and-ready Detroit 1-8-7, about homicide detectives in the Motor City, said, "You know, they might have been brought up with the same traditions. ... They went to the same schools. Maybe economically they were on the same level. Socially they were on a very similar level, but because of certain influences and causes and conditions, one goes this way, one goes that."
The show is shot in Detroit, which gave the producers strong tax incentives to go on location. But that's not why they did it. "You're not thinking about tax incentives when you're sitting down to create something," said exec producer Jason Richman. "I went to visit Detroit a couple years ago, and I just thought it was a really compelling place. ... It's a story, that city. It's a real quintessential American city with a very rich history. It's a city in transition. I think it sort of represents where many cities in America could be going, and it's a city that's trying to find itself on the rebound. And it's an underdog story. ... And that's why the show is set in Detroit."
By the way, Imperioli said he doesn't prefer to patrol one side of the fence or the other, criminal or crime-fighter. "I prefer to work on well-written and well-executed pieces of material," he said. "And that's why I'm happy to be here."